'Because I knew that this separation will not last. It never does. This separation is the beginning.'
So this is how it feels to leave someone behind.
I used to think it was easy, seeing how you'd come and go, months at a time, for the past three years, three months and two days.
How come you make it look so easy?
Days before that fateful day, the ache of leaving you behind started to creep in. But on the day I left, as you dropped me off the airport, I was numb.
Or I thought I was.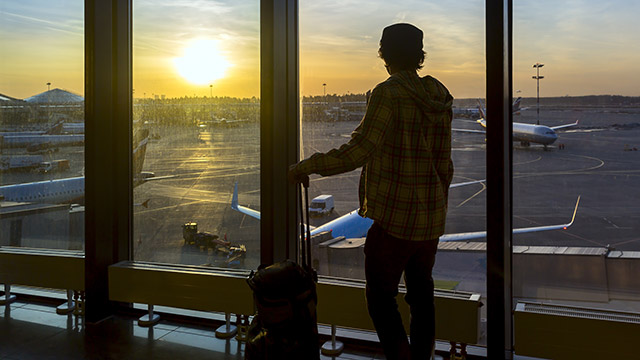 I fought back the tears as I clasped your fingers in between mine, not letting go, through the 30-minute drive towards the airport. My eyes continued to swallow the tears whole as I hugged you goodbye.
The rest of the world: the taxis that whizzed past, the marching businessmen in Italian suits on their Blackberries, the billowing black abayas with toddler in tow, just melted away and it was just you and me.
You drove away and I didn't look back. I couldn't bear the sight of you leaving me.
I went through the motions of the airport routine: baggage check-in, security checks, immigration and boarding. Maybe I didn't feel anything because of the rush for premium overhead storage space for my carry-on luggage. You told me right before we left our apartment that I needed to secure storage space since there are other passengers, who hogged the overhead bins with their luggage and mini balikbayan boxes.
Of course, I listened, ran through almost 10 boarding gates and made sure I was first out of the airport shuttle doors. So all I felt was the slow trickle of sweat beads down my neck, the pa-thump-thump of my heart and the raspy back and forth of air through my lungs, throat and nostrils.
As soon as the flight attendant helped me with my luggage, I plopped onto my seat, exhausted. With all my carry-on luggage space secured, I wanted to show you, knowing you would have been mighty proud of me for heeding your advice.
But then you were nowhere beside me. I came to Dubai with you, and now you were left behind.
Yes, I had more leg and sleeping room to make the long haul flight back to Manila more comfortable. But all I had was that: empty space and silence.
Thinking of the few days that I woke up with you beside me, I didn't want empty space and silence anymore.
We've come so far, worked so hard for us to be together. Don't we deserve to be rewarded, seeing each other's sleepy smiles, inhaling each other's breath as soon as our eyes open at the start of each day?
This long distance relationship is not something I can do for the rest of my life.
I started to flick through the channels and movie selections of the airlines' in-flight entertainment system to distract the loneliness creeping in. The airline gave me the chance to watch blockbuster hits I missed when we were too busy orchestrating our wedding.
It should've been a treat, but maybe I just chose the wrong movies to watch. Thor and Water for Elephants had love stories in their plots. There were scenes where I couldn't hold back the tears anymore.
I tried to distract myself with other things like the scenery outside and down below. I opened the cabin window and saw a magnificent orange sunset. Sunsets always remind me of you. I was again moved to tears, so I shut the cabin window.
Oh, how I yearned to share more sunsets with you. I used to love the distance, enjoying the independence to do whatever I wanted and still having you there…though far, far away.
Then I flipped through the in-flight entertainment menu again and saw The Simpsons episodes. Their antics and banter should help alleviate the loneliness.
I wanted to have a good laugh. I was only away for a few hours and yet it already seemed like forever.
I did have some laughs, but watching that cartoon series was not a good idea either as Homer and Marge reminded me so much of us.
The "us" that was together, not apart.
Now, all I longed for was for us make more memories together, beside each other, holding hands through the good, bad, happy and sad. No more of the we-should and we-could haves.
Could you have felt this way in the many times you've come home then flew off to the desert? I now understand why you never wanted me to bring you to the airport. It could've been harder on you, as it was on me.
Leaving was and never will be easy.
But instead of being more grim and glum about leaving you behind, in between heaved sighs and the waterfall of tears, I mustered all that was left for a change of heart. Because I knew that this separation will not last. It never does. This separation is the beginning, the glimmer of hope that the distance between us will finally close.

Soon. – Rappler.com
Didi Paterno-Magpali is an OFW: Overseas Filipino's Wife, writer and blogger. In 2011, She left the Philippines – her family, her friends, and her advertising career – for Dubai, United Arab Emirates. She currently resides in the United States, happy to have finally closed the distance between her and her husband, taking care of domestic matters, loving her time in the kitchen and writing about her bite-sized expat stories & food adventures on D for Delicious 
Airport image from Shutterstock