Behind every health program implemented is year-long data-gathering
MANILA, Philippines – Have you ever experienced being interviewed about your family's health history and current status right at your doorstep?
If yes, you might be one of the reasons behind the various health programs several people are benefiting from.
Since 1978, the National Nutrition Survey (NNS) is used to generate the nutritional profile of Filipinos. It is done every 5 years by the Food and Nutrition Research Institute (FNRI) under the Department of Science and Technology (DOST). 
There have been 8 surveys done so far. This year, the FNRI surveyed almost 36,000 rural and urban households. 
Long history of influence            
The main purpose of the survey mandated by Executive Order 352 is to "generate critical data" to help government offices and even the private sector in decision-making and policy formulation.
According to Dr Cecilia Acuin of the NNS team of FNRI, the NNS results are often dismissed by people.
"Maraming mas hindi napapansin na influence ang survey results," she said. "Pero nandoon sa mga programang ginagawa ng gobyerno." (Many do not notice the influence of survey results. But it's seen in the programs of government.)
The FNRI works closely with the DOH to make sure that the programs and policies severely needed are implemented. As an agency, according to Lacuin, the Institute can only do so much.
"Hindi kami ang implementing agency eh," she explained. "Usually ang DOH, sila ang kailangan naming batuhan ng data para kalampagin na gumawa ng mga aksyon."
(We are not an implementing agency. It's DOH we pass on data to and pressure to take action.)
When the levels of anemia increased in previous surveys, the FNRI drew the attention of DOH. In response, they started giving iron supplements to women and children at the local level.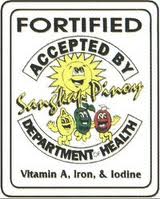 The Philippine Food Fortification Act of 2000 is one of the policies that emerged from the results. One of its well-known inclusion is the Sangkap Pinoy Seal Program (SPSP), which instructed food manufacturers to fortify processed goods with essential nutrients approved by the Department of Health (DOH). Goods that followed the order were encouraged to mark their goods with a seal remembered mostly by today's young adult generation. (READ: Hunger problem: It's not all about food now)
Another is the Asin Law that addresses iodine deficiency disorders in the country. Through this law, local government units were required to ensure that establishments, from town markets to neighbourhood eateries, made use of the Iodized Salt. This was implemented in 1995. (READ: Take it with a grain of 'iodized' salt)
Intensified lobbying
The FNRI considered the Sin Tax Law as its most 'dramatic' influence.
The law that restructured the tax on alcohol and tobacco products was enacted in 2012 after a controversial run in both houses of Congress. (READ: Aquino signs historic sin tax bill into law) 
In 2008, adults aged 20 years old and above who smoked reached 31%.
Dr Dante Morales, chairperson of the Multi-Task Force of the National Nutrition and Health Survey, said that it was the results of the 2008 NNS on smoking that helped pass the law. They were presented to Congress during deliberations. (READ: After 15 years, sin tax bill hurdles Senate) 
The prevalence of smokers decreased by almost 5% between 2008 and 2013. From 31%, it is now down to 25.4%.
Meanwhile, Research Specialist Charmaine Duante said that the significant decline can be attributed to the recently passed law.
"The implementation of sin tax may have prevented people from smoking," she said.
Filling the gap
Acuin also said they are now working to fill the gap by developing Nutrition Practice Guidelines to be made available in community health centers.
"Maraming guidelines na pang-doctor sa clinic o hospital, sa ating mga health centers naman ay wala," she explained. (We have a lot of guidelines for doctors in clinics or hospitals but none in health centers.)
These guidelines are used to address non-communicable diseases such as diabetes among the poor sector, if ever implemented.
"You cannot treat diabetes by just giving medicines. You also have to address the diet and physical activity," Lacuin explained. "We're working with DOH in developing these guidelines at the primary care level."
The results of the last NNS in 2013 are expected to roll out starting July 2014. According to FNRI Director Mario Capanzana, they will continue lobbying for necessary programs and policies based on the results. – Rappler.com