This is AI generated summarization, which may have errors. For context, always refer to the full article.
The provinces of Camarines Sur and Albay evacuate thousands of people to safer locations far from areas susceptible to disaster hazards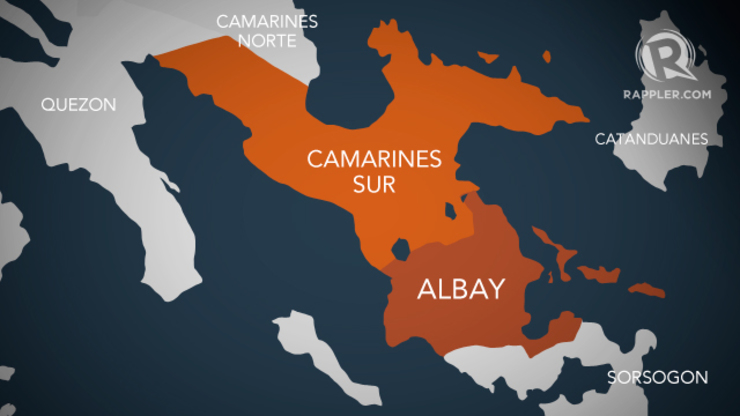 MANILA, Philippines – As typhoon Glenda (international codename Rammasun) intensifies, the provinces of Camarines Sur and Albay evacuate thousands of people to safer locations far from areas susceptible to hazards such as landslides and floods.
"Forced evacuation, no matter what, to ensure the safety of the people," said Camarines Sur governor Miguel Villafuerte to Rappler of his marching order. 
Villafuerte directed the mandatory evacuation of residents living within 100 meters from the coastline and riverbanks,  and in areas that are susceptible to flooding and landslide.
At about 2:00 pm on Monday, July 14, the evacuation of thousands of residents across the province kicked off in 4 towns along the eastern seaboard – Caramaoan, Presentasion, Garchitorena, and Tinambac, according to provincial disaster chief Chie Bermeo.
Residents  who live near lakes and other bodies of water in Iriga City and in the towns of Bato, Buhi, Nagua, Balatan, Bula, and Baao followed suit.
Other towns along the Ragay Gulf including Pasacao, Ragay, and Del Gallego also evacuated residents.
More than 1.1 million people living in 882 barangays (villages) across the province are exposed to hazards like flooding, landslide, and storm surge based on the data of the provincial disaster risk reduction and management (PDRRM). (READ: Know the hazards in your area)
Villafuerte said his province is aiming for 'zero casualty' from typhoon Glenda.
'Zero casualty' goal
In Albay, where typhoon Glenda is expected to make landfall on Tuesday, July 15, Governor Joey Salceda ordered on Monday afternoon the evacuation of thousands of people in various towns threatened by the following hazards:
Flood: Libon, Oas, Polangui, Malinao
Flood Susceptible Areas in Albay
Landslide: Manito, Polangui, Sto Domingo, Tiwi, Oas, Malinao
Landslide Suseptible Areas in Albay
Lahar: Guinobatan, Camalig, Daraga, Sto Domingo, Legazpi City
Past 10:30 pm, Monday, Salceda also directed the evacuation of vulnerable communities exposed to wind and storm surge hazards, expecting stronger winds before the typhoon makes landfall. 
Albay is known for consistently achieving its 'zero casualty' goal during disasters. (READ: #GlendaPH response: What Albay is doing)
Ready to help
In a press conference of the National Disaster Risk Reduction and Management Council (NDRRMC) on Monday afternoon, the Mines and Geosciences Bureau (MGB) identified some 1,117 barangays in the Bicol region that are highly susceptible to flooding, and 259 barangays that are highly susceptible to landslides.
NDRRMC Executive Director Alexander Pama clarified that not all the identified barangays will actually experience flooding and landslides, but stressed they are the 'most susceptible' to the hazards. 
"Ang ating pakiusap sa mga mamamayan ay ibigay ang kooperasyon sa mga namumuno. Kami po ay handang tumulong," Pama said. (We call on the people to cooperate with authorities. We are ready to help.) – Rappler.com
What's the weather like in your area? Tweet us the situation: Use #weatheralert and tag @rapplerdotcom.
Stay alert and ready with the latest weather and disaster information through Project Agos.