This is AI generated summarization, which may have errors. For context, always refer to the full article.
What are the concerns of Typhoon Glenda survivors from Quezon province that they want President Benigno Aquino III to know about?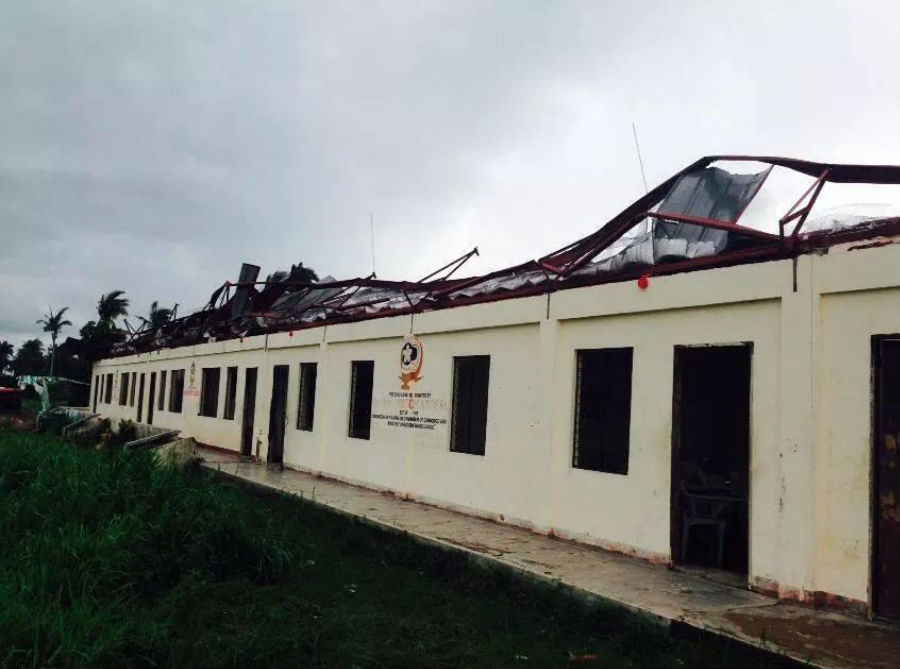 MANILA, Philippines – When Typhoon Glenda (Rammasun) battered the Philippines from July 16-19, 2014, despite warnings and early preparations, around 89 lives were lost and millions-worth of property were damaged.
Region IV-A, which includes the affected provinces of Quezon, Laguna, Batangas, Cavite, and Rizal, suffered the most damage. Quezon province topped the death toll with some 21 lives lost, according to the National Disaster Risk Reduction and Management Council (NDRRMC).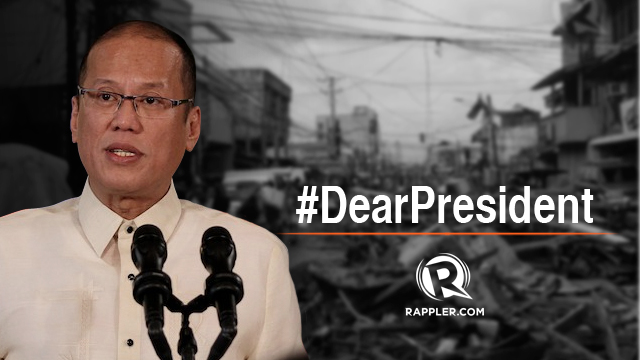 Glenda was the first strong typhoon to make landfall in the Philippines since Typhoon Yolanda (Haiyan) struck in November 2013. (READ: #DearPresident: Letters from Yolanda survivors)
Local and national government officials say rehabilitation and reconstruction are ongoing. But there's no knowing when the lives of survivors will return to normal.
What are the concerns of Typhoon Glenda survivors from Quezon province that they want President Benigno Aquino III to know before his 5th State of the Nation Address (SONA) on Monday, July 28? What are their needs that they feel the government hasn't been able to address?
Here are some letters to President Aquino from typhoon victims in Quezon.
***
"Dear President Aquino,
Greetings from the province of Quezon!
As much as it is an honor for me to write you a letter, it is also an honor for me to write this letter. This is because I believe that there is something good that will happen and it is through this letter that I think I can help that "good" to be true.
These past few days, I've been thinking of how to help my fellowmen, especially the calamity victims. Then one day, this came. I was nervous, thinking, who am I to write you a letter and for you to actually read it. I guess, your staff will read this and all the others for you, but I sure hope they can relay to you the message. I am not confident if I'm saying the right words but I assure you all of these came from the heart.
Now, let me begin my story. 
Quezon province was once a good place to live in. Most things, if not all, were in order. People have houses, people have food, people have their families and people have another day to look forward to. A day is just like yesterday's and people busy with their lives, with their own routines. But one night, a strong typhoon came. The power went off. The frightening wind blew. Some roofs were blown away. The heavy rain poured. The flood went higher. Things scattered in the air. Some people were hit. Some people went missing. Some were already dead. Most people were awake.
Sir, I came from Guinayangan and the people there don't have to tell me the details of what happened to our place because I can already imagine it. My hometown is a small locale and majority of the houses there are not sturdy enough to stand such a devastating storm. My friends got a comparison of what it looked like at the present though, but I'm not really sure if it's accurate enough. They call it 'ghost town,' sir. Imagine what happened to our place. Even though a lot of people there have their own businesses and stable jobs, majority of the residents there are not that rich. We are rich in everything else, I dare say. Guinayangan is a happy place, just like Disneyland minus the extravagance. I thought this is just it, yet the last time I checked, it's minus the lights and minus the houses.
I think you get the whole idea, sir, and I'm pretty sure that you know these more than I do. The news reports were all about it and you get that from the paper, TV, radio or the Internet. You get that a lot and I will not go as far as the figures. I just want to tell you a story.
People from Quezon are free-spirited and happy individuals just like anyone else in other parts of the country. Even with this unfortunate incident, these persons still manage to smile and look at the brighter side of life. These smiles might have a slight difference from before, though. And the spirits might be a bit lower these days. We lost a lot. We lost things. We lost homes. We lost resources. We lost people. And we might have lost almost every bit of what we invested in and some portions of our lives that we built throughout the years, but we may never lose any strand of hope. We are hopeful. We need help and we are still hopeful.
Sir, I wrote this letter without a heavy heart. I believe that something good will happen because of this. I will keep holding on to this belief no matter what happens. We will wait, sir. We will wait with that hope that you'll have the ears that can hear us and eyes that can see beyond what is already seen. We seriously need help here. We need our President.
My story ends here. Thank you for your time.
– Kristina Mariz Pabillar, 4th year BA Communication student from Southern Luzon State University in Lucban, Quezon
***
Your Excellency,
It was by far the most baffling two weeks yet, although for now the Quezonians have but little choice in that matter. All we could hope to achieve is resilience to slip through the cracks Glenda had left.
I know, sir, that you are extremely busy with all your duties as President especially since your SONA is fast approaching. You have lots of audibly-named people there at the Palace and may you have the time to hear me. May this letter break the silence about our struggles after Glenda.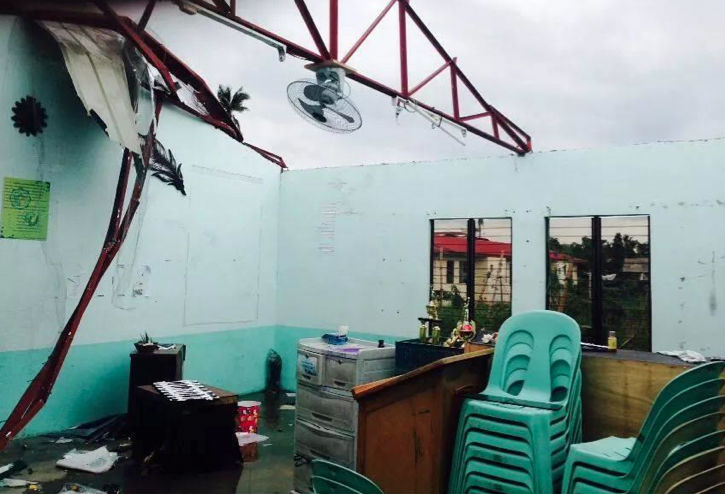 Quezon Province, my hometown sir, was depleted by the said typhoon. The crops such as mais, palay, and others were greatly damaged. Trees had fallen and establishments were left to wreckage. Even the mighty coconuts in our town, Tiaong, were toppled. Two weeks and still, some of our communities do not have electricity. Huge work for Meralco, I may say. 
It was no joke for my fellow folks as their livelihood and homes have been smashed to the ground. Glenda even devastated educational facilities. The next morning after the typhoon, we woke up feeling nothing for we knew that it was indeed catastrophic. As we set our feet on the flood, by our University's gate, our eyes became misty. Several trees had fallen, the buildings were destroyed – they're now roofless! The pathway we walked was a disaster. It was hard to walk on it since the shed itself had fallen to the ground. Our school cafeteria together with the study area was more like a dumpsite for scrap metals. It pained me to see more of the rooms, especially our publication office, heavily damaged. The computers were soaking wet together with our outputs.
As part of the publication, it was my heart and pride that was hurt. Our campus is not classy or even close to those in Manila, but Southern Luzon State University-Tiaong Campus is our second home. There, dreams are built and friendships are found. Despite the devastation, classes continued.
To make things worse, our frantic barrio folks from Candelaria and Sariaya evacuated and went to town halls of their respective towns in the middle of the night due to the hearsay that there was a tsunami last July 22. Who were they kidding? The old lady who died because of heart attack? The infants and children who cried and did not sleep all throughout the night? Or the fathers who carried their belongings by hand? Poor things, they were deceived.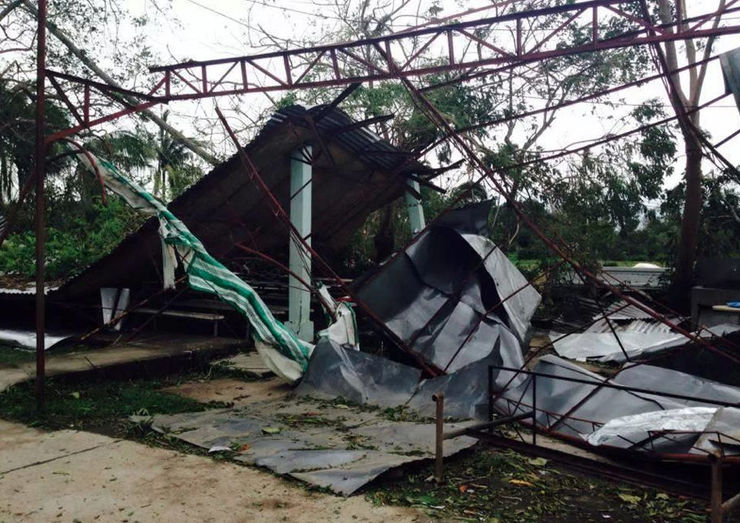 Our provincial government, under Governor David Suarez, has been trying its best to cloak us from the coldness, but a handful of problems are still there. Glenda victims are still suffering. Many are left unemployed. The Quezonians need protection from the cold. We need fire and power. But more than that, we need assurance of your helping hand, sir.
– Cyrelle LagarBello, 19, Editor-in-Chief of Traviesa Publications in SLSU
***
Letter of Beejay Castillo to PNOY by Rappler Philippines
English Translation:
"My beloved President,
Greetings of Peace! As you know, we were recently hit by Typhoon Glenda, which destroyed our houses and livelihood here in Quezon. Our province prepared for this strong typhoon but our efforts were still no match for nature's wrath. We have very limited means of mitigating this disaster.
I think that your administration's climate change adaptation programs are the only way Filipinos can be saved in future calamities. I thank you for prioritizing climate change and the extreme weather conditions that it brings. 
But your programs have not yet been striclty implemented. Tacloban City and its experience during Typhoon Yolanda, still fresh in our memories, is an example of that. Though the damage brought by Glenda here in Quezon is nothing compared to the damage in Tacloban, one thing is common – victims from both places are suffering.
Roofs and houses are easy to repair. Hungry stomachs can be filled with relief goods. Personal belongings can easily be replaced by the donations of various organizations helping Quezon. But our sources of livelihood that Glenda took away are the hardest to replace.
Our province relies heavily on coconut and coastal resources, and both badly damaged by the typhoon. Because of this, many Quezon residents are losing their will to move on. Not because of their torn roofs but because they don't know if their fields and coconut trees can bear fruit again. Our fishing boats were also destroyed and our fishermen don't have the resources to replace them. Quezon residents are worried if they'll still be alive tomorrow, they worry how they can continue supporting their children's education, and how long they'll be able to recover from this calamity.
Dear President, I am not asking you for food or relief goods for my countrymen affected by Glenda. I am not asking you for canned goods or rice which are easily depleted. I am not asking you for materials we can use to build our homes. I am asking you to help us gain back our livelihood.
Invest funds in our livelihoods. This will bring more positive impact on our lives than relief goods. What you need to give to our countrymen is hope – hope that their lives can go back to normal through their livelihood. This will teach them to be independent in the face of calamities.
My family was severely affected by the typhoon. I am more worried, however, for the farmers who have nothing but their small sizes of land and the fishermen who rely solely on their boats.
I know that our country faces many problems these days and that you are fighting your own battles. But I hope that you'll hear my plea – give long-term and sustainable help to my countrymen in Quezon.

I would also like to ask your help for our countrymen in other Glenda-hit provinces. Don't just give them rations but, more importantly, give them seedlings they can plant for a better future. Instead of giving temporary subsidies, give them back their livelihoods.
A small number of seedlings and boats will go a long way for people here in Quezon to return to normalcy. Our province needs your attention and help.
Thank you very much! God bless you!
– Beejay Castillo, 4th year student, SLSU Main campus.
– With reports from David Lozada/ Rappler
The views expressed in this column are the letter senders' own.
Do you have anything to say to President Benigno Aquino III? E-mail your letters to move.ph@rappler.com. Use #DearPresident in the subject line of your e-mail.
Help illustrate the story of the nation! Send your photos and a brief caption to move.ph@rappler.com. Use #StoryofTheNation in the subject line of your e-mail.