'Many of us know how Filipinos in general are being stereotyped to perform specific roles in different countries'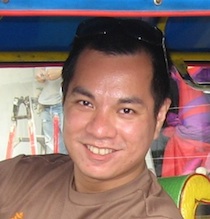 OFWs have been hailed as Bagong Bayani (modern day hero). After all, much of the economic growth of the country for several decades now has been due to the remittances of millions of Filipinos working on land, at sea and in the air, in all corners of the globe.
In fact, 10% of the Filipino population are outside the Philippines. Our Philippine diaspora could be described as a brain drain for Inang Bayan (mother country) or a source of economic fuel for our developing economy depending on how you look at it.
Most of us venture outside our country to support our loved ones back home. Some of us have even assimilated well in our newly adopted societies we have willingly or inadvertently ended up in, in our search of greener pastures and limitless opportunities.
On our journey to fulfill our responsibilities to our families back home and to enjoy our newfound freedom and independence, we have personally seen, heard and felt how Filipinos are perceived and treated by our foreign counterparts.
As OFWs, we pride ourselves for being diligent and hardworking workers. However, I'm sure that many of us know how Filipinos in general are being stereotyped to perform specific roles in different countries – most of which are considered low-skilled or low-wage work or employment. Let me just give you some additional examples, aside from the ones that you might have already heard from the news lately.
I have a high school friend who works as a manager/consultant in one of the multinational banks in Singapore. Prior to working in Singapore, she was a math professor in UP Diliman. She is short in stature, but she does not exude those typical Filipina features that one would associate with a "typical" Filipina working in Singapore.
She had just picked up from Changi International Airport her undoubtedly brown, Filipino-looking, Filipino husband, who had arrived in Singapore after finishing his post-doctoral education in Germany.
Naturally, my friend and her husband, being proud Iskolars ng Bayan, were conversing in Tagalog in the taxi on the way to their condominium. As the taxi drove by inside the condominium complex, the taxi driver couldn't hide his admiration for the elegance of the condominium complex, he then turned around and told my friend, "Wow! I admire your boss for being so kind to let you and your husband stay with him and his family in their home." There you go, a Filipina consultant for a global bank in one of the financial centers in the world was rudely mistaken for a domestic helper.
Here's another example. My own personal experience traveling to Europe for the first time. I was invited by this multinational organization that has a global center in the Hague, the Netherlands, for a job interview.
That organization provided me with visa assistance and a fully-paid trip that included a roundtrip ticket, hotel accommodations and meal allowances during my stay in the Hague. So I flew to Amsterdam from Singapore as a proud Filipino professional carrying the irrepressible banner of Inang Bayan.
When I got inside the terminal, I got excited because even from afar, I could already see the gorgeous immigration officers waiting at the immigration counter. They, after all, looked like the models I've seen on a website that is not really for public consumption. After waiting impatiently for my turn, I proudly handed my Philippine passport to the Dutch immigration officer at Schiphol International Airport, the officer then asked me, "Sir, could I have your seaman's book, please?" Well, at least he was polite enough to say PLEASE!
In an alternate universe, I would have replied, "I'm not syokoy. I'm syoke! (I'm not a merman, I'm a homosexual!) I'm not a seaman, but I could produce and suck semen at the same time if I wanted to!"
Coming back to Earth, being the only Filipino in the city or town in a foreign country has its own perks. You will be invited to exclusive gatherings and parties and be paraded around town like a religious idol. The locals will open doors for you, both literally and figuratively. They will feed you until you succumb to food coma and force you to drink until you collapse in bed or on the floor from drinking too much bubbly and vodka. In other words, you'll be treated in a way you know you'll never be treated back home. After all, you're a limited edition doll in your home away from home.
But on the other side, we have heard of Filipinos and Filipinas being duped, exploited, underemployed, overworked and maltreated by their foreign employers or counterparts. We are all aware, I hope, of the horror stories coming from several Middle Eastern countries where some of our compatriots are exposed to slave-like conditions.
In fact, when one local resident in the city where I was working in realized that I was from the Philippines, he was shocked. He couldn't believe that there was a Filipino already in his city, let alone in his country. Without any second thought and tact, he jokingly said, "I didn't realize we have already been importing slaves." I simply brushed that aside knowing very well that I was invited to work in his country through the initiative of no less than the president of his country himself. But deep inside, I felt furious. How could someone equate slaves to being Filipino?
Well, Filipinos, not just foreigners, would also stereotype fellow Filipinos while abroad. At the Hong Kong International Airport, my female colleague who has a PhD in Physics Education from UP Diliman, while queuing up for immigration, suddenly got a light tap on the shoulder by another Filipina.
Her kababayan asked her excitedly, "Ate, uuwi ka rin? Bakasyon ka rin? Sagot rin ba ng employer mo ang pamasahe mo?" (Sister, are you going home too? Are you on holiday as well? Did your employer also pay for your airfare?)
My colleague, being such a classy woman, simply replied with a smile and said: "Oo. Bakasyon rin ako. Sagot ng employer ko ang pag-uwi ko." (Yes. I'm on holiday too. My employer paid for my airfare.) Well, it's true anyway. Her school/employer paid for her roundtrip ticket as part of her expat package.
Similarly, some Filipinos fearing that they might be stereotyped in one way or another, might not even want to associate with other Filipinos overseas.
A friend of mine who works as an IT teacher in a prestigious international school in South Korea shared her experience with another Filipina with me when we met while she was on a paid holiday in Singapore. Unlike my friend who works as a consultant in a bank in Singapore, this friend of mine has that exotic Filipina look, which would stand out in a sea of yellow faces.
In fact, her aura and beauty is one of the reasons why Filipinas are voted as one of the 10 hottest and sexiest nationalities in the world according to a travel/dating website. She recounted how humiliated she felt when her Filipina colleague who must have been a decade-long admirer of bleaching creams commanded her to duck and hide while they were on the side of the road waiting for a cab. She reasoned to my friend that the cabdrivers might not stop for them if they saw her and realized she was Filipina. Why on Earth would that happen? Tell me, please!
These experiences might sound silly or funny, but these stereotypes could be a hindrance for Filipinos/Filipinas from truly enjoying and fulfilling their professional roles in their organization and for their colleagues or other people to see them as who they really are, and what they can do, and not what they think they're supposed to be and be doing.
During the opening of classes in a supposedly international school in Singapore, several Filipina teachers were happily and eagerly welcoming students to their classrooms.
Naturally, some students were accompanied by their parents since it was the first day of school. After one parent saw that his child would be taught and supervised by a Filipina teacher, he asked for the principal. The principal came and asked why the parent wanted to see her. And in broad daylight and in front of the other Filipina teachers, the parent scolded the principal, "Why did you hire Filipinas to teach my child? Aren't they just good for working in our homes?"
PLAK! I would now leave you to digest what you've just read. – Rappler.com
Aside from being an OFW for the past 7 years, Bertrand is also an OFP, a proud Overseas Filipino Patriot, who remains true to his Filipino roots and identity no matter where he goes and resides. He is an educator by profession and an aspiring writer and businessman. He hopes to retire as a philanthropist someday.