Yolanda destroys 1.1 million houses, leaving 4 million people homeless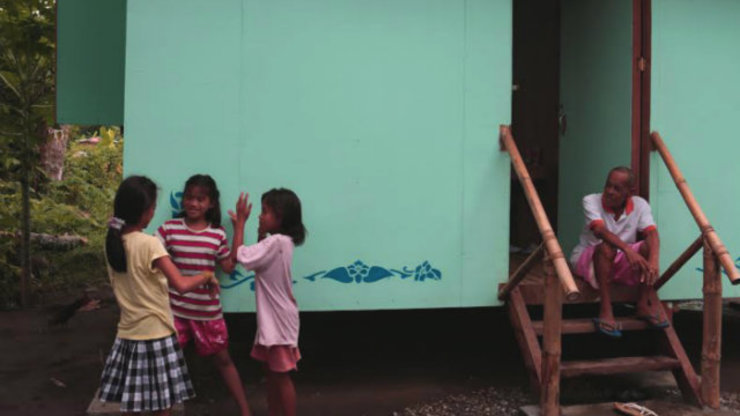 ORMOC, Leyte – Renato Tomada and is daughter Donna Rose used to live in a shanty made of nipa and bamboo. The night before Super Typhoon Yolanda (Haiyan) struck, they left Barangay Sumangga and moved to his sister's house in downtown Ormoc. Roads were blocked by fallen trees and electric posts.
Three days after the typhoon and after walking 7 kms, they returned to their village only to see their damaged house. 
Yolanda destroyed 1.1 million houses and left 4 million people displaced, including the Tomada family.
"All our belongings were gone," Tomada recalled. With the help of his relatives, he built a temporary shelter from the rubble of their hut, but the roof leaked when it rained.
"We stayed all night sitting in a dry corner," Tomada recalled.  He again evacuated his family to safer houses.
New house
After more than 9 months of staying in a relative's house, the 59-year-old widower and his daughters finally have a new place they can call their home.
For Donna Rose, one of Tomado's daughters who is now in 5th grade, the new house given to them two days after her 11th birthday was a priceless gift.
"I can now sleep well," she said, her eyes beaming.
"I thought I was only dreaming when the key was given to me. For a long time I dreamed of having a house with a door we can lock every time we leave. I would imagine myself opening the windows when I wake up to look at the surroundings," Tomado said.
That dream came true when World Vision turned over the key of the newly built house to the Tomado family.
"I will never forget this day. I will be forever grateful," Tomado said as he slowly opened the front door and the window of his new home.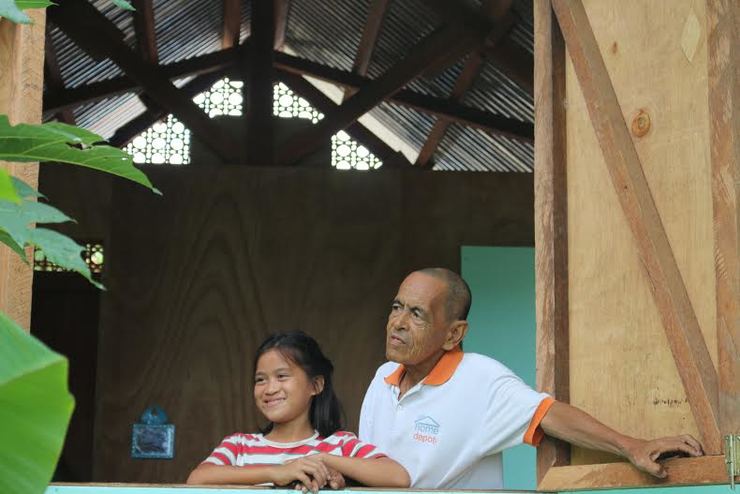 Donna Rose can't wait to show the house to her sisters who will be coming home this Christmas.
The younger Tomado said she could not wait to show the new house to her sisters who will be coming home for Christmas.
Rina, 17 lives with her aunt in Cebu City. Angelica, 16, stays with another aunt in Ormoc City.
"My sisters send them to school. Their mother died of a stomach ailment last year. We have no money to bring her to a doctor," Tomado said. He has no stable job. The city engineering department hires him whenever an extra pair of hands is needed.
"With our situation, I couldn't imagine we can have a house like this. And it was just given to us," he said.
Shelter for vulnerable families
Twenty nine more houses with latrines were already turned over to families in Ormoc, Matag-ob, Merida, and Villaba in Leyte province. Carpenters who are typhoon survivors themselves built the houses. They were given free training by the Technical Education and Skills Development Authority (TESDA) in partnership with World Vision. 
At least 268 houses are being constructed for vulnerable beneficiaries who include single mothers and the elderly.
"We provide them houses with latrines, but it does not stop there. We teach them the value of personal hygiene, handwashing, and sanitation to ensure they have good health," World Vision Shelter Manager Allen Carmona said.
To date, another 1,867 families out of the 3,915 families received shelter tools and material which include marine plywood, roofing sheets, coco lumber, and nails to help families repair their damaged houses and rebuild their lives. – Rappler.com

Leoniza O. Morales is Communications Officer of World Vision's Haiyan Emergency Response based in Tacloban City.