An increasing number of Filipinos prefer to consume ready-to-eat meals because of their fast-paced and time-strapped lifestyles, the report says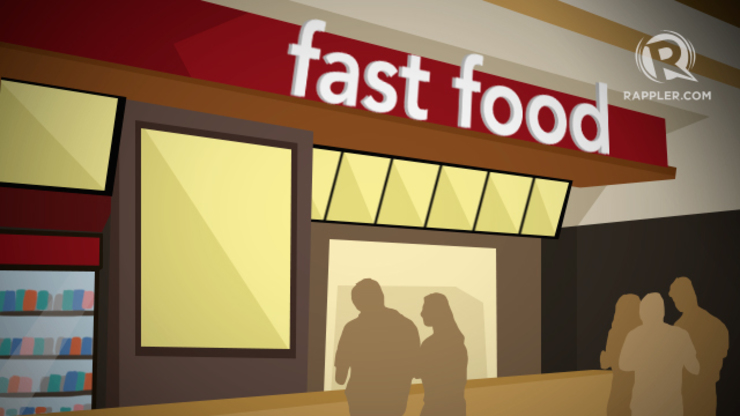 MANILA, Philippines – More Filipinos are veering away from 'lutong-bahay' (home-cooked meals) and resort to dining out, the results of a nationwide survey conducted by Nielsen company revealed. 
According to the 2014 Nielsen Shopper Trends Report, Filipino shoppers only spend an average of P4,700 ($104)* on food items from groceries. This represented a 13% decline from 2012's P5,400 ($120). 
One of the reasons behind this significant cut, the report said, is the increase of consumers who prefer to dine out.
From only 14% in 2012, the number of respondents who frequently eat out of their houses rose to 25% this year. 
The latest survey was conducted among 1,783 males and females, aged 16-65 years old, belonging to different socioeconomic classes in urban locations throughout the Philippines.
Convenient option
Lou-Ann Navalta, Nielsen's Shopper Insights leader in the Philippines, attributed the results to the environment of modern-day Filipinos: fast-paced and time-strapped.
According to her, restaurants are appealing because they cater to their needs for convenience, quick preparation, and ready-to-eat meal options.
"Shoppers are leading fast-paced lifestyles and are constantly on the go," Navalta explained. "These time-strapped Filipinos are spending more time away from home or in transit and are now more serious about convenient alternatives."
The report also showed that the need for convenient food options is "not just a fad that will fade away" and food manufacturers should understand this. 
"Manufacturers and even retailers can ride on this trend by innovating to meet their needs or looking at tie-up opportunities with fast food restaurants and convenience stores as a way to stay relevant to these shoppers," Navalta added. 
Meanwhile, the popularity of convenient food may take its toll on the health of Filipino consumers.
The latest National Nutrition Survey showed that one in every 10 Filipinos lacks the proper nutrients to function effectively, while 3 out of 10 Filipinos are overweight. (READ: What's the nutritional status of Filipinos?) 
Consumers should make sure, however, that the ready-to-eat meals they purchase from restaurants and convenient stores follow the prescribed diverse diet meal guide of the Food and Nutrition Research Institute. (READ: What a 'Pinggang Pinoy' should look like)
End of wet markets? 
The Nielsen report also revealed that Filipino shoppers opt to do their grocery shopping all in one go in whatever store is closest to their neighborhood.
This is why most supermarkets are seen to be opening, both in regular and small scales, near residential areas with bigger fresh food sections in their stores.
Meanwhile, mini-market stalls carrying vegetables and other fresh goods are also set up within neighborhoods, pushing shoppers to choose what's more convenient over the traditional wet market.
The interviews, conducted between February 27 and March 28, 2014, focused on main decision-makers when it comes to household grocery shopping.
Shopper Trends provides a comprehensive overview of retail environment trends and shopping behavior. It also reports on the various aspects of shopping, including commitment and perception of modern trade retailers. 
"Understating the behavior of shoppers while in-store is critical in knowing the appropriate tactics that will work for a brand and category," Navalta stressed. 
"Retailers and manufacturers must work together in developing and implementing strategies that can keep customers coming to stores and increasing basket size," she added. – Rappler.com
 *$1 = P44