How can peanut butter save the lives of malnourished children in Payatas?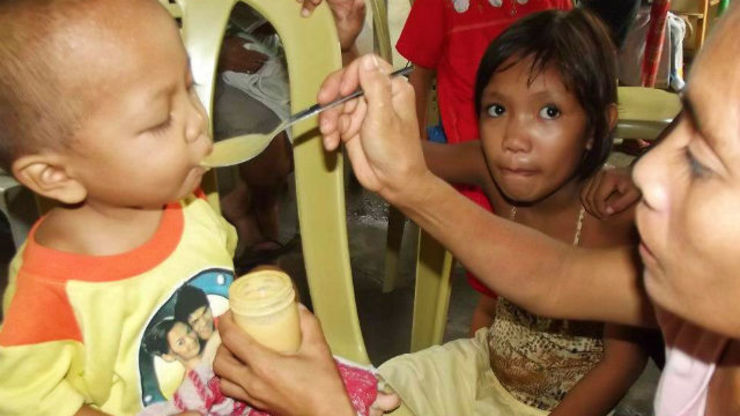 MANILA, Philippines – Whenever the word "Payatas" comes up in a conversation, an image of garbage-filled landfills and shanties of indigent families mostly comes to mind.
In some instances, people recall the unfortunate landslide back in 2000 in the area that affected at least 800 families and claimed the lives of around 300 residents.
But for more than 100,000 people within the 3,019-hectare area in the northern part of Quezon City, Barangay Payatas is home, despite the challenges – poverty included – that get in the way.
Breaking the cycle of poverty and malnutrition
One group is trying to change, in their own ways, the situation.
Payatas Orione Foundation (PAOFI), an organization that channels the charitable works of the Little Work of Divine Providence Congregation in the Philippines, seeks to uplift the lives of the underprivileged by breaking the cycle of poverty evident in the area.
According to Fr Martin Mroz, PAOFI president and an Argentinian based in the Philippines for more than a decade already, hunger among children is the biggest problem that they are trying to fight.
Through their feeding programs, the foundation aims to help families take care of the dietary needs of their children – one that is often neglected by heads of households.
To date, more than 500 children aged 2 to 12 years old are enrolled in their feeding program in 11 centers scattered in Payatas and even in Lucena City. Each child gets one full meal a day which includes a viand, rice, milk, bread, and even the daily required vitamins.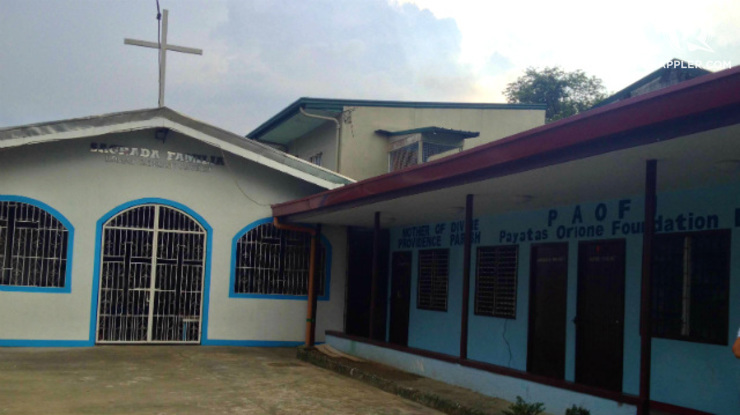 But unlike other feeding iniatives, PAOFI gave assurances their menu has the approval of a nutritionist to make sure it will not harm the health of the beneficiaries.
An hour before the usual lunch time, lines of young boys and girls already form. Most of the time, children can only get free meals from Monday to Friday. 
"Para dalawang araw lang silang gutom," one of the social workers joked. (So they will only be hungry for two days.
But they hope that this is not always the case. When donors are feeling more generous and when the budget permits, PAOFI extends their free meals until the weekend. 
Aside from making sure that the children do not go to school and to bed with an empty stomach, the feeding program also serves another purpose – to identify those who are suffering from malnutrition.
When a malnourished child is identified, their "secret weapon" comes out: the Project Peanut Butter (PBP).
Back in 2010, PBP initially was aimed at tuberculosis (TB) patients suffering from malnutrition. After two years, due to the increasing number of malnourished children in the area, they decided to broaden their target.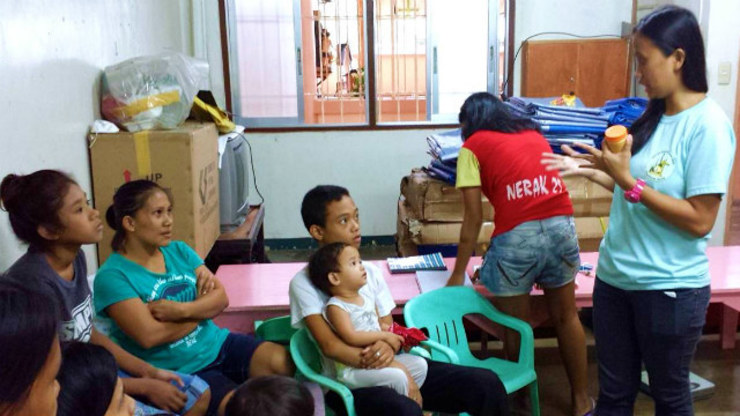 The project concept is a brainchild of an international group which also caters to severe malnourishment situations in Africa. A team came to the country to train the staff of PAOFI before they could make their own. 
Unlike the expensive ready-to-use therapeutic food (RTUF) imported by other organizations, Mroz said that the PBP is cheap to produce yet also an equally effective treatment. (READ: Ready-to-use Therapeutic Food as solution to hunger)  
The foundation produces its own version in a small production area in one of the chapels in Payatas. Only importing the peanut paste, the rest of the needed ingredients are locally-sourced or sometimes donated.
The RUTF, composed of peanut butter base mixed with the right amounts of milk and nutrients, is given for free and is supposed to treat malnourished children in 3 months. A small bottle only costs P50 ($1.25)* to produce. 
Challenge lies in the family?
Ideally, it will even take less than the prescribed time for one to be treated from malnutrition – if only the parents follow the given rules.
"Kung masusunod lang ang treatment ng bata na walang kakainin na unhealthy, maayos ang kanyang timbang," Social worker Michelle Balce emphasized. (If the treatment of the child is strictly followed and he is not given any unhealthy food, his ideal weight will be achieved in no time.)
Fortunately, 60% of their past beneficiaries "graduated" in two months' time. But sometimes, there are "special" cases who drop out of the program or go beyond the prescribed months.
"It's either may sakit ang bata o hindi pinapakain nang maayos kaya hindi gumagaling mula sa malnutrition," Balce explained. (It's either the child is sick or they're not being fed properly.)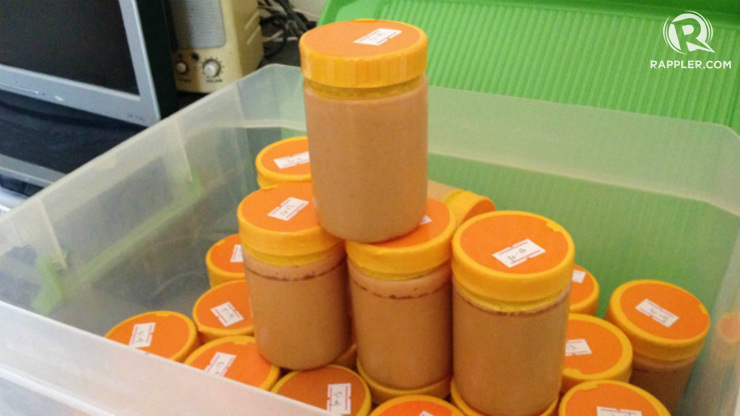 There are instances when the mothers themselves neglect getting their weekly ration of peanut butter RTUF – citing several reasons such as lack of time.
"Minsan tinatamad ang nanay na pumunta or minsan sabi nila walang magbabantay ng bahay," she explained.
(There are times when mothers do not feel compelled to attend or when they say that no one will look after the house.)
The social workers of PAOFI, to answer this problem, then "intensify" their home visitations to make sure that the households comply with the rules. By tapping their numerous volunteers who reside in the same area, they are able to monitor the children.
"Iyong volunteers namin, sila na iyong nakatira sa mga lugar na may mga beneficiary kami para matutukan," Balce told Rappler. "Kasi kilala na sila, pwede na kausapin kahit kailan."
(Our volunteers are those who reside in areas where our beneficiaries are also staying so they could focus on them. It's important since they already know them and can approach them anytime.)
At the end of the day, the problem lies in the persisting poverty that plagues the families of Payatas. Most of the time, they would resort to purchasing unhealthy food such as instant noodles to feel full regardless of the health effects.
"Hindi maiiwasan talaga na may hindi nakakasunod sa tamang paraan dahil sa kahirapan," Mroz said. (It cannot be avoided that there would be those who will not follow the prescribed directions, mostly because of poverty.)
Mroz is open to sharing their product to other regions in the country as malnutrition isn't solely a problem of Payatas. 
"We can definitely train other people," he said. "But they have to take care of the necessities in the production."
Small-scale effort for a big change
The Peanut Butter Project currently benefits 75 malnourished children in Payatas. Definitely a small number, but the foundation hopes to reach more when they get enough funding from donors and proper acknowledgment of their product locally, ideally from the Food and Nutrition Research Institute (FNRI).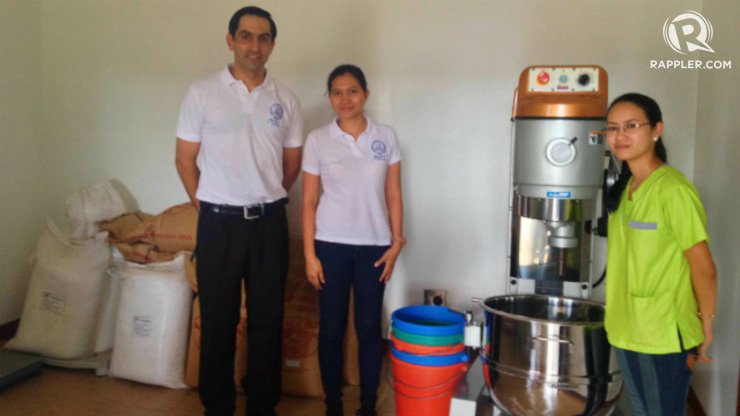 The foundation even boasts that more than half of their current roster of staff and volunteers were past beneficiaries who chose to pay it forward.
Jeceryll Dumalag, who recently graduated with a degree in social work, now handles their medical operations in PAOFI's health center. 
"Dati, isa ako sa mga pumipila pero ngayon, ako na iyong tumutulong sa mga bata," she said. (Before, I was the one who lined up every morning but now, I'm the one helping the younger kids.)
For a place often stereotypically dismissed as hopeless and chaotic, the efforts of PAOFI have brought a spark of hope to the Payatas children.
"This is our small way to fight hunger in the world," Mortz told Rappler. "Even if small, it means a lot for the people here." – Rappler.com
To learn more about the programs of Payatas Orione Foundation and how you can help, you can visit their Facebook page. 
How can we help fight hunger? Recommend NGOs, report what your school or LGU is doing, or suggest creative solutions. E-mail us at move.ph@rappler.com. Be part of the #HungerProject.
*$1=P44