'Of all the stories I could write about living in the Netherlands, I chose to tell one that was literally from a Filipino perspective'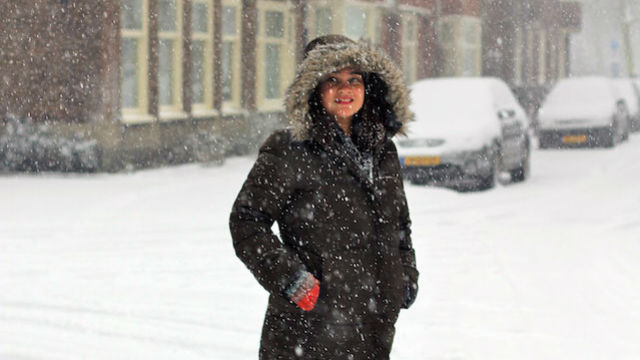 AMSTERDAM – I sit at my desk overlooking one of Amsterdam's 400-year-old canals, and begin to write.
It's December 2014. Our family's capiz parol hangs in the window, defiantly early, the first and only sign of Christmas in our neighborhood.
As I write, I munch on a handful of pepernoten, cookies spiced with anise, cinnamon and clove, which are traditionally associated with the feast of Sinterklaas, the beloved Dutch holiday that eclipses Christmas and Santa Claus.
It's getting cold. I heat up my lunch of hot erwtensoep, Dutch split pea soup with slices of rookworst, or smoked sausage. Before I sit down to eat, I dig around in the pantry until I find my last remaining pack of Skyflakes.
These are the little quirks of my life as a Filipina mom and writer living in the Netherlands. These details mark the intersections where I embrace my adopted home and becoming a citizen of the world, while staying true to myself as a Filipina.
On my blog I try and capture as many of these details as I can. As a writer, I love details; they play hard to get. I love words, because finding the right ones cannot only capture details, but also make them last longer, ring truer, and shine brighter. Details have the power to make our stories unique and worth telling.
Universal stories, unique details
I've always blogged mostly for myself: as a personal record of my journey from a Manila girl in a long-distance relationship to a newlywed wife in Singapore, to a wanderlust-afflicted traveler turned first-time mom in Amsterdam. So I didn't think anyone would be interested in what I had to say – until I was invited to publish my story in a book.
Dutched Up! Rocking the Clogs, Expat Style was conceived as a compilation of stories written by expat women bloggers living in the Netherlands. I fell into this community by accident, when one of the publishers stumbled upon my blog.
As the book began to take shape, I found comfort in the stories of other women with experiences like my own. Dutched Up! contains stories about falling in love, having a child, facing culture shock, and the joys and sorrows of adjusting to life in a foreign country – experiences that are almost universal.
But I also found comfort in discovering that my story as a Filipina mom and writer was worth telling. I found a new appreciation for the little hiccups of life in the Netherlands that I might have seen as a hassle or a pain. They make my story unique, my own and nobody else's.
Of all the stories I could write about living in the Netherlands, I chose to tell one that was literally from a Filipino perspective: about life as a short person among the world's tallest people. And I chose to express myself in true Filipino fashion: with humor.
Just be normal, that's crazy enough
Expressing myself as a Filipina while learning to adapt to my host culture is an ever-shifting balance. The Dutch live by a saying that defines their national identity: Doe maar gewoon (or doe normaal), dan doe je gek genoeg. Just be normal, that's crazy enough. Most people interpret this negatively: don't show off, don't stand out, blend in, be average.
To me, it means: just be yourself. Be normal, because that's crazy enough. And being a Filipina mom and writer in the Netherlands is crazy enough.
It's crazy enough to learn how to make lambanog cocktails at home on Friday nights. To double-dose vitamin D supplements in place of real, honest-to-goodness sunshine. To run out into the street and play in the first snowfall of the winter – actually, my first snowfall ever. That's just who I am.
Because it's crazy enough that I was so dead set on rocking my child to sleep in a duyan, that I took one with me on two plane rides back to Amsterdam.
It's crazy enough to ignore my deeply ingrained Asian desire to be polite, and insist on speaking to my toddler exclusively in Filipino in the company of people who don't understand our language. Because I know it's the best way to teach her Filipino alongside Dutch and English. And yes, to have a 20-month-old daughter with a vocabulary in 3 languages is crazy enough too.
But I'm also crazy enough to orchestrate a water birth in my very own living room. Crazy enough to cycle through the streets of Amsterdam with my baby perched on a seat between my handlebars, both of us without helmets. Even crazy enough to love being at the beach when it's 8 degrees Celsius in November. That's who I've become, too.
I write and work until it's time to pick up my daughter from daycare. "Dag! Bye!" she says in Dutch and English, waving good-bye to her friends. I cycle home with her on the front seat of my bike, and as I reach home she points to our front door and says "Yey! Bahay!"
It's these little details that make the story. Thank you for listening to mine. – Rappler.com
Deepa writes about family, home, travel, creativity and life as a Filipina mom and writer in Amsterdam on her blog, Currystrumpet. She is a contributor to Dutched Up! Rocking the Clogs Expat Style, an anthology of stories written by expat women bloggers living in the Netherlands. Download the Dutched Up! e-book via Amazon or iTunes.