Surviving after being lost at sea for more than 24 hours, just clinging to an improvised flotation device, is nothing short of a miracle for Taffen Condino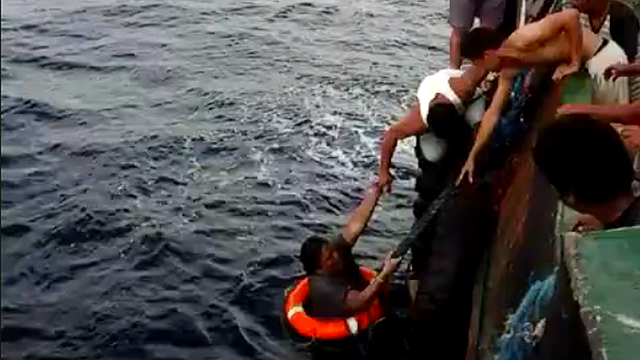 MANILA, Philippines – A video showing a man rescued from the sea has gone viral on Facebook.
Timothy Roy "Taffen" Condino spent more than 24 hours at sea after his jet ski broke down while island-hopping with friends in Batangas on Friday, May 1.
Netizens are left asking how the man, obviously tired and weary, managed to survive the ordeal. 
Condino said a series of "miracles," apparently anchored on his strong faith, kept him alive.
Lost at sea
Condino and his friends attempted to latch on the broken jet ski to another jet ski and to haul it back to the main island of Anilao but it didn't work.
Seeing how helpless they were, he instructed his friends to just go and find a replacement battery for the jet ski. But Condino was nowhere to be found when the group came back 15 minutes after.
The family, alerted of the scenario, immediately conducted a search in Sombrero Island, the vicinity of Tingloy, and Bali Caban side facing Mindoro – but to no avail.
After two hours of luckless search, they decided to seek the help of the Philippine Coast Guard (PCG), the National Civil Defense Network (NATCIVDEFNET) headed by Jay Palomo, and the Provincial Disaster Risk Reduction and Management Council (PDRRMC) of Batangas. 
A day passed and there was still no sign of Condino.
'Acts of God'
Condino narrated what happened to him during those critical hours. According to him, he remained floating out at sea after trying to swim to Sombrero Island.
"I thought I could swim to shore, so I jumped from my jet ski. But due to the high current, instead of moving nearer to the island, I was swept farther away.  Then when I looked behind me, even my jet ski was already far from me because of the strong current," Condino said in a mix of English and Filipino. 
Condino nearly gave up as hope slowly faded. But he held on to his faith by praying as he floated throughout the night. It was a miracle that he was still able to live, he said.
"When night fell, I even asked God if I was still alive. Then there was this water snake that coiled around my leg which made me realize that I was still alive since I still got hurt," Condino recalled.
Throughout the ordeal, unexpected things happened that Condino referred to as "acts of God."
The first of these divine acts happened when he managed to gather coconuts and binding material that were floating around him to make a flotation device. Then when he got hungry, he saw a half-rotten mango floating his way.  
'Walking miracle'
There were several moments when Condino felt as if all hope was lost and even attempted to surrender to what he thought was his fate, but he failed each time.
"Twice, I've attempted suicide. Twice, I told the Lord, 'I couldn't bear it anymore.' I tried to drown myself, but each time I tried to do so, I would hear someone whispering, 'No, you I can do it.' Even when my body was giving up, I felt as if something else was lifting me up, telling me, 'No, you can do it,'" he said.
Condino remained afloat for the rest of the day until he reached the part of the ocean where cargo ships pass by. It was here, 25 hours since his jet ski broke down, where he was rescued by a cargo ship on Saturday, May 2. The cargo ship deviated from its original route to bring Condino back to shore.
According to Mariel Manico, owner of the video posted on Facebook, they saw the man as the ship traversed their usual path at 5 pm. 
"It still isn't his time," she said. He was given a second life.  
habang nasa underway kami narescue namin c timothy roy condino na palutang lutang sa laot around the vicinity of batangas and mindoro…buti nlng napadaan kami kung saan sya nakita..thanks god buhay cya na 3days na daw cya na palutang lutang..

Posted by Mariel B Manico on Saturday, May 2, 2015
Condino hopes his experience will inspire others to believe in the wonders of a strong faith. "I am a walking Miracle of God," he said. – Rappler.com