Regina de Vera ultimately hopes that her cause will heighten awareness in local theater and will elevate Filipino talent worldwide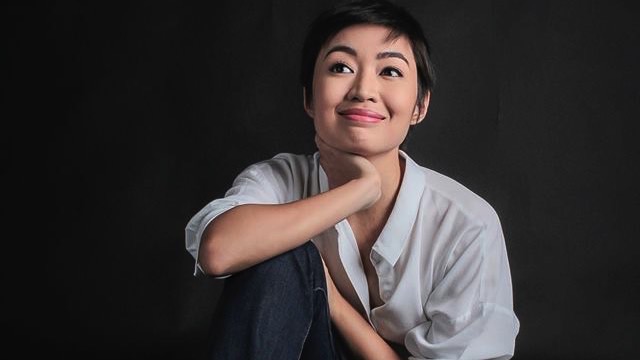 MANILA, Philippines – It's not every day that someone gets accepted to The Juillard School. But Regina de Vera, from Manila, Philippines, was among the 18 applicants who were admitted to the prestigious school out of a total of 1,900.
After what she called an "intensive audition process," De Vera got a slot in Juilliard's Drama Division for a 4-year Masters of Fine Arts (MFA) in Drama program set to start this fall.
She is one of two Filipinos accepted at Juilliard, along with Connecticut-based half-Filipino Juliette Kenn de Balinthazy, who got into the undergraduate program.
#GoFundRegina
But there is a final roadblock before she could even leave Manila.
While Juilliard granted her $28,000 (P1,248,133.60) in financial aid, the total cost of attendance at Juilliard is $61,290, leaving a fund gap of $33,290 (P1,483,941.70). This includes housing, supplies, insurance and other miscellaneous expenses.
To be granted a student visa or an I-20 form in the United States, De Vera needs to show proof of the $33,290 by June 15. Actual payment for her first semester in Juilliard is due onAugust 10.
With an initial goal of $26,290 (P1,171,908.30), her family began crowdfunding on May 25. As of posting time, they have been able to raise $10,140 (PHP 452,002.67).
De Vera said she is "deeply grateful" to those who have contributed to her cause, and hoped that fostering belief in local theater talent would help add to the momentum of the campaign.
Local theater gem
According to De Vera, the opportunity "comes rarely in the life time of an artist, especially for someone born and raised in the Philippines."
De Vera added that she is "determined to pursue this path and hopefully make my country proud."
De Vera boasts an impressive portfolio in the field of drama. She entered the world of theater by joining summer workshops with Repertory Philippines, the country's premier theater company for Western musicals.
At the Ateneo de Manila University, where she obtained a BFA in Theater Arts in 2010, De Vera made a name for herself during her stint with Tanghalang Ateneo. After graduation, she served as a resident actor in Tanghalang Pilipino, the drama company of the Cultural Center of the Philippines.
De Vera's memorable roles include Rhoda in Walang Kukurap (No One Blinks) Celia in Doon Po Sa Amin (Our Town), Ate Karina in Sandosenang Sapatos (A Dozen Shoes), Maria in San Andres B: The Opera and Portia in Der Kaufmann, an adaptation of William Shakespeare's play The Merchant of Venice.

Eyes wide open
Her role in Der Kaufmann earned her an award as "Outstanding Female Lead Performance in a Play" in the 2013 Gawad Buhay: The PhilStage Awards for the Performing Arts.
De Vera said that her training in Philippine theater, which she dubs as "the country's best-kept secret," was crucial in her development as an actor.
"The consistency of practice helped sharpen my craft and my understanding of the human condition," De Vera told Rappler.
She said she feels "grounded and certain" following her acceptance at Juilliard.
She also acknowledged the "tremendous risk" she took by applying. "I gambled my childhood savings to fly to New York City to audition."
De Vera said that as early as now, she is aware of the challenges she will face in Juilliard and will enter the school with "eyes wide open."
"We were warned that we will encounter a 'honeymoon phase' at the beginning of the school year, which will be followed by a 'What did I get myself into?' phase before we reach the "mastery" stage," she added.
De Vera ultimately hopes that her cause will heighten awareness in local theater and will elevate Filipino talent worldwide.
"They are not just supporting an individual artist, but the potential representation of our community in the larger performing arts scene," she said.
De Vera said that this campaign is not only about her, but about Philippine theater as a whole.
"At the heart of the cause is not money, nor is it an individual person's achievement, but the achievement of a local community and culture that provided the conditions for this achievement to materialize," she said. – Rappler.com
For more information on her crowdfunding campaign, visit her page here.
Miguel Sevidal is a Rappler intern