'Right Footed' wins Best Documentary in the Mirable Dictu International Film Festival. The festival is sponsored by the Pontifical Council for Culture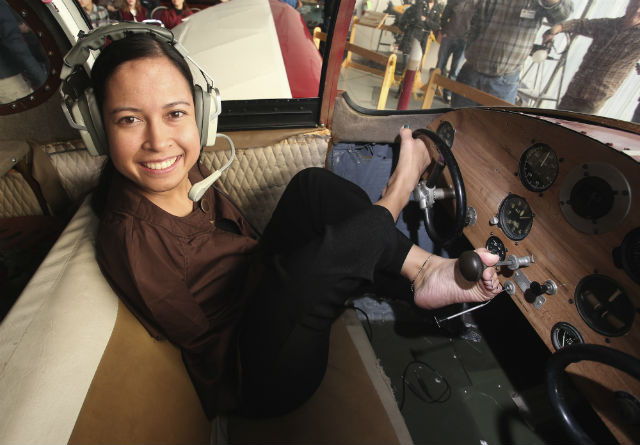 MANILA, Philippines – On June 28, a film about Filipino American armless pilot Jessica Cox won at the Mirable Dictu film festival held at the Vatican City in June.
Right Footed, directed by Emmy Award winning filmmaker Nicholas Spark, chronicles Cox's journey as she overcomes adversity and becomes a mentor to differently-abled children and an advocate for disability rights worldwide.
Wonder Woman 
Jessica Cox learned to tie her shoelaces, drive her car, scuba dive, earned a black belt in taekwondo and became the world's first certified pilot – all without arms. According to Cox, embracing that she was different allowed her to overcome her fear of being rejected by peers who told her "you can't." (READ: In her shoes: Jessica Cox, the armless achiever) 
But she can, and she has. 
"I'm very proud of the confidence I've developed over the years," Cox said during the airport press conference. "I've been able to use it as an opportunity to inspire others. The journey of self acceptance is what I'm most proud about [sic]."

Beyond her taekwondo and aviation skills, the documentary follows Jessica's achievements over a period of three years. Within this time, she had gotten married, traveled to Washington DC to lobby for an international disability treaty, journeyed to Ethiopia to support disabled communities and visited typhoon-ravaged areas in the Philippines. (READ: Jessica Cox: Journey to Guiuan)
Fostering change
Director Nick Spark was immediately struck, not just by Cox's dexterity with her feet (during their first meeting, Cox casually sat next to him drinking from a tea cup held with her toes), but also by her ability to be a positive role model for able-bodied people and people with disabilities alike.                 
With the release of Right Footed, Cox hopes to foster change in places where difference is seen as a curse. 

One moment in the film shows a young Ethiopian boy without arms witness Jessica fly an airplane. Having previously never encountered anyone with the same disability, he later told his mother he wanted to become a pilot, too. In a similar way Jessica hopes the film will resonate with people facing difficulties regarding identity and self-perception.
Critical acclaim 
Held annually at the Vatican, Mirable Dictu is an independent international film festival sponsored by the Pontifical Council for Culture.
The festival aims to recognize films that "uplift audiences" and "celebrate good moral values."

According to Cox who considers herself a devout Catholic, recognition of the documentary by Mirable Dictu is especially meaningful. The last time she visited the Holy City was in March 2011 when she was granted an audience with Pope Benedict XVI. At the time Cox's mother Inez was recently diagnosed with cancer. Jessica offered her Guinness Book of World Records medal to the Pope and asked for his prayers. 
Cox traveled to the Vatican to watch the premiere.
Right Footed will air in the Philippines later this year. – Rappler.com  
Rina Laurel is a Rappler intern