Filipino artists denounce police brutality by sharing their illustrations and other artwork online
Through their illustrations, Filipino artists condemned the killing of an unarmed mother and her son by a policeman – a brazen two counts of murder seen in a now-viral video.
Police Senior Master Sergeant Jonel Nuezca shot Sonya Gregorio, 52, and her son Frank, 25, in Tarlac on Sunday, December 20, for using an improvised holiday noisemaker called boga.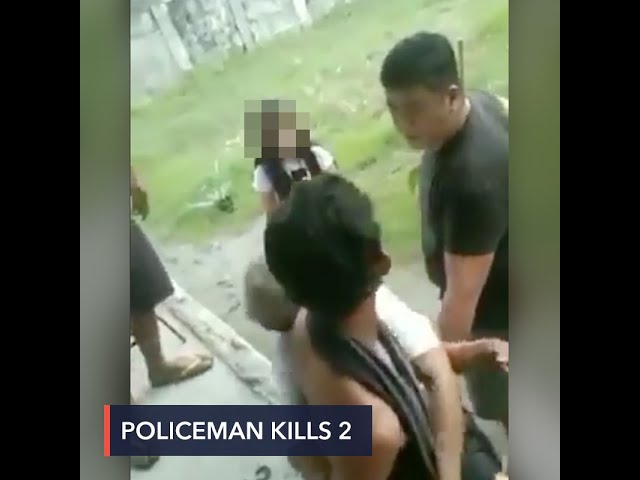 The video sparked online outrage, with hashtags #StopTheKillings, #JusticeforSonyaGregorio, MY FATHER IS A POLICEMAN, and #PulisAngTerorista leading the top Philippine Twitter trends on Monday morning, December 21. (READ: Rage and fury over Tarlac cop's killing of mother and son: No license to kill)
Tarlac prosecutors have since filed two counts of murder against Nuezca. No bail is recommended for the cop.
Artist Redic John Cruz from Calumpit, Bulacan, immortalized the mother and son's last moment. Below his sketch was the line, "At ang hustisya ay para lang sa mayaman" (Justice is only for the rich), from Buklod's hit song "Tatsulok."
Artist Tarantadong Kalbo, known for his witty comics that poke fun at everyday life and the inefficiency of the government, used Nuezca's daughter's taunt against the victims before they were shot dead, along with Sonya Gregorio's response.
"God is a forgiving God, but He is also just," wrote artist Arkitekyuklid, calling for an end to the killings in the country.
Agaw ng Trip Komiks, known for online humor and satirical comics, shared artwork from 3 years ago that remains relevant today. "PNP patay nang patay (The PNP keeps on killing)," says the piece.
Artist Genre Pescadero said the voice of the masses will still prevail even in the face of gun violence.
"Sino ngayon ang terorista (Who is the terrorist now)?" asked artist Clister, an animation student known for his multimedia GIFs. He pointed out there are cases of police brutality that likely remain unreported.
The killing of Sonya and her son Frank is just one of the cases of police brutality under the Duterte administration. Last September, another viral video showed cops from Kawit, Cavite, forcibly dragging a suspect out of her house in front of her children.
In April, a policeman was also caught on video shooting ex-soldier Winston Ragos after an argument over quarantine rules in Quezon City.
President Rodrigo Duterte has repeatedly said that he would protect the police if they are accused of abusing their authority under the guise of performing their duty. – Rappler.com