A number of young people who listened to the Vice President's speech say they came only because they support his ally, Cavite Governor Jonvic Remulla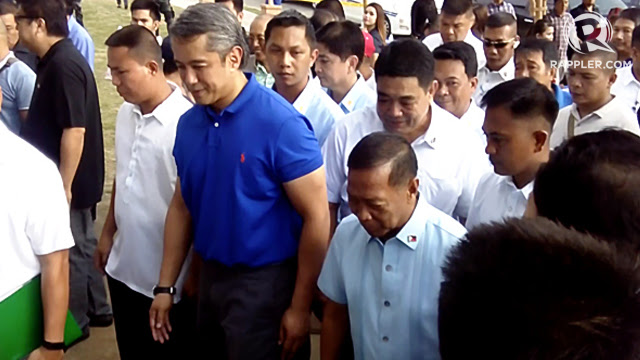 CAVITE, Philippines – It was a hot and humid afternoon despite the usually cool weather in the town of Indang, but the bleachers of the Cavite State University's gymnasium was overflowing with students.
Outside, more of them lined up to get in. They looked quite bored as they wiped the sweat off their foreheads and tried to fan themselves to keep cool.
They uttered soft "thank you's" when able to finally enter the venue and were each handed a sandwich and a bottle of water before being ushered to his or her seat.
As soon as they saw Cavite Governor Jonvic Remulla arrive, however, they all screamed with glee.
"Ayan na siya! (Here he comes!)" they exclaimed as they swarmed around the youthful governor.
Throngs of students followed Remulla as he made his way into the gymnasium, where Vice President Jejomar Binay was set to deliver his "True State of the Nation Address" (SONA) in front of the students as well as his political allies on Monday, August 3. (READ: Binay uses SAF 44 to hit Aquino)
The popular governnor indulged those who requested for selfies and waved at the crowd every time he could. He was the reason many of the students came, gladly heeding a school memo to attend the event.
The students, who were mostly composed of junior and senior college students, showed excitement from that point on, excitedly waving banners saying "We <3 Binay" in the air.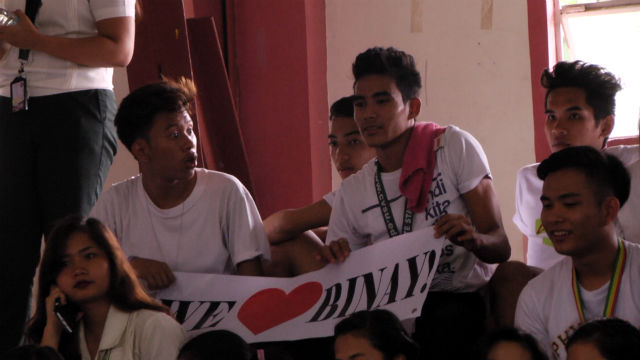 "[Pumunta po ako dito] kasi gusto ko malaman kung ano nga ba ang kanyang (Binay) masasabi sa nakaraang SONA ni PNoy," said business management sophomore Racky Adena. 
(I went here because I wanted to hear what he had to say about PNoy's last SONA.)
Adena is still unsure if he is going to vote for Binay in 2016, but he said he supports his governor.
Vote-rich Cavite
Asked why the Vice President was holding his "true SONA" in Cavite, Remulla said it was because Binay wanted to deliver his speech with "real people" around him.
"Walang fashion event, walang red carpet. Walang abubot, walang arte," said Remulla. "Gusto namin ipakita kung ano talagang nangyayari sa Pilipinas."
(No fashion event, no red carpet. No pump and pageantry. We want to show what's really happening in the Philippines.)
Lawyer Harry Roque, who has been going around with Binay to test the waters for a possible senatorial bid, said it's important to show the true state of the nation to the youth, thus the choice of a school as venue of the counter-SONA.
Another reason, he said, was for ordinary citizens to hear the Vice President's words.
"Hindi 'yung mga mayayaman [at] makapangyarihan doon sa Batasang Pambansa (Not the rich and powerful in Batasang Pambansa)," Roque said.
On July 30, Binay took oath as an adopted member of Partido Magdalo, the local party in Cavite founded by Remulla's father in 1979.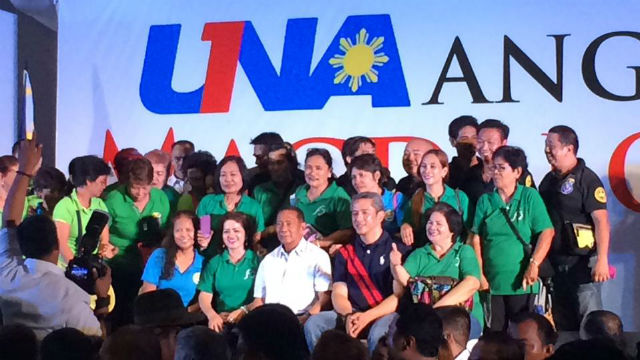 "Nasa likod niyo po ang lahat ng Caviteño (The people of Cavite are behind you)," Remulla told the Vice President, the standard-bearer of the United Nationalist Alliance (UNA) for 2016, during Binay's oath-taking. (READ: Jonvic Remulla on speaking for Binay: 'Why I'm all in')
Before his counter-SONA on Monday, Binay had been going around towns and cities in Cavite since Thursday. 
Cavite is a vote-rich province, second only to Cebu. As of latest count by the Commission on Elections, the Southern Luzon province has 1,722,949 million registered voters so far as of April 20, 2015.
Benefits of alliance
In 2010, the first time Remulla ran for governor and won, Binay also won the vice presidential race in Cavite with more than half a million votes. He led Manuel Roxas II – now the administration's candidate – by 190,000 votes.
Roque said the support of Partido Magdalo will be "one very big plus" to Binay's presidential bid.
"Tingin ko nakita niyo naman kung paanong hawak ng mga Remulla ang Cavite. Ibig sabihin na puwedeng halos walang boto dito ang [magiging mga] kalaban ni VP Binay," Roque said.
(I think people saw how strong the hold of the Remullas is in Cavite. That means it's possible that VP Binay's opponents will not have any votes here.)
"[Siguro] bibigyan nila ng onting boto ang kalaban, pero landslide na dito sa Cavite si VP Binay (Maybe they'll give his competitors a few votes, but VP Binay will have a landslide victory in Cavite)," he added.
Junior physical education student Sherry Ann Roderos has not yet decided who to vote for president in 2016, but she sees the benefit of a president that will look after the province where the governor is an ally.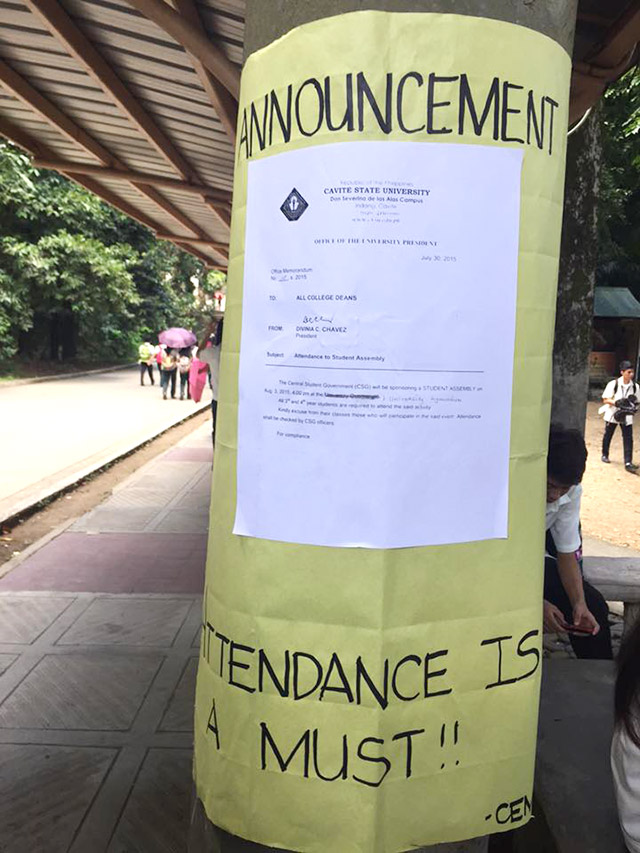 The young supporter of Partido Magdalo said she is willing to hear what Binay had to say, especially on possible scholarship opportunities.
"Kung magkakaroon po sila (Partido Magdalo and UNA) ng tandem, mas malapit po 'yung opportunity po ng scholarship sa amin, kasi may kapit na po kami sa mas mataas."
(If Partido Magdalo and UNA will have a tandem, scholarship opportunities will be closer for us, because we have someone to rely on up there). 
In his counter-SONA, Binay cited as injustice the huge cut that the national government made on the budget of the Cavite State University and other state-run higher educational institutions. – Rappler.com