Marites Vitug of Rappler, Nancy Carvajal of Inquirer, and Howie Severino of GMA 7 talk about the challenges they face as veteran journalists in the Philippines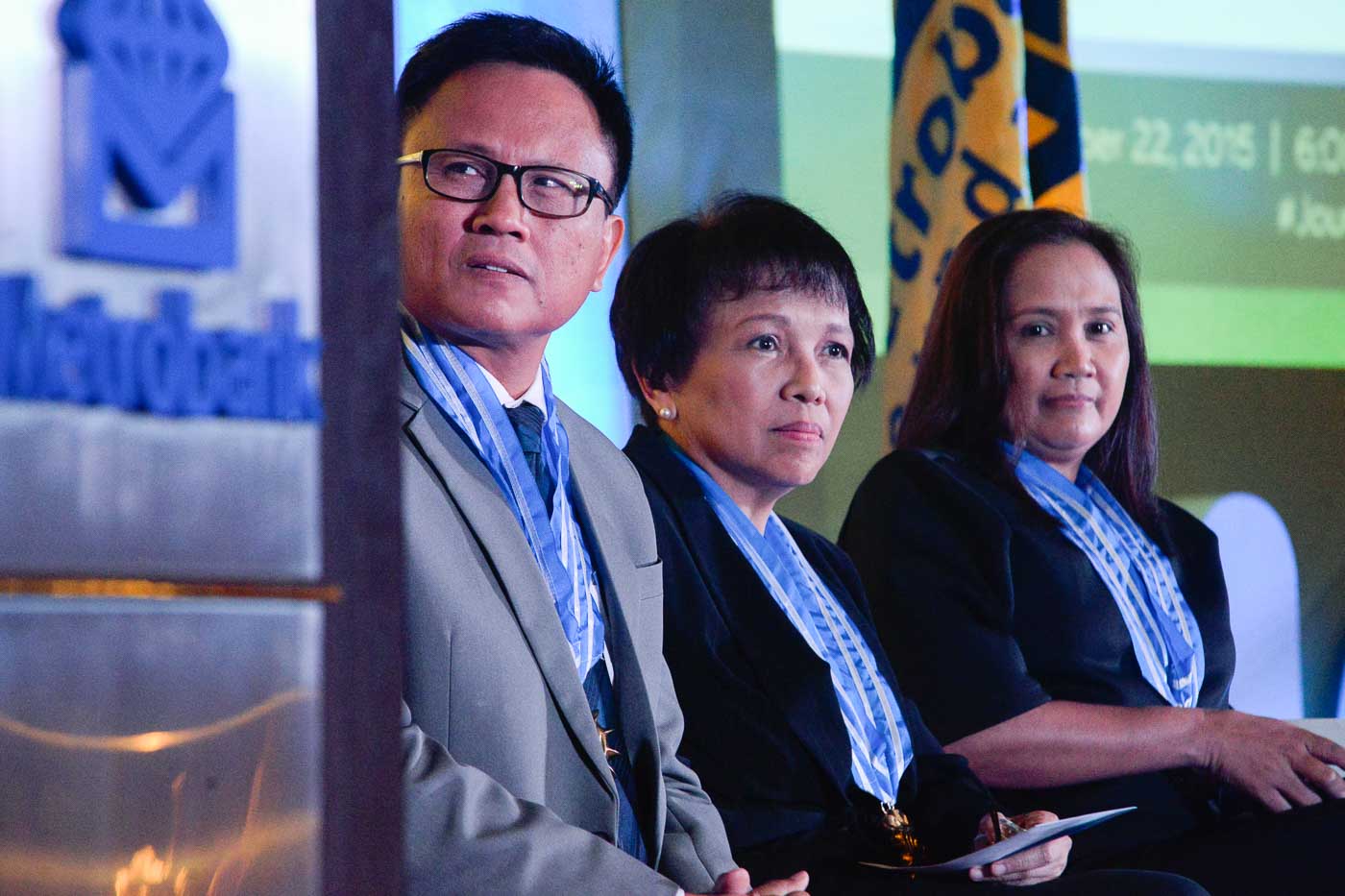 MANILA, Philippines – "Throwing pebbles into still waters, each pebble creating ripple upon ripple until it reaches the shore."
This was the image that Rappler editor-at-large Marites Dañguilan Vitug said she remembers as she looked back on her more than 30 years as a journalist.
"This is what happens every time we write a story. But many times, the ripples go unnoticed, quiet as a whisper," said Vitug, who is among the 2015 Journalists of the Year (JOY) chosen by the Metrobank Foundation and the Probe Media Foundation.
She was recognized alongside Howie Severino of GMA 7 and Nancy Carvajal of the Philippine Daily Inquirer. The awardees received a Pamukaw medallion and a P300,000 cash prize each during the awarding ceremony on Thursday night, October 22, at the Metrobank Plaza Auditorium in Makati City. 
In her acceptance speech, Vitug said that the past decades she has spent in the industry taught to her "to take the long view."
"No action, no reform, no change takes place even after we'd written consistently about malfeasance in certain institutions and by officials for whom integrity is completely alien territory," said Vitug, a multi-awarded journalist who authored the bestselling books Shadow of Doubt: Probing the Supreme Court and Hour Before Dawn: The Fall and Uncertain Rise of the Philippine Supreme Court. 

"Change doesn't come swiftly and in dramatic ways. Change is incremental," added Vitug, who is currently facing two libel suits filed against her by Supreme Court Justice Presbitero Velasco Jr over her exposés on the critical weaknesses of the High Court.
In an interview after the event, Vitug admitted that it can be "very frustrating" to be a journalist in the Philippines, a country where a culture of impunity exists.
"In the US, those officials who are found to be corrupt are punished. Here, it takes forever to achieve those things. So I've learned to be patient and say that we just have to wait and keep on doing what we're doing and not get jaded or frustrated," she said.
"It's a profession that keeps you connected to your community. It makes you feel relevant that you're doing something, that you're not in an ivory tower, isolated. So I like doing that. I like being engaged even if the results will come long term."
Journalists as watchdogs
Vitug's sentiments were echoed by Carvajal, the Inquirer senior reporter who broke the news about the pork barrel scam involving Janet Lim Napoles and several lawmakers.
"We journalists are watchdogs. We should report the wrongdoings done by government officials," Carvajal said in an interview after the ceremony.
In her acceptance speech, Carvajal shared that "winning awards never crossed our minds" when the Inquirer released their story about the Priority Development Assistance Fund (PDAF) controversy.
She said that the JOY award is a "stern reminder" of the "great responsibility that journalists carry in this side of the world."
"The investigative report on the Napoles PDAF scam is a solid testament to the Inquirer legacy and particularly unique brand of journalism – first, fair, and fearless. Before the pork barrel scam entered into the nation's consciousness, there were other stories that changed the course of our history and made the Inquirer the most influential news organization of the country today," said Carvajal.
An 'interesting' job
Severino, for his part, said he was "frankly very humbled" to receive an individual award.
He said that the television reports and documentaries that he has been producing in the past 24 years have always been a product of a team effort.
"It is not false modesty for me to say that I wouldn't be standing here tonight if not for the dedication and talent of some of the people in this room – producers, directors, editors, videographers, researchers, production assistants and many others who have worked with me throughout the years," said Severino, who used to head GMA 7's digital operations before being re-assigned as vice president for professional development.
"It is sometimes said that TV is filled with egos, but I have had mostly the opposite experience from working with outstanding professionals who quietly derive their satisfaction from simply doing good work, even if others got the credit for team success," he added.
The veteran journalist said that he finds being a journalist as an "interesting job" as well.
"There's no other job like it where you can meet a fisherman in the morning then a senator in the afternoon, and [you'll] have the same kind of conversation with them and have the same mutually respectful interaction," said Severino.
"It's an interesting job that has the potential of making an impact. The older you get, the more realistic you become that change comes slowly." – Rappler.com