Senator Ferdinand Marcos Jr returns to his mother's home province of Leyte, and joins opposition figures in Yolanda commemorative events.
TACLOBAN CITY, Philippines – Senator Ferdinand "Bongbong" Marcos Jr called on the government to "have mercy on the poor" as he issued a stinging criticism of the government's slow rehabilitation program for victims of Super Typhoon Yolanda (Haiyan).
On the second anniversary of the typhoon on Sunday, November 8, Marcos returned to his mother's home province of Leyte, and joined opposition figures in commemorative events.
A vice presidential bet, Marcos said the Aquino administration's rehabilitation efforts for storm-hit areas especially Tacloban, ground zero of the typhoon, have been "very little, very late."
"Sana naman maawa naman sila sa mga naghihirap. 'Yun lang ang ating inaalala, paano makakatulong sa mga naghihirap," said the son of the late dictator Ferdinand Marcos.
(I hope they have mercy on the poor. That is all that we are considering, how to help the poor.)
Marcos made the statement before the start of a Mass at the Tacloban Astrodome, which became the refuge of evacuees at the height of the 2013 disaster. The storm killed over 6,000 and left thousands homeless as storm surges and strong wind flattened Tacloban, the commercial hub of the region.
The senator said lawmakers like himself are not even informed where the billions in pesos allocated for Yolanda victims went, and how this was spent.
"We do not have an accounting, an assessment, a report, nothing. They just give these vague answers," Marcos said.
The budget department said that of the P150 billion ($3.195 billion) required for rehabilitation, P93.87 billion ($1.998 billion) was released. The balance of P10.2 billion ($217.20 million) will be released this November, and the remaining P46 billion ($979.50 million) is in the budget for 2016.
Marcos also rejected the pronouncement of the National Economic and Development Authority (NEDA) that the rehabilitation program is 51% complete, based on the plan of former Rehabilitation Secretary Panfilo Lacson.
"I think that is a very, very optimistic estimate. Kung titingnan ang masterplan ni Ping Lacson, on the ground na natapos na, malayo pa sa 51%," he said.
(If you look at the masterplan of Ping Lacson, on the ground what was completed is still far from 51%.)
As an example, Marcos cited National Housing Authority figures for housing where he said only 6% of permanent shelter has been constructed.
"There are still thousands of people who are homeless. Many are still waiting for the government's promise. Many do not know where are the funds donated, including from our overseas Filipino workers, aid agencies, until now, the government agencies do not want to give us an answer. Many remain victims, waiting for assistance," he said.
Marcos added: "Kitang-kita na kulang talaga ang naging response ng gobyerno. Dalawang taon na ang nakalipas, wala pa rin tayong masyadong nakikitang tulong."
(You can see that the government's response is really lacking. Two years already passed but we still don't see the aid.)
The government attributed the delays to policies on procurement and land acquisition.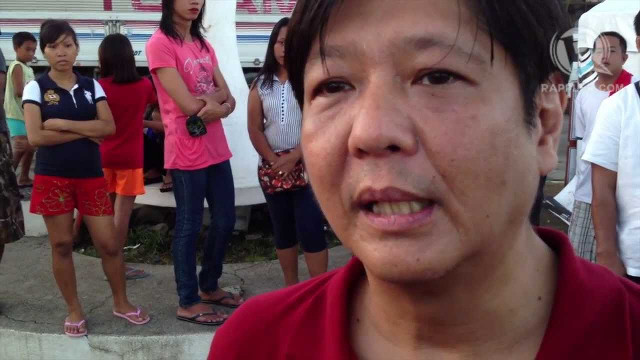 Asked how he will help Yolanda victims if he wins as vice president, Marcos said he will "clarify what exactly the government intends to do."
"Let's find out how much money is given, where is it, what is it going to be used for and when will it be finally spent to help Yolanda victims."
Aquino critics unite?
Marcos joined a commemorative walk early Sunday morning, along with Vice President Jejomar Binay and his running mate, Senator Gregorio Honasan II. Marcos' cousin, Leyte Representative Martin Romualdez, was also at the event.
Rivals for the vice presidency, Marcos and Honasan said the event was not political, and only meant to highlight the plight of the Yolanda victims.
Honasan said: "Relief operations, disaster risk reduction management, you can't say it's an opposition effort, or an administration effort. Everyone who can help should join so we can conduct a performance audit of what has been done."
Binay's vice presidential bet agreed with Marcos that the government failed to provide an accounting of the donations and budget allocated for Yolanda.
"We're moving towards line-item budgeting. Let's ensure tracking, auditing and accounting mechanisms are in place because just like previous issues, this is not a question of wasted resources. It's a breakdown of control systems. It's a good thing this assessment is happening on the eve of budget deliberations," said Honasan.
Permanent disaster agency
Besides campaignig, Honasan said he went around Leyte to see how the National Disaster Risk Reduction and Management Law can be improved. The senator was among the authors of the law.
Honasan said he was open to consider the proposal of several senators to create a permanent agency handling disasters to replace the National Disaster Risk Reduction and Management Council (NDRRMC), now under the defense department.
"But it will depend on the resources available, the political, the financial, logistical cost of adding another bureaucracy but that's something we can seriously consider," he said.
Romualdez though filed a bill to push for a separate department handling disasters. The senatorial candidate said that the NDRRMC is just an ad hoc council while social welfare officials are busy handling other programs of their own department.
Under Romualdez's plan, the department for disaster risk reduction will be headed by a secretary, and will have its own budget. Presidential bet Senator Grace Poe, and vice presidential candidate Senator Alan Peter Cayetano filed similar proposals.
Romualdez said the slow Yolanda rehabilitation program shows the need for the agency.
"What happens is NDRRMC would just coordinate a supplemental budget that we would be tasked in Congress to pass. Depending on how grave the calamity is, we will get money from different sources to fund a rehab plan made only after one tragedy. We need a more proactive stance and a department for that purpose. I think it's high time we borrow from best practices." – Rappler.com