This is AI generated summarization, which may have errors. For context, always refer to the full article.
'Don't blame yourself, don't blame your parents, don't blame your situation,' says Yangon Archbishop Charles Maung Bo to the less fortunate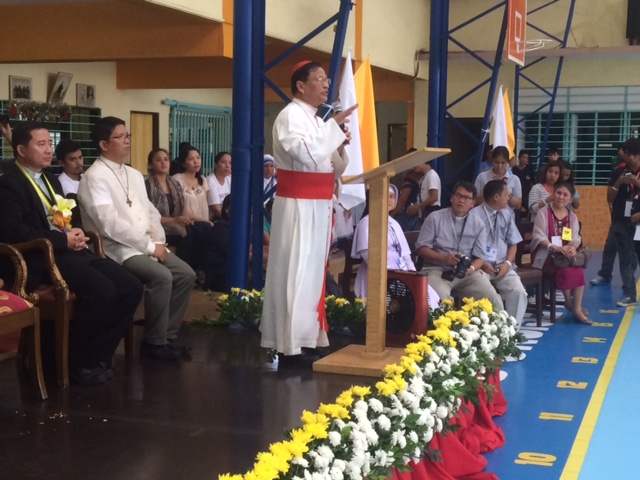 CEBU CITY, Philippines – "You can become priests, sisters, brothers, bishops. You can become the prime minister, president, doctors or engineers."
Yangon Archbishop Charles Maung Bo, the Pope's envoy to the 51st International Eucharistic Congress (IEC), delivered this message to the children of Barangay Pasil, during his stay in Cebu City.
Bo wanted to remind the children of Pasil, one of the poorest barangays in the city, that poverty is not impossible to overcome.
"Never blame your situation that because 'I'm poor, I can't do anything.' Don't blame yourself, don't blame your parents, don't blame your situation," he said.
Later, Korina Tabay, a student at Don Bosco told the Cardinal: "We ask you to pray for us, for peace and unity for our families. For us in Pasil, life is hard. Some of us are bound by the influence of drugs, others live with broken families. Most of us live in poverty."
As Bo came around to greet kids and families of Pasil, some were in tears and others swarmed him to give the cardinal a hug, or take a photo with him.
Sinulog
A little more than a week after the Sinulog festival Cardinal Bo and his company from Myanmar dance the Sinulog, a native Cebuano danced which was later adapted as a dance praising the holy child Jesus.

Posted by Ryan Gajudo Macasero on Thursday, January 28, 2016
The cardinal and his friends from Myanmar were treated to a special Sinulog performance by the kids of Pasil at the Don Bosco Training Institute, where the event was held. 
The actual Sinulog parade was held on January 17.
Bo and other delegates from Myanmar were invited to perform the two-step dance while holding the Santo Niño. "Viva Pit Senyor!" Bo said, which is the greeting during Sinulog which means to beg or plead to the King.
Earlier in the week, Cebu Archdiocese spokesperson Joseph Tan told Rappler that the papal envoy is going to areas that Pope Francis would have visited if he were in the city.
On Sunday, January 31, Bo will preside over the Statio Orbis or the closing Mass. – Rappler.com