Duterte spokesman Salvador Panelo says incoming Cabinet members only need to divest themselves of any business to remove conflicts of interest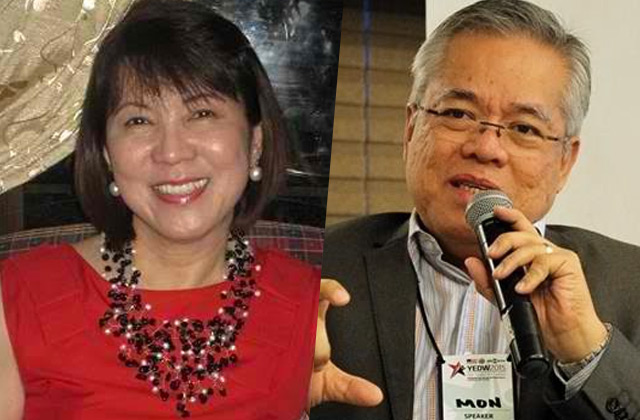 DAVAO CITY, Philippines –  The camp of President-elect Rodrigo Duterte has ruled out conflicts of interest for his incoming tourism and trade secretaries, both leaders in their fields, once they assume office.  
Duterte named Wanda Corazon Teo as the next tourism secretary and Ramon Lopez as the next secretary of trade secretary.
Teo, sister of newspaper columnist Ramon Tulfo, heads Mt Apo Travel and Tours in Davao City. She is also president of the National Association of Independent Travel Agencies.
Lopez, for his part, is the executive director of the entrepreneurship advocacy group Go Negosyo.
Critics have questioned the nomination of Teo and Lopez because of possible conflicts of interest arising from their affiliations.
Incoming presidential spokesman Salvador Panelo, however, said Teo and Lopez only need to divest themselves of any business to remove conflicts of interest.
Duterte's 'full confidence'
On Teo, Panelo said on Tuesday, June 14: "First, she passes the criteria of honesty, integrity, competence, experience. As far as the President is concerned, she has his trust and full confidence."
"Now with respect to the alleged conflict of interest, if she owns a tourism company, all she has to do is to leave it, and the conflict is gone," he said.
On Lopez, Panelo also said there will be no conflict of interest despite his affiliation with Go Negosyo. "There have been many times in recent as well as past history wherein the members of Cabinet have had their own businesses. But they divest themselves of these." 
Duterte on Monday, June 13, named Teo and Lopez, along with incoming health secretary Dr Paulyn Jean Rosell Ubial, as the latest additions to his incoming Cabinet.  
Weeks earlier, another incoming member of Duterte's Cabinet, Mark Villar, faced criticisms of conflict of interest. Duterte named Villar as his choice to head the Department of Public Works and Highways.
Villar's family owns Vista Land, which is the Philippines' biggest homebuilder, and shopping-center developer Starmalls Incorporated. 
Villar himself has downplayed claims of conflict of interest, saying means such as inhibition and divestment can help him avoid this. "I can categorically say there will be no Villar business or company that will benefit from my position as DPWH secretary," he said in an interview with GMA News. – Rappler.com