Former president Fidel Ramos, however, hints he might not accept the offer, citing his age and other commitments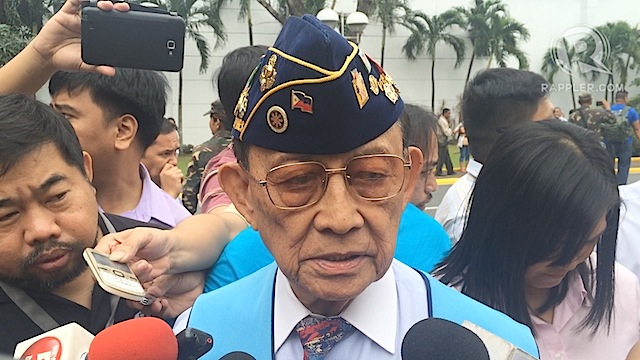 MANILA, Philippines – Philippine President Rodrigo Duterte said Thursday, July 14, he would send ex-leader Fidel Ramos to China for talks after an international tribunal ruled against Beijing's claims to most of the disputed South China Sea (West Philippine Sea).
Duterte asked former president Ramos to "go to China to start the talks" with Beijing after the UN-backed tribunal's ruling on the strategically vital waters, though he did not specify a timeframe.
"War… is not an option. So what is the other side? Peaceful talks. I cannot give you the wherewithals now," Duterte said at a college alumni meeting that was also attended by Ramos.
"I have to consult many people, including president Ramos. I would like to respectfully ask him to go to China and start the talks."
Duterte's remarks came after a UN-backed international tribunal on Tuesday, July 12, ruled against China's claim to most of the South China Sea in what is widely seen as a diplomatic victory for the Philippines.
However the decision has also raised tensions with China refusing to recognize it and warning its rivals that too much pressure on the issue could turn the resource-rich waterway into a "cradle of war."
Ramos, who served as president from 1992 to 1998, is known to favor close ties with China. But the 88-year-old hinted he might not accept the offer, citing his age and other commitments.
"This is not to show disrespect to the President of the Philippines but you have to consider my increasing age," Ramos said. "I can do the job. However, I have bigger commitments in terms of peace in the world and sustainable development."
Aides have said Duterte is now open to bilateral talks with China, suggesting the Philippines is in better position to negotiate following the Hague-based tribunal's decision.
The Philippines had initially refrained from asking China to abide by the verdict – in line with Duterte's directive to achieve a "soft landing" with Beijing on the issue. (READ: PH-China ruling: Why Yasay wasn't smiling)
Duterte, who took office on June 30, has said he wants better relations with China and to attract Chinese investment for major infrastructure projects.
China claims almost all of the resource-rich South China Sea, even over territory also claimed by the Philippines as well as Brunei, Malaysia, Taiwan, and Vietnam. (READ: Japan, US: PH-China dispute ruling final, legally binding) – Rappler.com