As the door-to-door campaign reaches gated villages, PNP chief Ronald dela Rosa urges residents to cooperate with the government's anti-illegal drugs campaign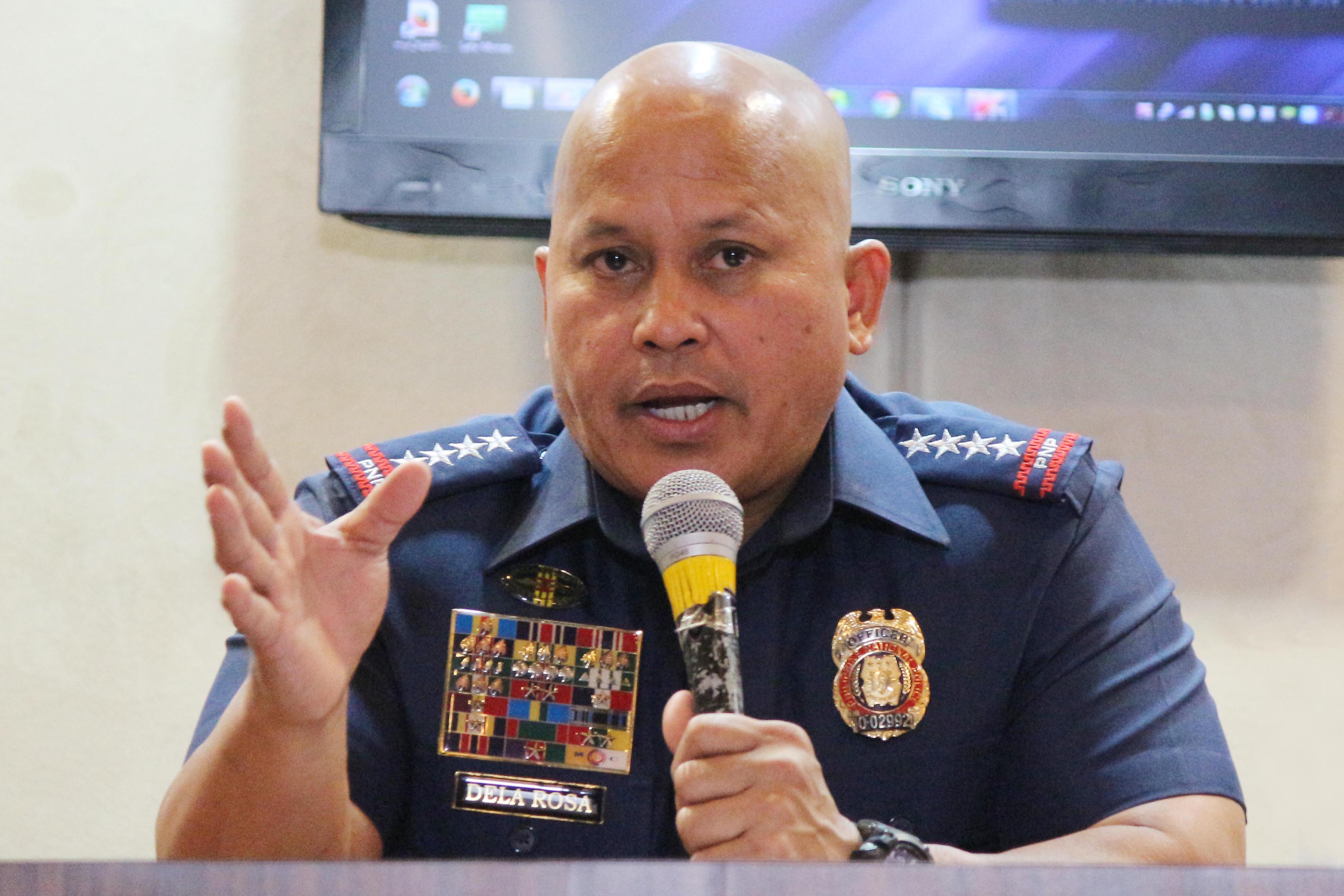 MANILA, Philippines – Be it in slum areas or gated villages, the Philippine National Police (PNP) will implement its anti-illegal drugs operations, said Director General Ronald dela Rosa on Wednesday, August 17.
"We don't have problems when it comes to exclusive villages as long as we work in cooperation with the local government unit like the barangay captains," said Dela Rosa in a chance interview in Camp Crame. 
Dela Rosa leads the PNP in its nationwide campaign against illegal drugs. Part of the campaign is Oplan TokHang, where cops and village officials knock on the doors of suspected drug users and pushers to warn them and ask them to change their ways. TokHang is derived from the Bisaya words toktok (to knock) and hangyo (to ask).
Those who "surrender" undergo rehabilitation and reformation, either under the local government or the police themselves. More than half a million drug users and pushers have surrendered to officials since the campaign began. 
But the campaign has been criticized for supposedly targeting only the poor and excluding the rich – particularly, those who live in gated subdivisions and villages. 
Recently, residents in gated villages in Metro Manila have reported that police have begun the door-to-door campaign in their villages. Some homeowners, however, have expressed apprehension over the PNP's campaign, citing their rights as citizens.  
But Dela Rosa brushed this off, telling media that if the homeowners' rights are their concern, the police's concern is getting their job done. "It'll just be a debate over our reasons but we will find ways," said the PNP chief.
Police are not allowed to enter the homes of houses they visit during TokHang, unless they have search warrants or the homeowners themselves let them in.
Dela Rosa had previously assured the public that cops would abide by the law in their anti-illegal drugs operations. 
But the police general had a more stern warning against barangay (village) leaders who refuse to cooperate with police.
"I've been getting reports of village leaders who are uncooperative when it comes to TokHang. They even question it. So I'll submit a report to the Secretary of the Interior and Local Government and to the President, of course, so they know the status of the village leaders who refuse to cooperate in our anti-drug campaign," he said. 
Barangay officials are required to submit a list of suspected drug personalities as part of TokHang.
"I don't know the reasons why they don't cooperate. It's either they're on the take, they're protecting someone, they get money from the illegal drug business in their area, or they're just afraid because the barangay elections are near and they might lose votes," Dela Rosa added.
The country is set to elect its next set of barangay leaders this October.
The officials weren't necessarily those from affluent barangays, but even the "low-end" ones, noted Dela Rosa.  
Last week, the PNP chief announced plans to talk to owners of bars and clubs in the cities of Makati and Taguig – home to high-end establishments – to ask how they can help in the anti-illegal drugs campaign. Dela Rosa said party drugs such as ecstasy proliferate in these establishments. 
"You see that we're also working on catching party drug users in high-end clubs. We're not discriminating in our campaign," he added.  
Eliminating – or at least suppressing – crime and the spread of illegal drugs was among President Rodrigo Duterte's key campaign promises in the 2016 elections. 
It's a campaign that's also been hit by critics, amid the rise of suspects killed during operations and alleged drug personalities killed in apparent summary executions. Dela Rosa has denied police involvement in these supposed extrajudicial killings.  
Law enforcement operatives have up to January 2017 to fulfill Duterte's promise. – Rappler.com