(UPDATED) President Rodrigo Duterte launches a scathing attack on Senator Leila de Lima a week before she leads a congressional inquiry into alleged extrajudicial killings in the administration's war on drugs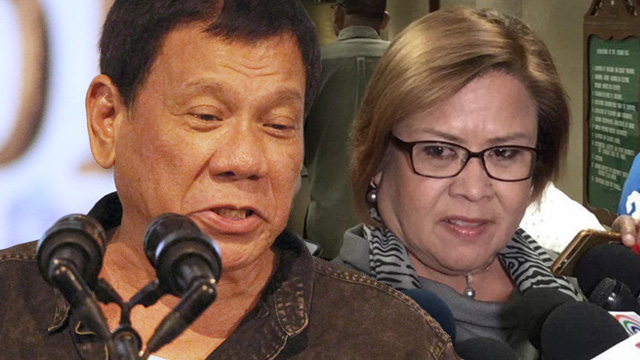 MANILA, Philippines (UPDATED) – "Namumulitika (politicking), posturing when you yourself have a very sordid personal and official life."
Though he did not name her at any point in his speech, President Rodrigo Duterte had anything but kind words for Senator Leila de Lima on Wednesday, August 17, during the Philippine National Police (PNP)'s 115th service anniversary in Camp Crame. 
Duterte did not name De Lima in his speech but dropped heavy – and obvious – hints that he was referring to her when he chastised a "senator" for "complaining" about the ongoing campaign against illegal drugs.
Later in a press conference, reporters asked Duterte about the female official he was referring to. The President said: "You want to know the name? De Lima." (READ: Duterte: It's my duty to name De Lima)
In his speech, Duterte attacked the former justice secretary ahead of the Senate probe into instances of alleged summary killings during anti-illegal drugs operations by police, which De Lima would lead as chair of the Senate committee on justice.
The President turned personal against the senator, accusing her of having a "driver and lover" who accepted drug money from "Muntinlupa." He was referring to money from drug lords at the National Bilibid Prisons.
"Here is an immoral woman….Here is a woman who funded the house of her lover. Those money came readily from drugs. The intercept between Muntinlupa and the driver were far beyond making sure that somebody was involved," said Duterte.
The President clarified that "in fairness" he was not saying there that the driver gave the senator drug money, but then the President made his own conclusion.
"But by the looks of it, she has it (money)," Duterte said, but did not elaborate.
Duterte's last lines during this off-the-cuff part of his speech had the most obvious references to De Lima. "I can show you. I have the CD when she first investigated me for human rights violations," he said.
When she headed the Commission on Human Rights (CHR), De Lima attempted to investigate Duterte for his alleged links to the "Davao Death Squad," a loose vigilante group that allegedly targeted criminals in the city. Duterte was mayor of Davao City for over two decades and is credited for turning a once lawless city into a model for peace and order. 
In the video, De Lima supposedly said that she would "prove that Duterte is connected with the DDS."
"Until now she keeps on yapping….I would like her to eat it in my presence. But I cannot do it because it is not an acceptable edible food for persons," he quipped.
It was a fulfillment of Duterte's long-standing threat against De Lima, which he first aired in public at the 17th founding anniversary of the Volunteers Against Crime and Corruption at Camp Aguinaldo on July 3, 2015.
At the time, Duterte criticized De Lima, who was then Justice Secretary, for saying in public that she had a witness who could testify that Duterte ordered the killings of the Davao Death Squad. (READ: Duterte and Davao Death Squad: 'Defending the indefensible')
"Etong si De Lima, she treats these reports, na meron daw tao doon na nakapagsabi na ako daw nag-uutos. Sabi nya sa Headstart, she has something on me. Bakit, akala niya wala ako? Aba, mas grabe itong akin, iiyak siya dito. Be very careful, you know, weather-weather ang buhay," Duterte said then.
(De Lima said there's someone who can testify that I was the one giving orders. She said in Headstart that she has something on me. Why, does she think I don't have anything on her? I have something better; it will make her cry. Be very careful, you know, life can be unpredictable.)
A "bloody" campaign against crime and illegal drugs was among Duterte's key promises during the 2016 elections. To date, 572 drug suspects have died in police operations around the country. More than half a million drug personalities have surrendered and more than 7,000 have been arrested.
While the campaign has its fans, critics have decried the "war on drugs" as one that has disregarded human rights while promoting violence and vigilantism. – Rappler.com