This is AI generated summarization, which may have errors. For context, always refer to the full article.
Bataan 1st District Representative Geraldine Roman, a transwoman, says it's about time for the Philippines to recognize the rights of same-sex couples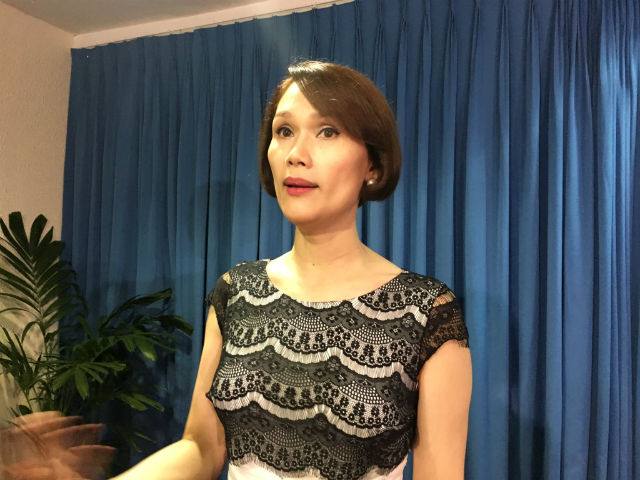 MANILA, Philippines – Bataan 1st District Representative Geraldine Roman, the country's first transwoman legislator, is supporting the passage of a bill seeking to legalize same-sex civil unions in the country.
"My personal stance is I am in favor of civil unions. I cannot be a hypocrite and say I recognize the equality of all citizens of our country, but at the same time tell two people who love each other that they cannot have their relationship recognized simply based on the basis of sexual orientation," said Roman in a press conference on Tuesday, October 4. 
"The sky will not fall if a civil union bill is passed. Dapat wala na sigurong langit sa Amerika. Hindi babagsak ang ekonomiya ng Pilipinas dahil merong mga couples na same-sex na finally, na-recognize ang kanilang karapatan to inherit property or adopt children," added Roman.
(The sky will not fall if a civil union bill is passed. If that were true, America will not have a sky perhaps. The Philippine economy will not fall if the rights of same-sex couples to inherit property and adopt children are recognized.)
Same-sex marriage is already legal throughout the United States.  
Roman called for the media briefing shortly after meeting with Speaker Pantaleon Alvarez, who a day earlier said he would file a measure institutionalizing same-sex civil marriage in the predominantly Catholic Philippines. 
During the meeting, Roman said Alvarez clarified with her that his measure would lift same-sex civil union prohibitions in the country's almost 3-decade-old Family Code.
"He wants to point out that we're talking about civil rights. Labas po dito 'yung mga religious beliefs (Religious beliefs are not included). We are just talking about civil rights," said Roman.
She added that Alvarez may have only used the word "marriage" instead of "union" because he was ambush interviewed by the media on October 3.
NOW: @speakeralvarez and Rep. @geraldinebroman, co-authors of the #ADB, begin discussions on the same-sex civil union bill. #EqualityChamps October 4, 2016
Currently, Alvarez's legal team is studying the best provisions to include in the bill that would recognize and protect the rights of couples who are part of the lesbian, gay, bisexual, and transgender (LGBT) community, including the following:
Inheritance of properties 
The future of the spouse if a person falls ill
Adoption
'Live and let live'
Some lawmakers, however, have opposed Alvarez's proposal this early, saying the measure might distract the 17th Congress from passing President Rodrigo Duterte's legislative agenda. 
Some also said that the divorce bill and the Anti Sexual Orientation or Gender Identity Discrimination Act, of which Roman is a co-author along with around 150 other legislators, should be prioritized first. (READ: Emotional Roman urges Congress to pass anti-discrimination bill)
"I would say that the anti-discrimination bill has nothing to do with the same-sex civil union. The anti-discrimination bill, as I discussed during my privilege speech last September 19, deals with very specific situations of discrimination against members of the LGBT community," said Roman.
She argued that the anti-discrimination bill is more urgent because "it deals with daily situations where people are denied the right to study, to find a job, denied equal opportunities, denied basic services simply because they are members of the LGBT community."
Asked about possible opposition from various groups and even the Catholic Church, Alvarez already said this is only normal in a democracy. 
Roman added: "Malakas din naman ang oposisyon ng Simbahan sa ating Presidente. May nangyari ba?"
(There is also strong opposition by the Church against our President. Did something happen?)
According to her, the Philippines would benefit more if all Filipinos would uphold equality.
"What we will have are happier citizens. Live and let live. Be happy and let others be happy. Simple lang naman 'yan eh (It's that simple)," she said. – Rappler.com