The Senate Minority Leader says 7 months since the law was signed, concerned government agencies have yet to promulgate its implementing rules and regulations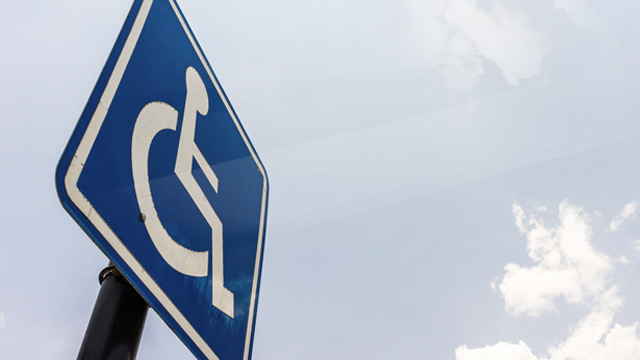 MANILA, Philippines – "Like a new car which sits in the garage but can't be driven out yet."
This was how Senate Minority Leader Ralph Recto described the status of Republic Act 10754, the law that exempts persons with disabilities (PWDs) from value added tax (VAT) payment. The law, passed in March, has no implementing rules and regulations (IRR) until now, according to the senator. 
President Benigno Aquino III signed RA 10754, which amends Magna Carta for Disabled Persons, last March 23.
Under RA 10754, PWDs will be VAT-exempt on the following:
Land transportation, domestic air and sea travels
Fees and charges for medical and dental services, including diagnostic and laboratory fees
Professional fees of attending doctors in all government facilities and private hospitals and medical facilities
Cost of medicines
Funeral and burial services
Fees and charges in hotels, restaurants and recreation centers
Admission fees in theaters, cinema houses, concert halls, and other similar places of culture, leisure, and amusement
Aside from the VAT exemption, the law also grants a P25,000-annual income tax deduction to relatives within the 4th civil degree of consanguinity or affinity, who are caring for and living with a PWD.
In a statement on Thursday, October 27, Recto appealed to concerned government agencies to come out with the IRR, as it has been 7 months since the law was signed.
The IRR, he said, is the "missing link in [the law's] full implementation."
Recto also refused to give in to a "conspiracy theory" that the IRR is "being deliberately withheld due to the plan of the government's economic managers to repeal all tax discounts of PWDs."
RA 10754 mandates the Department of Social Welfare and Development (DSWD) to promulgate the IRR, in consultation with the Department of Health, the Department of Finance, and the National Council on Disability Affairs (NCDA).
It is stated in the provisions of the law that the failure of these agencies to promulgate the IRR does not prevent the implementation of the law.
But Recto said entities affected by the law, like drug stores, consider the IRR a requisite before providing discounts for PWDs' purchases.
The senator noted, however, that the law merely grants PWDs with the benefits already enjoyed by seniors – an "existing template" and a "tried system already in place."
"So we're not starting from scratch…. From points of sale sa [in] stores, may sistema na [there's a system already]," he added.
Despite the "automatic implementation clause" in the law, Recto said nothing can replace a set of written rules for clear implementation. 
According to a post on the NCDA website, DSWD and NCDA held a national consultation on the IRR of RA 10754 last September 13.
During the consultation, they clarified issues, such as the classification of disabilities, the computation of the VAT exemption, and the 20% discount in the Magna Carta for Disabled Persons, and the issuance of a PWD ID as proof of entitlement, among others. – Jee Y. Geronimo/Rappler.com
Handicapped parking sign image via Shutterstock