(UPDATED) Why is he siding with the police in operations like this? President Duterte says: 'Natural, utos ko iyon eh. The fight against drugs is mine. it was not somebody else's order.'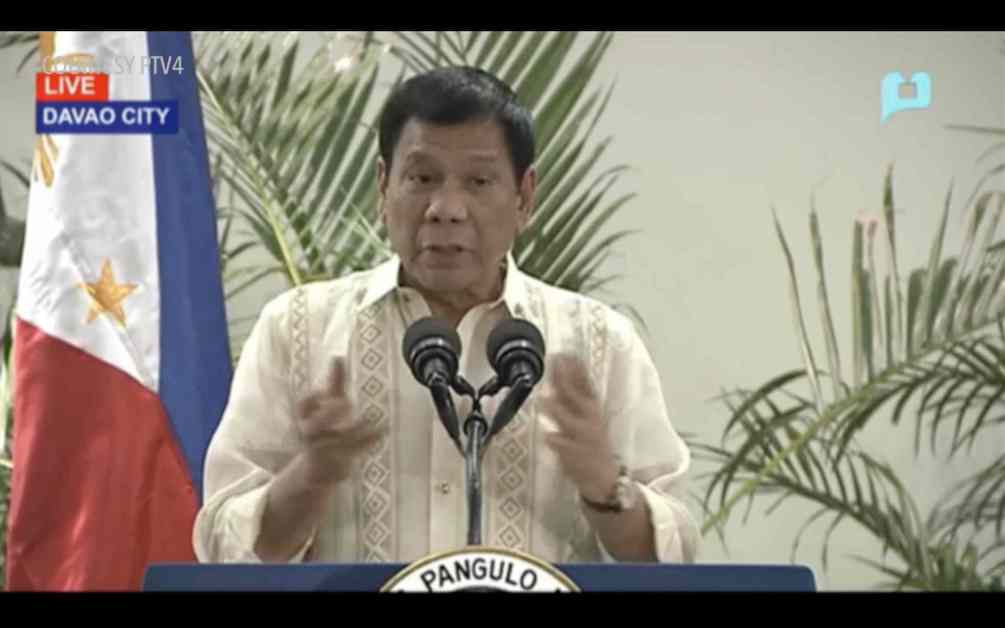 MANILA, Philippines (UPDATED) – President Rodrigo Duterte said on Friday, November 11, that he believed in the account of Eastern Visayas policemen that Mayor Rolando Espinosa Sr of Albuera, Leyte, and a fellow inmate were killed recently in a shootout with the authorities. 
"Let me state my case as the Chief Executive of the executive branch: I believe in the version of the police. [If] they have evidence to prove otherwise, then a case should be filed against the police," Duterte said in a televised press conference early morning in Davao City upon his arrival from Malaysia. 
The President was asked to comment on the Thursday Senate hearing on the death of Espinosa and fellow inmate Raul Yap at the Leyte sub-provincial jail over the weekend. (READ: Leyte cops called SOCO an hour before Espinosa killing)
Senators were convinced the two were summarily executed by a team of the Philippine National Police Criminal Investigation and Detection Group (CIDG) in Region VIII. 
Espinosa is the father of alleged drug lord Kerwin Espinosa, who is jailed in Abu Dhabi and whom senators want to summon to the hearings. About a month before the mayor's death, he had executed an affidavit with the Albuera police, naming the alleged cohorts and protectors of his son's drugs operations. (READ: Politicians, police, media: Who were named in Espinosa's affidavit?)
He had said that while he knew about Kerwin's illegal operations, he never benefitted from them. Mayor Espinosa was in jail, however, after law enforcers seized P88 million worth of shabu in his kitchen cabinet and several firearms during a raid. 
'Fight against drugs is mine'
Addressing those whom he said were probably wondering why he is siding with the police in operations like this, Duterte said: "Natural, utos ko iyon eh (Naturally, because that is is my order). The fight against drugs is mine. it was not somebody else's order."
He reiterated the assurances he had given in the past that he would protect the cops who are involved in anti-drug operations: "So walang dapat ikatakot ang mga pulis. Suportado ko sila." (So the police have nothing to fear. I got their backs.)
He said he was willing to go to jail to answer for policemen who were only doing their jobs.
"And as a matter of fact, if anybody should go to  prison, I should be the one. Ako ang nag-utos eh (I'm the one who ordered it). So I assume full legal responsibility. Akin (Mine). So if I rot in prison, so be it. At least ang 'pinangako ko sa inyo, sa taong bayan (I am able to fulfill my promise to the people), that I will stop corruption, I will stop drugs and criminality," the President said.
"So this is actually mine. Huwag kayo tumutok sa police (Don't nitpick on the police). Just wait for their explanation. Just wait for their version…. In the meantime, if you run out of people to blame, look at me because I was the one who ordered the war against drug," Duterted added.
Kerwin Espinosa's repatriation
The President also gave guarantees that Kerwin Espinosa would be expatriated from the United Arab Emirates to testify because "he has plenty to tell."
The Philippines has no extradition treaty with the UAE, thus a more tedious paperwork between the two countries so the suspect can be handed over to Manila. A team from the National Bureau of Investigation and the PNP are coordinating with UAE authorities, he said. 
"There are rules to be followed. But he will be back to face the charges," the President said.
Duterte said Kerwin will be provided security, joking the reporter that "Takot ka baka ihulog diyan pag-uwi sa Pacific (Why, you're worried we might just toss him over to the Pacific Ocean [from the plane]?"
Senator Panfilo Lacson, a former PNP chief, said in Thursday's hearing that if the Duterte administration is serious in identifying Kerwin's protectors in government, then it should secure Kerwin so he can "live to tell his story." 
The senator warned that several people had been contacting Kerwin in his jail in Abu Dhabi: "These are individuals to whom he has already revealed several names in his blue book, and the list includes recipients of campaign contributions in the recent 2016 national and local elections. Therefore, unlike his late father…he must live to tell his story."
24 policemen sacked
In the morning that 24 officers of the CIDG and the Regional Maritime Unit in Eastern Eastern Visayas were to face senators, PNP Director Ronald dela Rosa relieved them from their posts. 
At the hearing, among the loopholes seen by lawmakers in the CIDG Region VIII's account of the incident were: 
Why a

search warrant

was needed for somebody was already in jail, and how this was served on him at 4 am.

Why the CIDG team did not coordinate with the jail personnel in Baybay for their operation

Why the CIDG team already requested for

Scene of the Crime Operatives even an hour before Espinosa was killed

in the supposed shootout.
– Rappler.com