(UPDATED) Senate Majority Leader Vicente Sotto III says the Ombudsman has no authority over the case because it happened abroad, but Philippine laws say otherwise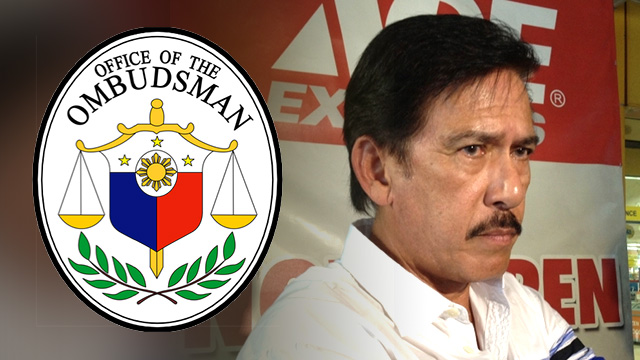 MANILA, Philippines (UPDATED) – Senate Majority Leader Vicente Sotto III said the Ombudsman has no jurisdiction over the ethics issue against Philippine National Police (PNP) chief Roland dela Rosa for accepting an all-expenses-paid trip to the United States from Senator Manny Pacquiao.
Citing some lawyers and even a judge, Sotto said they told told him that the Philippines has no authority over the propriety case against Dela Rosa since it happened in the US.
Philippine laws say otherwise: the country has jurisdiction over cases involving its public officers even if the offense they committed in the exercise of their duties happened abroad.
Dela Rosa earlier admitted it was Pacquiao who paid for his and his family's trip to Las Vegas to watch the world boxing champion's match against Jessie Vargas.
Sotto as example
"Judge nga ang pinagtanungan ko eh. Ang krimen ginawa sa Las Vegas," Sotto said on Tuesday, November 15. (I even asked a judge. The alleged crime was committed in Las Vegas.)
Sotto said he did not see anything wrong about the PNP chief accepting Pacquiao's favor. 
"Kagaya ko, madalas akong maimbitahan, ang nagbabayad ng kinakain ko ay 'yung nag-imbita. Ang ibig sabihin ba, magprisinta ako na ako na magbayad kasi senador ako, baka ma-charge ako? Katulad nun, inimbitahan ni Senator Pacquiao si Dela Rosa," he said.
(Like me, I frequently get invited. Those who pay for my meals are the people who invited me. Does that mean that I should volunteer to pay for it because I am a senator and I might get charged for it? Like with Dela Rosa, he was invited by Senator Paquiao.)
"Pero ang issue dun is hindi dito nangyari, 'yun ang aking punto. Tanungin 'nyo 'yung mga abogado," he said. (But the issue is it did not happen in the Philippines. That's my point. Ask lawyers.)
Philippine laws
The Ombudsman is investigating the possible liability of Dela Rosa for violating Republic Act 6713, or the code of conduct for public officials.
The Ombudsman has the power to investigate and prosecute on its own any act or omission of any public officer or employee when such act or omission appears to be illegal, unjust, improper or inefficient. It did not specifically state that the act should be committed in the country before the agency could conduct an investigation.
Aside from RA 6713, Dela Rosa's act may constitute violation of Article 210 and Article 211 of the Revised Penal Code (RPC) involving direct and indirect bribery. 
Article 2 of the RPC specifically says the code is enforceable "not only within the Philippine Archipelago…but also outside of its jurisdiction" against public officers or employees "who commit an offense in the exercise of their functions."
Lawyer Arno Sanidad, a professorial lecturer at the University of the Philippines College of Law, said that Dela Rosa might have also violated Presidential Decree 46.
PD 46 prohibits public officials from receiving gifts or any other valuable thing when the gift is given because of an official's position, regardless of whether or not the gift is given for past favors, or if the giver is expecting to receive a favor or better treatment in the future. 
The same prohibition against receiving gifts is also in Republic Act 6713, which specifies that prohibited gifts include those with a value that "is neither nominal nor insignificant."
Sources at the Office of the Ombudsman pointed out that it was Pacquiao who moved to declare the committee on justice and human rights, formerly headed by Senator Leila de Lima, vacant.
Dela Rosa, sources said, is a "person of interest" for Pacquiao, considering that the PNP chief had appeared in Senate investigations into alleged extrajudicial killings and is invited to the probe into the alleged role of the police in the killing of Albuera Mayor Rolando Espinosa Sr.
The senator defended his gift to Dela Rosa, saying the latter is his friend and it's better that way than for an official to use public funds.
Dela Rosa, for his part, maintained he has "no regrets" in accepting the gift from his senator-friend. – Rappler