The chief of the PNP says he'll 'hunt down' cops who turn corrupt or abuse their power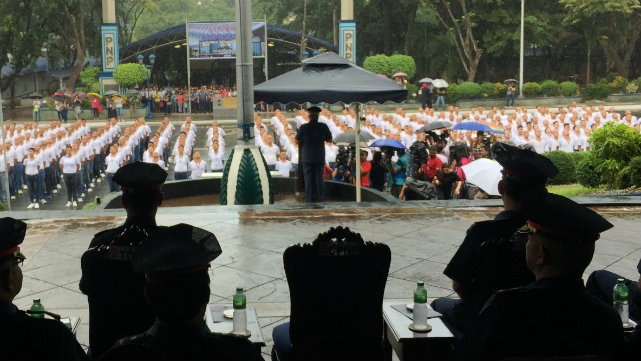 MANILA, Philippines – Amid what's shaping up to be a year-long war on drugs, the chief of the Philippine National Police (PNP) reminded new recruits to be ready to kill or be killed in the name of service.
"Yung basic na trabaho ng pulis is to serve and protect. Is that clear? And in the process of serving and protecting the people pag kinakailangan, kayo ay pumatay. Kung kayo'y magpakamatay dapat kaya mong gawin yan. Is that clear? Ayaw kong makarinig na hindi ko yan trabaho sir. Dahil yan ang trabaho ng pulis. You should bear that in mind," Dela Rosa said on Wednesday, November 16, during the oath-taking of new Police Officer 1 (PO1s) in Camp Crame.
(The basic job of a police officer is to serve and protect. Is that clear? In the process of serving and protecting the people, if need be, you should be willing to kill. If you need to die, you need to be able to do that. Is that clear? I don't want to hear anyone telling me: "that's no my job, sir." Because that's our job. You should bear that in mind.)
Rain later poured down on at least 600 new police officers in Camp Crame on Wednesday, as Dela Rosa explained he wanted them to know his "standard" of what is to be a policeman or woman.
"The question is: did you sign up to be police to make money?" he asked.
"No, sir," the group, dressed in white shirts and blue jeans, answered.
The 600 or so cops, who were recruited mid-2016, will be assigned to various administrative and operation support units in Camp Crame such as the Health Service, the Anti-Illegal Drugs Group, and the Highway Patrol Group. 
Zero tolerance for corruption
Dela Rosa told the newest members of the 160,000-strong police force: "Once you're in the service and I retire, once I hear you're corrupt, you're accepting bribes or abusing your power… you will be held accountable. I'll hold you accountable. I will hunt you down even if I'm old by then. I will take this personally because I do not want police who are corrupt, abusive, or lazy. Is that clear?"
Dela Rosa had led the PNP since July 1, or President Rodrigo Duterte's first full day in office. He leads the police force in a popular but much-criticized war on drugs that has claimed the lives of at least 4,800 people in its first 4 months.
"So make sure if you are going to be police, you're sincere about it. Our salaries now are bigger, you're very lucky. So the expectations on your are higher, especially when it comes to discipline," he added.
Ironically, Dela Rosa now is the subject of an Ombudsman probe into a free trip to Las Vegas sponsored by Senator Emmanuel Pacquiao. Dela Rosa has downplayed the investigation and defended himself from allegations of impropriety by pointing out that he was merely being transparent and honest about his trip.
In media interviews, Dela Rosa clarified that his trip to Las Vegas – to watch a Pacquiao boxing match – came at no expense. Pacquiao had apparently paid for the airfare, ticket to the match, accommodations, and even allowances of Dela Rosa and his family.
Dela Rosa has said he is "ready to go to jail" even as he insists that Pacquiao, a newly-elected senator, offered the trip with "no strings attached."
Ombudsman sources earlier told Rappler that Dela Rosa may have violated two laws prohibiting public officials from accepting gifts: Presidential Decree No. 46 and Republic Act 6713, or the code of conduct for public officials. – Rappler.com