This is AI generated summarization, which may have errors. For context, always refer to the full article.
(UPDATED) Ronnie Dayan goes all out against former boss Senator Leila de Lima, linking her to an alleged drug lord, accusing her of dumping him, and saying she forced him to quit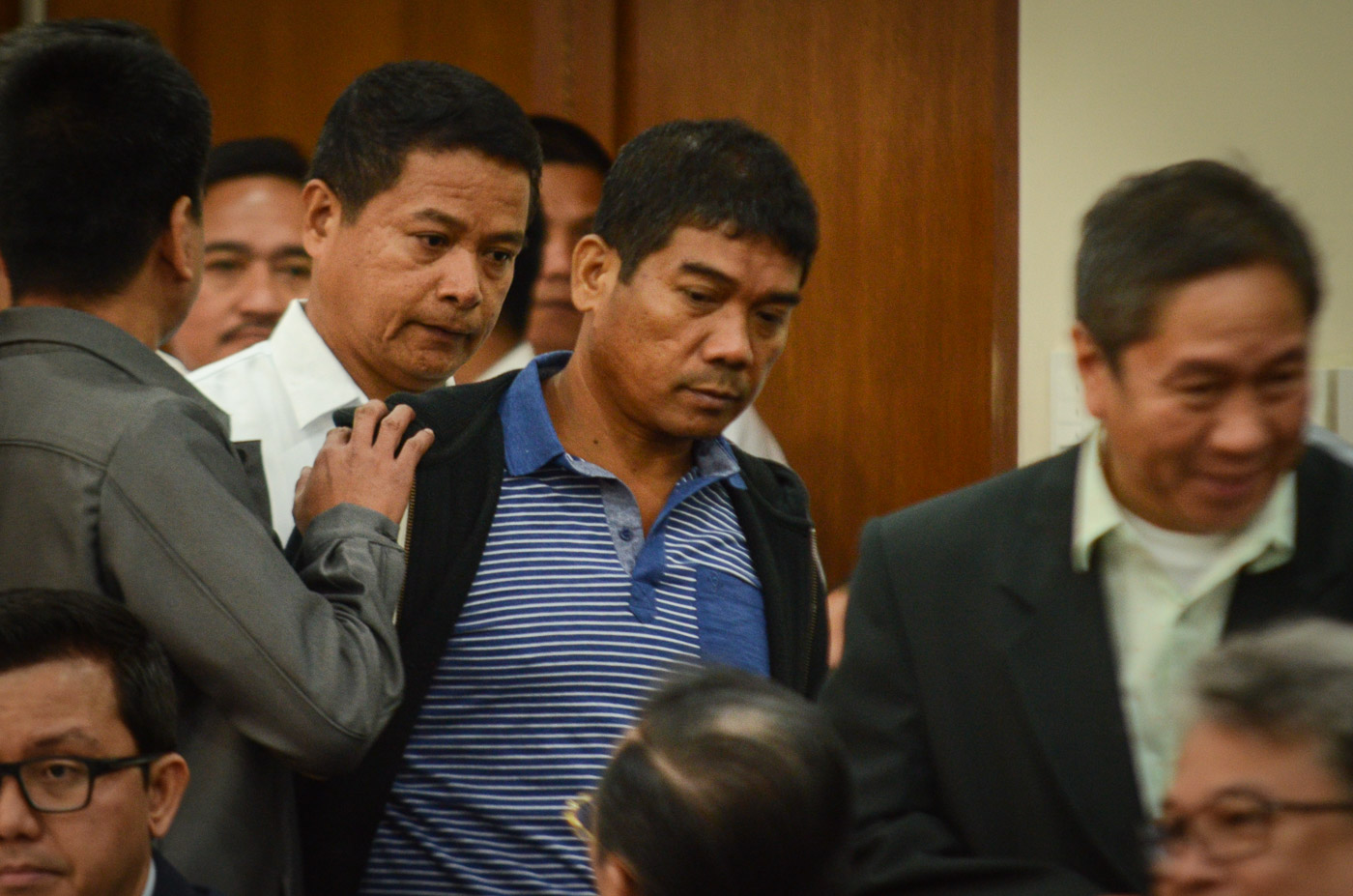 MANILA, Philippines (UPDATED) – Ronnie Dayan, the 44-year-old former aide and ex-boyfriend of Senator Leila de Lima, said the senator had advised him to go into hiding and skip the hearings conducted by the House committee on justice in September and October this year.
In a signed affidavit that he read before the House of Representatives committee on justice on Thursday, November 24, Dayan confessed to a 7-year relationship with the 57-year-old De Lima that, he said, began in 2007, when she was still at her law firm, and ended in 2015, when she was justice secretary. (WATCH: Live: House justice committee probe)
Dayan had served as her driver and bodyguard throughout this period, but he said it was De Lima herself who forced him to resign in 2015. He added they broke up in 2015 because the senator had found a new boyfriend.
Dayan said he was affirming his earlier claim in a previous press conference, where he said he received drug money for De Lima. (READ: Ex-aide, boyfriend: I got Espinosa drug money for De Lima)
In exchange, the House granted him immunity from any suit arising from his testimony on Thursday. He was also ordered released from congressional custody.
De Lima's advice
Dayan said in his affidavit that he was willing to appear at the hearings conducted by the House in September and October on the drug trade in the New Bilibid Prison (NBP). 
Upon receiving a subpoena from the House committee, the 44-year-old Dayan said he told his daughter to ask advice from De Lima through a text message, and to say he was willing to attend. "'Sabihin mo, a-attend ako.'"
The exchange of text messages between the senator and Dayan's daughter Hannah Mae happened on October 1, Dayan said. De Lima's supposed number at the time was 0917-8422759.
De Lima reportedly told Hannah Mae to tell her father that he should not attend the House probe, because his presence would only stir controversy and turn both of them into a laughingstock. "Huwag mo siyang pa-attend… pagkakaguluhan lang siya," De Lima reportedly said in a text message to Hannah Mae. (Don't let him attend…they'll just make a show of us.)
De Lima also advised Dayan to go into hiding. "Pakisabi sa kanya magtago siya, magtago lang muna siya," De Lima reportedly told Hannah Mae in a text message. (Please tell him to go into hiding, to hide in the meantime.)
The senator also told Hannah Mae that the probe was the handiwork of President Rodrigo Duterte and Speaker Pantaleon Alvarez.
'Obstruction of justice'
Justice Secretary Vitaliano Aguirre II that De Lima commited an "obstruction of justice" by preventing Dayan from appearing before the House on October 6, 2016.
"I believe the law violated by Secretary De Lima is the Rules of Court in contempt. It is an obstruction of justice on the part of the senator, said Aguirre.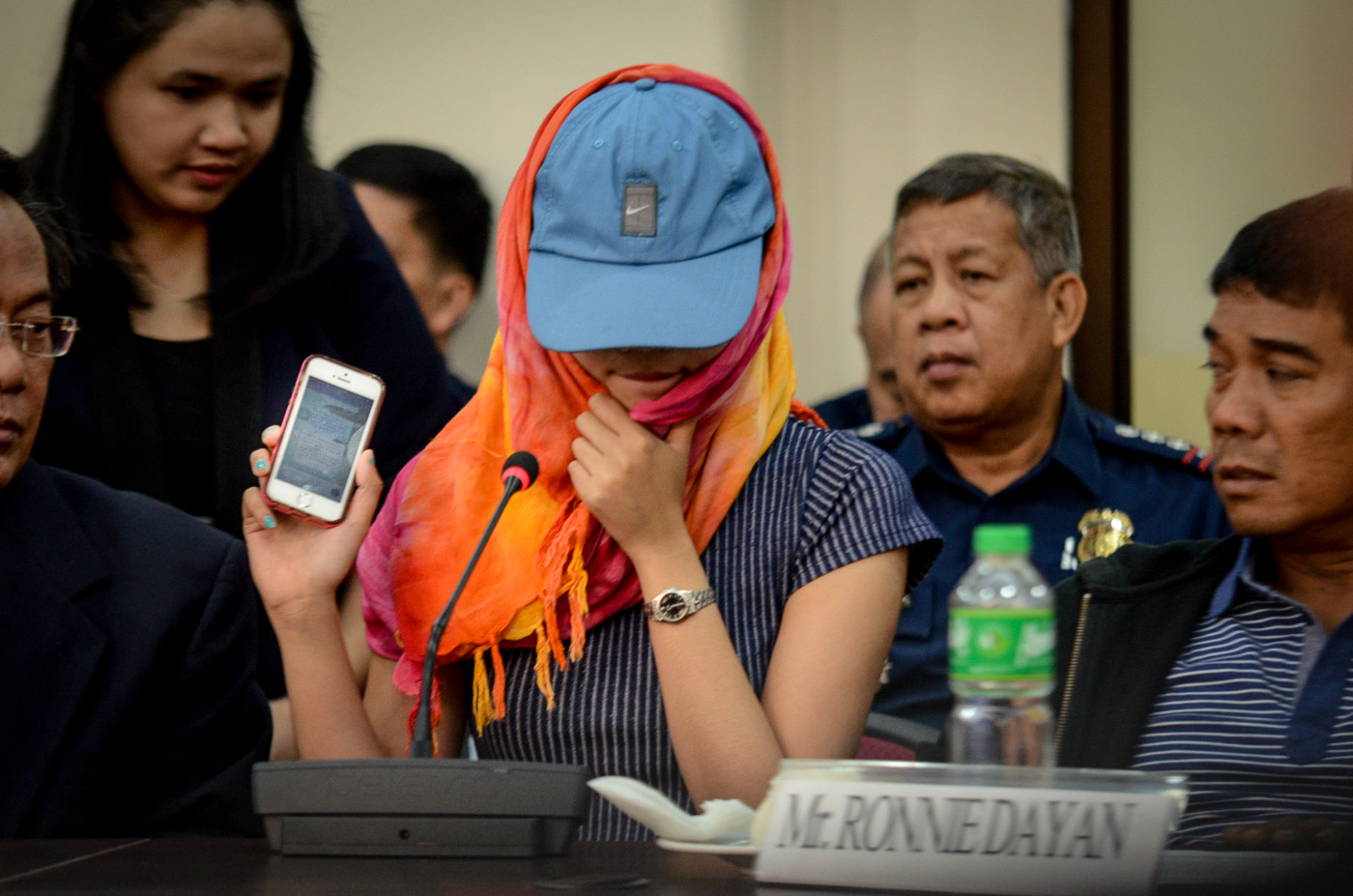 Shortly past 11 am during the House hearing, Majority Floor Leader Rodolfo Fariñas asked Hannah Mae, who was present, to testify.
Hannah Mae provided other details about her exchange with De Lima, whom she refers to as Tita Li. Hannah Mae reportedly asked if her father would not be arrested should he refuse to appear at the House probe, to which De Lima replied: "'Di ba nagtatago naman siya?" (Isn't he in hiding anyway?)
Feasted on affair
Dayan has been the subject of a manhunt since the House began its probe into the illegal drug trade in the NBP and De Lima's alleged involvement in its proliferation. (READ: House justice panel orders arrest of Ronnie Dayan)
The senator has denied these allegations, saying the Duterte administration was bent on silencing her through parallel executive and congressional probes.
Thursday's probe dwelt on the details of their affair, prompting criticism from netizens. (READ: Netizens on Dayan, De Lima questions: 'Papa jack,' 'crossing the line')
De Lima, as former head of the Commission on Human Rights under the Arroyo administration, pursued the investigation of the Davao Death Squad (DDS) in Davao City that reportedly was created by then Davao City mayor Duterte. 
Duterte has since run after her, blasting her for her supposed affairs, links to drug lords, and alleged corruption. The senator was eventually ousted as chairperson of the Senate committee on human rights, days after she presented whistleblower Edgar Matobato, who linked Duterte to the DDS.
De Lima has fought back, filing a test case before the Supreme Court against Duterte, who, as president, is immune from suit.
Women's groups also threw their support behind De Lima, accusing the President of harassing her. (READ: Women's groups back De Lima, hit Duterte's 'sexist harassment') – Rappler.com