The police say they will exercise maximum tolerance toward demonstrators on Friday, November 25, as long as they don't become unruly or cause damage to properties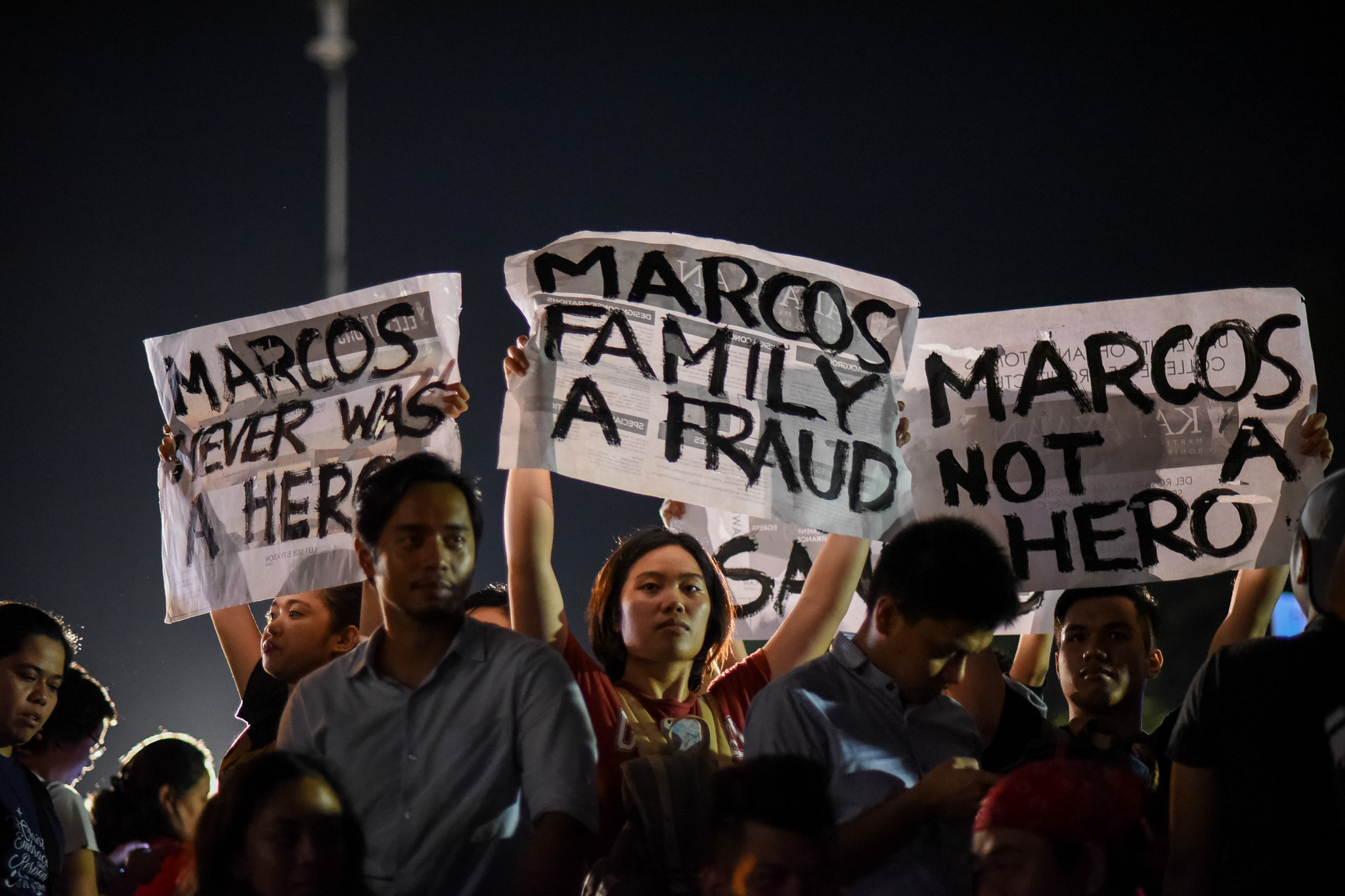 MANILA, Philippines – Philippine National Police (PNP) chief Director General Ronald dela Rosa on Thursday, November 24, promised that the police would not get in the way of protesters who plan to stage mass demonstrations opposing the burial of the late dictator Ferdinand Marcos.
"Wala, wala kaming preparations diyan. Pabayaan namin sila. Sa kanila na 'yang mga plaza, mga kalsada, kung gusto nila," said Dela Rosa on Thursday, November 24, on the sidelines of a congressional hearing into the spread of illegal drugs in the New Bilibid Prison.
(We don't have any specific preparations for the protests. We will let them be. They can have the plazas, the streets, if they want.)
On Friday, November 25, various anti-Marcos groups are set to hold a "grand rally" to oppose the surprise burial of the late strongman at the Libingan ng mga Bayani. (READ: November 25 Luneta grand rally: What you should know)
The burial, kept secret by military and police at the request of the Marcos heirs, took most Filipinos by surprise – Marcos loyalists included.
Marcos was president for over two decades. His years as president are marred by the declaration of martial law, human rights abuses, and millions stolen from government coffers. Allowing the Marcos family to bury their patriarch in the Libingan ng mga Bayani was among President Rodrigo Duterte's 2016 campaign promises.
Immediately after the burial, protests were staged in different parts of Metro Manila to oppose the plan. No major untoward incidents were reported between police and protestors.
On Wednesday night, President Duterte gave his assurance to those joining rallies against the Marcos burial that they will be protected. He said only a minimal number of cops will be deployed, just to manage the traffic around the rally areas. He also said the protesters will be exempt from the rally permit requirements of local government units. 
When Dela Rosa was asked about how the PNP was preparing for the "Black Friday" mobilization, the top cop said: "Normal lang, pabayaan lang sila kung ano gusto nila. 'Wag lang sila manggulo. Kung magprotesta sila, 'wag lang sila manggulo," ((Normal. We'll let them do what they want. Just don't be rowdy. If they protest, don't create trouble.)
Civil Disturbance Management (CDM) or riot cops, said Dela Rosa, would only be deployed if protesters become "unruly." "But if it's simply a peaceful protest, we won't meddle," he added.
Maximum tolerance
National Capital Region Police Office (NCRPO) chief Director Oscar Albayalde on Thursday said they will exercise maximum tolerance in any protest with or without permit.
"Rallies can be tolerated even without permit/s as we respect the freedom of assembly and speech provided that protests will be conducted peacefully and orderly," he said.
Albayalde, however, said that full force of the law will be applied if protesters become "unruly, violent and start damaging properties."
In October, officers from the Manila Police District were relieved from their posts after a violent dispersal in front of the United States Embassy, where a police van rammed over several protesters.
Senator Grace Poe, among other lawmakers, condemned the PNP's actions, labeling them as "barbaric and illegal." 
Under the Public Assembly Act of 1985, law enforcers are expected to observe maximum tolerance when dealing with protesters. This was not the case, however, in some rallies that led to a bloody encounter between the police and protesters. – with a report from Khristine Montenegro/Rappler.com