Now 4 US copyright holders have spoken out, including the president of the Robert F. Kennedy Center for Justice and Human Rights -- RFK's daughter, Kerry Kennedy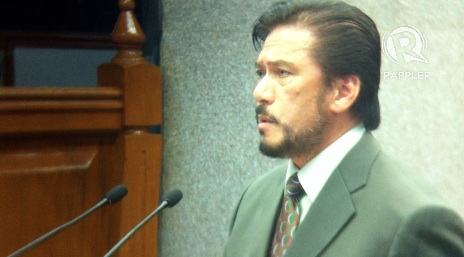 MANILA, Philippines – Long is the saga of Sottogate, yet allegations against Senator Tito Sotto continue.
Now 4 US copyright holders have spoken out, including the president of the Robert F. Kennedy Center for Justice and Human Rights: RFK's daughter, Kerry Kennedy.
All this began again the other day, when Sarah Pope, Janice Formichella, and Peter Engelman issued a joint statement alleging that Sotto had "infringed on our intellectual property rights and plagiarized."
Their protest was swiftly dismissed by Sotto and his staff, who, according to GMA News, "questioned its authenticity, pointing out that it did not even have an official letterhead."
This, after Sotto's chief of staff, Hector Villacorta, reportedly said they would address the issue only after the aggrieved parties complained.
Complain they have, in no uncertain terms. Yet when Formichella wrote about the issue in Ms. Magazine, Sotto churlishly said: "She is pathetic. She is just riding on to get famous."
When Engelman wrote a statement, he was ignored completely. And when Sotto was asked about his alleged plagiarism of Kennedy's speech, our Senate Majority Leader replied: "The people who think this is plagiarism should think again. I did not copy it, I translated it. Do they know the spelling of 'copy' and 'translate'? They have low IQ!"
And so I present to Messrs Sotto and Villacorta this fourth complaint. On official letterhead. From someone who knows the spelling of copy and translate, and undeniably needs not ride on to get famous. Such is Ms Kennedy's track record in continuing her father's legacy.
Kerry Kennedy's letter to Senator Vicente Sotto
Complaint
What now? Kennedy's complaint, along with that of the other 3 writers, will be added to next week's case before the Senate Committee on Ethics and Privileges.
It is being filed by a long list of concerned Filipinos, who are trusting the mechanisms of our democracy. They know that too often we let wrongs rouse us, tire us, and retire into forgetting. Their case, at the very least, will reveal the true mettle of the Senate as it scrutinizes one of their own.
So grab your popcorn; the curtains are being drawn open. There will be doubt cast over the authenticity of these letters, though journalists from respected Philippine news organizations will have already contacted the parties involved to confirm them. There will be assertions that plagiarism isn't a crime, though this case is a question of Senate ethics; besides, Justice Secretary Leila De Lima has already said that plagiarism is indeed a criminal offence under existing Philippine law and under the Cybercrime Act.
There will even be conspiracy theories that this is a surrogate attack regarding other issues, such as the RH Bill, though such inevitable overlaps can't diminish the validity of the plagiarism allegations and the clarity of Sotto's transgressions.
And there will be aspersions cast on those who continue to speak out against Sotto, though they've only ever sought comment, discussion, and the due process before the appropriate judging body; nothing ever wrong with holding our leaders accountable and seeing something through to the proper end.
It's now up to us—to demand honesty, transparency, and accountability from the Senate Committee on Ethics and Privileges. Sotto may have threatened his critics with the draconian defamation section of the Cybercrime Act, but even censorship can be less insidious than our inattentiveness, cynicism, and short-memories—what certain politicians count on for longevity. The committee must know we're behind them.
For theirs is no enviable mandate. The onus is on them to prove they can act justly, serving our democracy and not themselves or each other. (Remember: As Senate Majority Leader, Sotto is also an ex-officio member of the committee, comprised of his workmates.)
Their company of seven is the conscience and soul of that august body, tasked with "all matters relating to the conduct, rights, privileges, safety, dignity, integrity and reputation of the Senate and its Members."
We should let them know we care. I urge you to email the committee members if you agree that Tito Sotto's conduct abused those rights and privileges, made a mockery of the dignity and integrity of the Senate, and endangered its reputation.
Their chairperson is Senator Alan Peter Cayetano, and the other committee members are Senators Miriam Defensor Santiago, Gregorio Honasan, Loren Legarda, Ferdinand Marcos Jr., Lito Lapid, and Joker Arroyo.
It'll take you barely a minute.
Even feel free to "sottocopy" the handy statement below to their email addresses (taken from the official Senate website): Alancayetano@yahoo.com; miriam@miriam.com.ph; gringobhonasan@gmail.com; loren@lorenlegarda.com.ph; inquiry.bbmoffice@gmail.com; sen.litolapid@senate.gov.ph; office_sen_jokerarroyo@yahoo.com
Honorable Senator:
I am one of thousands of concerned Filipino citizens protesting the disreputable conduct of Senate Majority Leader Tito Sotto. I call on the Senate Committee on Ethics and Privileges to address this important issue of ethics, integrity, and accountability. I believe Senator Sotto's speeches unethically plagiarized and illegally infringed on intellectual copyright laws in the Philippines and in countries with whom we are connected through the Berne Convention for the Protection of Literary and Artistic Works.
I believe Sotto's subsequent denials insulted the intelligence and dignity of Filipinos everywhere, and that his threats to censor his critics with the Cybercrime Act constitute an abuse of power and an attack on free speech. I believe that the Senate Committee on Ethics and Privileges has the right, the mandate, and the courage to censure their colleague.
I believe in Philippine democracy, and call on you, the leaders we elected, to ensure its proper, just, and ethical function. – Rappler.com

(The author is a freelance writer. He is the literary editor of The Manila Review and has written for the New York Times, the International Herald Tribune, the Globe & Mail, the CBC, and various international publications. His critically acclaimed novel Ilustrado, translated into more than 15 languages, earned the Palanca Award and the Man Asian Literary Prize in 2008, and was a New York Times Notable Book of 2010, among other accolades.)
More on this story: