'Hindi tayo makakagawa ng trabaho dito sa Senado kung hindi natin gaganunin. Ako, ayoko mamulitika. Kumbaga, nandito tayo para magtrabaho,' says Senator Manny Pacquiao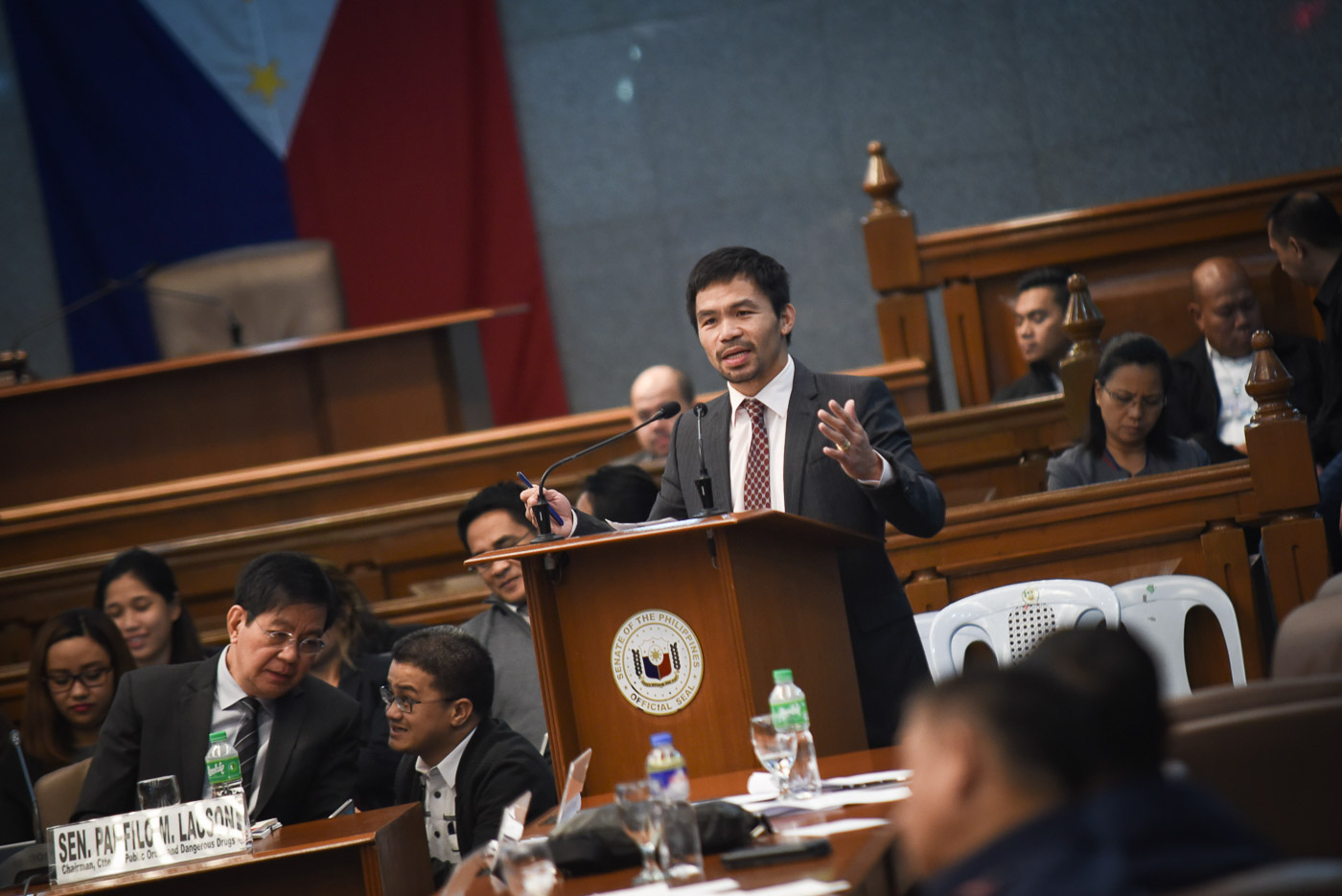 MANILA, Philippines (UPDATED) – At least 15 senators, including Senate President Aquilino Pimentel III, planned the ouster of their Liberal Party colleagues at the house of Senator Manny Pacquiao in Makati City on Sunday, February 26.
This was a day after senators Franklin Drilon, Francis Pangilinan, Paolo Benigno Aquino IV, and Risa Hontiveros commemorated the 31st anniversary of the EDSA People Power Revolution, and two days after Senator Leila de Lima's arrest.
Pacquiao himself confirmed this on Tuesday, February 28, but said Malacañang had no hand in their meeting.
"Hindi niya [President Rodrigo Duterte] alam. Wala silang kinalaman dito. Naisip namin, siyempre we always believe that we're independent in the Senate," Pacquiao told reporters.
(President Rodrigo Duterte does not know. Malacañang has no knowledge of this. We thought, of course we always believe that we're independent in the Senate.)
Senate Majority Leader Vicente Sotto III confirmed the meeting and said 15 majority senators were present, including Pimentel. The LP group and minority senators Ralph Recto and Francis Escudero, he said, were not there.
"We discussed the blurring of the lines, how many times they voted and sided with the minority, how many of us were not pro-administration but not anti-administration. Na mabuti pa si Ralph and Chiz (That at least Ralph and Chiz) were supportive of legislative agenda," Sotto said in a text message.
Senator Panfilo Lacson said it was him, Sotto, and Senators Gregorio Honasan and Loren Legarda, who initiated the talks that led to the revamp.
"Kaming 4 nag-start. Senator Honasan, Sotto, partly Senator Legarda. Kami ang nakaka-observe na bakit ganito ang situation namin? 'Yan ang story," Lacson said in an interview.
(We 4 started it. Senator Honasan, Sotto, partly Senator Legarda. We were the ones who observed why our situation was turning out this way. That's the story.)
Sotto, Honasan, and Lacson are part of the so-called "macho bloc," which used to include former senators Juan Ponce Enrile and Jinggoy Estrada.
Pacquiao, for his part, said they only talked to Recto and Escudero about their plans just hours before the Senate session on Monday, February 27.
But Senator Cynthia Villar said that while Recto and Escudero were not there during Sunday's meeting, the two already had an inkling about the majority's next moves.
"Alam niya [Recto] rin 'yun. Meron na rin nakikipag-usap sa kanila (Recto already knew what we were going to do. Someone already talked to him about it)," Villar said in an interview.
On Monday, Drilon, Pangilinan, Aquino, and Hontiveros were stripped of committee chairmanships, prompting them to question the independence of the chamber.
The LP-allied senators have opposed several policies under the Duterte administration, such as the hero's burial of the late dictator Ferdinand Marcos, the bloody war on drugs, and the planned revival of the death penalty, among others.
Pangilinan and Aquino earlier accused Malacañang of having a hand in the revamp, which Presidential Spokesperson Ernesto Abella has denied.
Pacquiao, a party mate of Duterte, also rejected the LP senators' claim. "Wala (No such thing). Unfair to the President, unfair to the administration. Wala silang kinalaman (They have nothing to do with this)."
The world boxing champ also said majority senators only want to do their jobs.
"Hindi tayo makakagawa ng trabaho dito sa Senado kung hindi natin gaganunin. Ako, ayoko mamulitika. Kumbaga, nandito tayo para magtrabaho, para sa taumbayan, hindi 'yung porma-porma tayo, pamumulitika. Gawa tayo ng trabaho natin, hindi 'yung dalhin 'yung pulitika dito. Wala pang eleksyon," he said.
(We won't be able to do our jobs properly in the Senate if we didn't do that. Personally, I don't want to politicize things. I mean, I'm here to work for the people, not to make myself look good or to politicize. We should do our jobs, not politicize. It isn't election season.)
Villar said Pacquiao himself volunteered to move that the 4 LP-allied senators be ousted from their committee chairmanships.
"Gusto niya 'yun. Sino lalaban kay Pacquiao eh baka masuntok tayo (He wanted that. Who would oppose Pacquiao? We might get punched)?" Villar said in jest.
'Recto more helpful'
Pacquiao also said the reorganization was necessary because they felt betrayed by their LP colleagues.
Pacquiao, before joining Duterte's Partido Demokratiko Pilipino-Lakas ng Bayan (PDP-Laban), used to be with the LP during the Aquino administration.
"Kasi feeling namin napapaikutan kami sa ulo at feeling namin, binabaril namin 'yung kalaban sa harapan do'n. Eh hindi namin alam na 'yung kalaban namin binabaril din kami sa likod namin kasi kasama namin. So gano'n ang feeling namin," he said.
(We felt they were manipulating us and we felt they weren't fighting fair. We did not know that our enemies were backstabbing us because they were our colleagues. So that's how we felt.)
Asked why they chose Recto, former Senate Minority Leader, to suddenly become Senate President Pro-Tempore, Pacquiao said Recto has been more helpful to the majority bloc even when he was part of the minority.
"Para sa ;kin eh, siya 'yung minority eh siya ang tumutulong sa majority. Eh 'yung miyembro ng majority, kumokontra sa kapwa majority. So alam ng tao, nakikita ng tao 'yan, kahit tanungin natin 'yung mga tao, nakikita nila 'yan, common sense lang," he said.
(For me, he was part of the minority but he was helping the majority. But the ones who were part of the majority, they kept on contradicting their fellow members. So the people know, the people see that, even if we ask them, they see it, it's just common sense.)
Pangilinan, however, has rejected Pimentel's claim that the LP senators "hampered" the Senate's legislative agenda.
Pangilinan pointed out that 20 of 29 bills nearing approval into law are sponsored by LP senators. – Rappler.com