Chinese Ambassador to the Philippines Zhao Jianhua says a bilateral mechanism on the South China Sea dispute is needed to avoid misunderstandings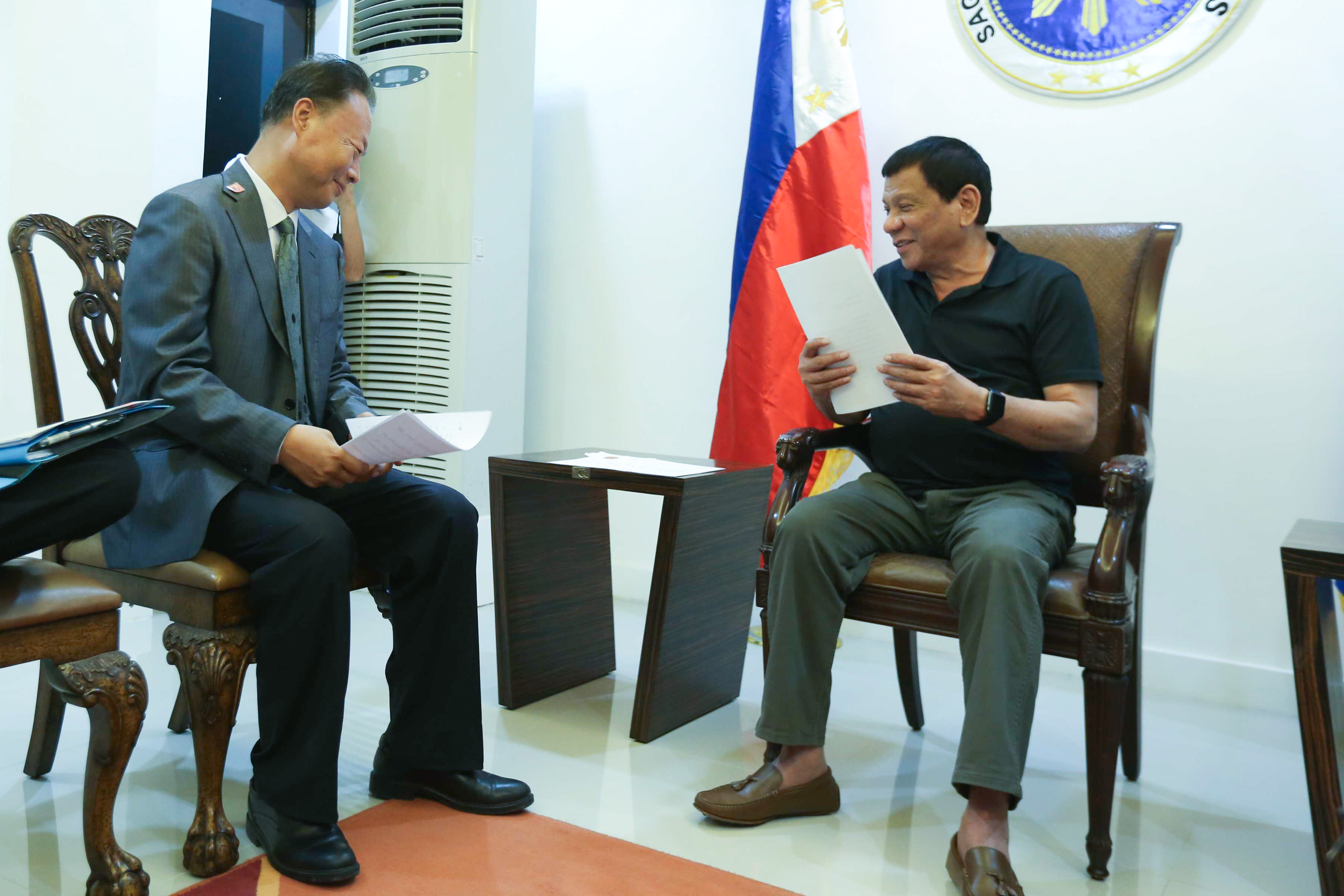 MANILA, Philippines – A bilateral mechanism to avoid "misunderstandings" about the South China Sea was among the discussions between Philippine President Rodrigo Duterte and Chinese Ambassador Zhao Jianhua on Monday, March 27, in Davao City.
During their meeting, Zhao said China looks forward to a meeting on the mechanism in May.
"He conveyed that China looks forward to the convening in May 2017 of the first meeting of the bilateral mechanism set up to properly handle the SCS issue," said Presidential Spokesman Ernesto Abella in a statement sent Monday night.
"Through this bilateral mechanism, mutual trust and maritime cooperation will be forged and misunderstandings will be avoided," he added.
Malacañang's mention of a misunderstanding comes after Beijing denied it plans to build an environmental monitoring station on Scarborough Shoal (Panatag Shoal) in the West Philippine Sea.
News wire agencies had quoted a Chinese mayor as saying the planned station is among the Chinese government's 2017 priorities.
Despite this issue, Zhao told Duterte he believes progress has been made on the "handling of the SCS issue," said Malacañang.
Support for COC framework
Zhao also emphasized China's "determination to work with ASEAN member states" in finalizing the Framework of the Code of Conduct (COC) on the South China Sea.
The Philippines, chairman of the Association of Southeast Asian Nations (ASEAN) this year, aims to finish the framework by year-end.
The framework is intended to lay the foundation for legally-binding rules on the management of disputes on the South China Sea, which is being claimed by China and 5 ASEAN countries, including the Philippines.
Zhao also informed Duterte about developments in the cooperation pact between the coast guards of both their countries, signed during the President's state visit last October.
Following a "successful" meeting between the two sides, representatives of the Philippine Coast Guard are set to visit China "to hammer out actions, activities, and new engagements to ensure that SCS is a sea of cooperation," said Malacañang. (READ: PH, China coast guards line up joint drills for 2017)
Before his meeting with Zhao, Duterte met with United States Ambassador to the Philippines Sung Kim. The two also discussed security concerns and military cooperation between their countries. – Rappler.com