Labor Secretary Silvestre Bello III says they found out that contracted employees are performing jobs that are core to PLDT's operations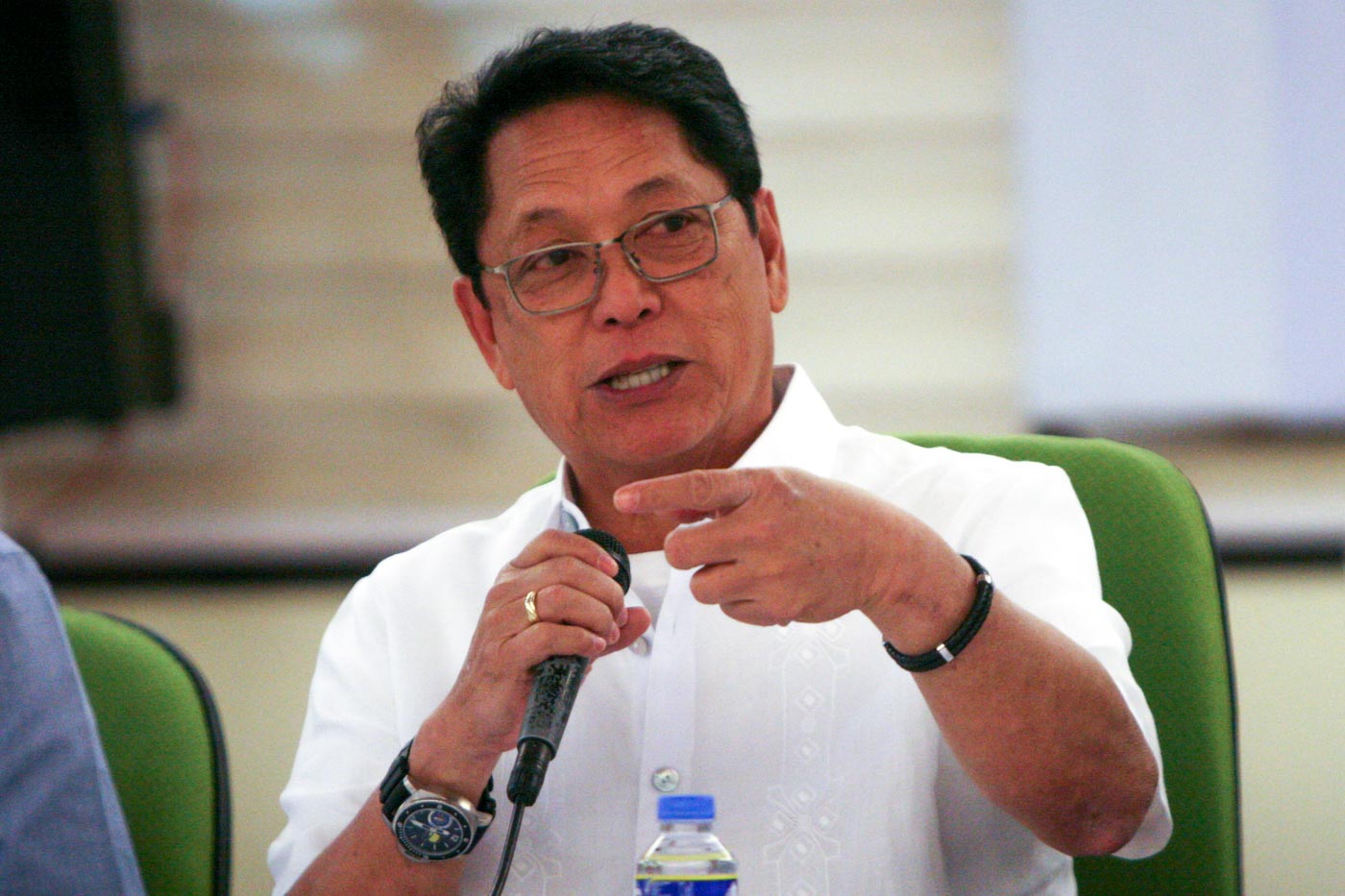 MANILA, Philippines – Department of Labor and Employment (DOLE) Secretary Silvestre Bello III said he will direct the regularization of around 10,000 employees of PLDT Incorporated after finding out that they perform functions necessary to the company.
"I will order the regularization of close to 10,000 workers under contracting and subcontracting arrangements but are performing jobs that are directly related to PLDT business," Bello said in a news conference on Wednesday, April 19.
Bello said they also found out, through the Special Assessment/Visit of Establishment (SAVE) they conducted last year, that PLDT's contractors and subcontractors were either not registered with DOLE or had expired registrations.
DOLE permits the contracting of labor that is not part of the key functions of a company via manpower agencies registered with them.
Undersecretary Joel Maglungsod, who heads the labor compliance inspection, said they already met with PLDT in the first quarter of the year to inform the company of its violations.
Maglungsod said they expect to order the regularization of more PLDT workers since the 10,000 workers are only those working in Metro Manila and areas near it.
"If we include the other areas in Luzon, Visayas, and Mindanao, that would exceed 10,000," he said.
Bello said he is eyeing the release of the order after May 1, Labor Day. 
PLDT said it is still submitting the documents DOLE required to aid in the ongoing audit of its compliance with labor laws.
"PLDT will continue to fully cooperate with the DOLE in connection with the ongoing audit process. PLDT is committed to fully comply with all existing labor laws and regulations," the company said in a statement.
PLDT, the largest telecommunications company in the Philippines, is led by tycoon Manuel V. Pangilinan. It operates one of the country's major cellular networks, Smart, as well as other networks, TNT and Sun Cellular.
PAL's labor violations
Aside from PLDT, DOLE also found out through SAVE that Philippine Airlines (PAL) and its budget carrier PAL Express have also contracted out workers who are performing core functions of the company.
Maglungsod said the rehiring of the outsourced workers under the group Philippine Airlines Employees Association (PALEA) cannot proceed because their jobs were taken over by workers under a contractor-subcontractor agreement.
In 2013, the 600-strong PALEA had an agreement with PAL that they would be rehired. But the agreement has not been executed – even after the workers reached out to then president Benigno Aquino III and recently to President Rodrigo Duterte.
This prompted DOLE to look into PAL's situation, and it discovered that the flagship carrier is also guilty of underpayment of wages as well as non-payment of overtime pay and service incentive leaves.
But Maglungsod said they have not yet issued an order to PAL to regularize the workers and settle the back wages since these are all initial findings.
"These are just initial findings… there are still no orders because we are completing the data," said Maglungsod who added that they have yet to set a conference with the stakeholders on the issue.
45,000 regularized
During the press conference, Bello also said there have been 45,605 workers regularized as of the first quarter of 2017. This means DOLE has regularized around 20,000 contractual workers since their last update in November.
The most number of regularized workers were in Metro Manila, Central Luzon, Northern Mindanao, Calabarzon, Davao, and Caraga.
These regularized workers were under a bilateral agreement or those directly hired by companies performing necessary functions but hired on a contract-basis. (READ: No 'endo' in 2017? Challenge of ending labor contractualization) 
Ending contractualization was a popular campaign promise of Duterte.
Bello said they are expecting more workers to be regularized with the implementation of Department Order 174, which sets out amended guidelines on labor contracting and subcontracting or hiring through a manpower agency.
Labor groups have criticized the new directive, saying it is not different from the previous orders on contracting. They also argued that it would only perpetuate the decades-long practice of contractualization since workers are regularized through agencies.
But Bello emphasized that they ensured stable jobs for the workers in the new order.
"Inalis na rin ng [DO 174] ang probisyon ng Department Order 18-A na nagsasabing ang employment contract ay co-terminus sa service agreements. Hindi na nakadepende sa service agreement ang empleyo ng isang manggagawa. Obligadong hanapan ng bagong assignment ang manggagawa pagkatapos ng kanyang assignment sa principal," he explained.
(DO 174 removed the provision in Department Order 18-A that states that the employment contract is co-terminus with the service agreements. The employment of a worker is not dependent on service agreements anymore. The agency is obliged to find a new assignment for the worker after his work with the principal employer.) – Rappler.com