The President slams former DFA Secretary Albert del Rosario for criticizing his foreign policy, especially on the South China Sea dispute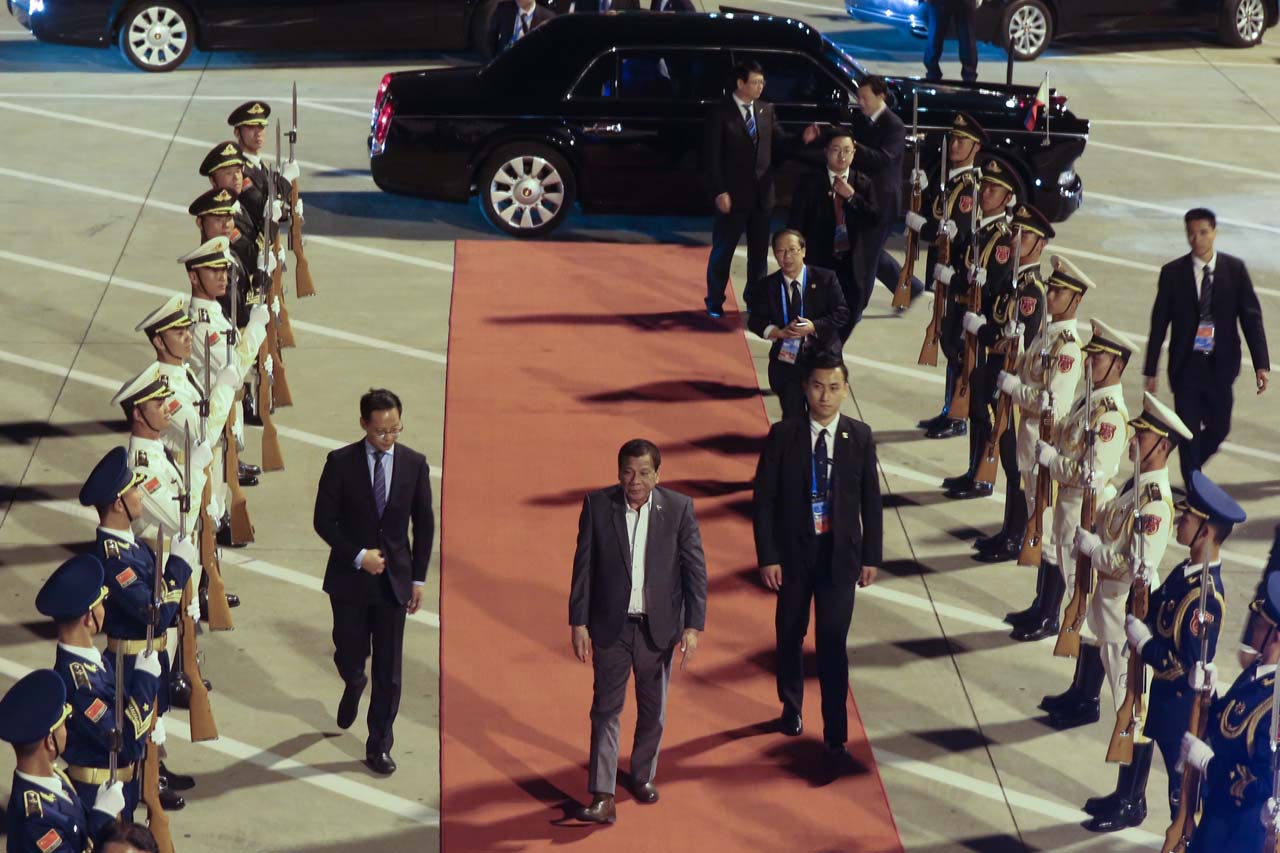 MANILA, Philippines – President Rodrigo Duterte shot back at former Foreign Secretary Albert del Rosario for criticizing his handling of the South China Sea (West Philippine Sea) dispute.
"Wala na nga sa opisina, itong si Del Rosario, daldal nang daldal. Bakit hindi mo ginawa noong panahon mo?" said Duterte on Friday, May 19, as he was speaking to the Philippine Coast Guard Auxiliary in Davao City.
(This Del Rosario is out of office but still keeps talking. Why didn't you do it during your time?)
A few days ago, he had arrived from his second visit to Beijing, China, where he met with Chinese President Xi Jinping.
Duterte accused Del Rosario of "allowing" the Chinese to continue with its island-building activities in the West Philippine Sea.
"In the first place, why did you allow the construction to blossom into something like an armed garrison now?" he said.
Del Rosario was the DFA chief that led Philippine efforts to file a landmark case against China's claim in the disputed sea. In 2016, an international court in The Hague ruled in favor of the Philippines – an unprecedented victory against Beijing.
The Hague ruling invalidated China's 9-dash line, declared that China's island-building activities damaged the environment, and that the reclamation should have stopped out of respect for the ongoing dispute process.
Del Rosario has criticized Duterte's foreign policy several times and called on him to assert the Hague ruling.
The ex-DFA chief believes the country can best protect its claims by pursuing the implementation of the ruling.
He also slammed Duterte's lighthanded remark that he could "sell" disputed islands to China. 
Duterte's alternative
Duterte also mentioned Supreme Court Senior Associate Justice Antonio Carpio as one of the critics of his foreign policy.
"Si Del Rosario at si Justice Carpio [sabi] mahina ang dating ko na hindi ko ginawa 'yung arbitral award as the leverage," said the President. (Del Rosario and Justice Carpio said I came out as weak weak for not using the arbitral award as leverage.)
Duterte made his own suggestion on other ways the Philppines could have handled China's reclamation during the Aquino administration.
"Instead of filing a case, the Philippines should have called America in an urgent conference and the rest of the ASEAN countries claiming a part of that vast sea there to discuss what we will do and to nip it in the bud," he said.
All these countries, he said, could have organized a "transnational force" to talk to China and say, "Why are you digging when, as a matter of fact, even without the abritral ruling or anything at all, the constant law of the sea is that you cannot build a manmade structure?"
The United States, he said, is the "only superpower" that could confront China, yet the Aquino administration did not demand US intervention. (READ: Duterte asks US envoy, 'Why didn't you stop China?') – Rappler.com