Father Antonio Moreno urges vigilance 'so that the dark atrocities of martial law under Ferdinand Marcos not be repeated'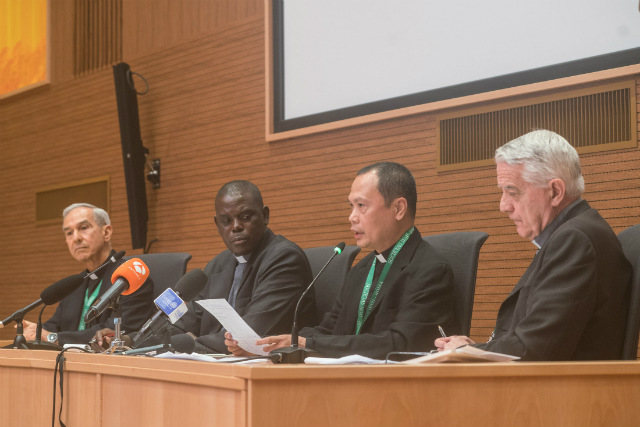 MANILA, Philippines – Father Antonio Moreno, head of the Jesuit religious order in the Philippines, voiced concern about President Rodrigo Duterte's declaration of martial law in Mindanao, saying it is "fraught with danger."
Moreno's religious order, formally known as the Society of Jesus, runs the network of Ateneo schools in the Philippines. It is also the Catholic Church's biggest male religious order, whose members include Pope Francis.
In a statement on Friday, May 26, Moreno explained that Duterte's declaration of martial law in Mindanao "is a source of deep sadness, as well as of real concern and alarm."
"Indeed we pray for the President and for the nation. But we have to assert that martial law is fraught with danger, as we in this country have so painfully known," Moreno said.
Referring to martial law, he continued, "It is not a path to be treaded lightly, and becomes particularly worrisome in a context where there are already too many questions about the value of life and basic human rights."
Moreno then appealed to Duterte to make martial law in Mindanao "short-lived and calibrated," which means it will not be "escalating further to other areas."
"Special vigilance is likewise called for so that the dark atrocities of martial law under Ferdinand Marcos not be repeated once again," he said. 
Moreno issued his statement 3 days after Duterte placed Mindanao under military rule. Duterte said the threat of the terrorist Islamic State (ISIS) prompted him to do this.
Duterte warned he might also expand martial law to the entire Philippines if terror threats persist.
'Rooted in social injustice'
These issues strike Moreno as he is close to Mindanao.
Before becoming the head or provincial of the Philippine Province of the Society of Jesus, Moreno served for 6 years as president of the Ateneo de Zamboanga University in Mindanao.
He is also a former dean and vice president at Xavier University in Cagayan de Oro, in the southern Philippines as well.
Moreno, who holds a doctorate in development studies, has led the Filipino Jesuits – best known for running an exclusive school in Manila – in pursuing a "roadmap to Mindanao," which "will direct greater apostolic focus, preference, resources, and energies" to the Philippines' poorest island group. 
"Conflict in Mindanao, we know, is rooted in social injustice," Moreno said.
"Conflict in Mindanao is increasingly caused by what Pope Francis has so often decried, and most recently repeated in Cairo: ideology that masquerades as religion. In Mindanao, our Muslim friends decry a corruption of their religion of peace into a Wahabi-Salafi ideology of hatred that victimizes not only Christians but especially Muslims of peace. Even so, many Muslim youth in Mindanao today are drawn to this ideology," he said.
Moreno explained: "This is the heart of the serious conflict in Mindanao that we must address. Before it ever explodes in violence like in Marawi, it brews in the frustration and pain of social exclusion. And martial law and any such hard-fisted solutions do not get to the roots of this problem, let alone benefit the country as a whole."
For those who want to help the victims of the Marawi crisis, Moreno said relief goods may be sent to the following address:
Social Development Office
Room 102, Agriculture Building
Xavier University (XU)
Corrales Avenue
Cagayan de Oro City
("Please email vpsocdev@xu.edu.ph to inform XU that you have sent goods," Moreno said.)
He said cash donations, meanwhile, can be deposited to the following account:
Account Name: Xavier University
Account Number: 9331-0133-63
Bank: Bank of the Philippine Islands
Branch: Divisoria, Cagayan de Oro 
("Please email finance@xu.edu.ph when you have made a deposit and please email scanned copy of the deposit slip," Moreno said.) 
On the same day that Moreno issued his statement, the bishops of Mindanao also spoke out, declaring that martial law "must be temporary." 
"We shall condemn any abuse of martial law and as in the past will condemn it outright if it goes in the way of evil. Let us be vigilant," Cotabato Archbishop Orlando Cardinal Quevedo said. – Rappler.com