At least 7,000 residents in 3 regions in Mindanao are now in packed evacuation centers as typhoon 'Pablo' makes a landfall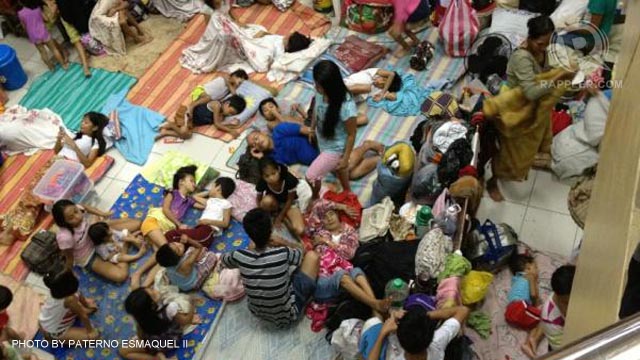 CAGAYAN DE ORO CITY, Philippines – The city that bore the brunt of "Sendong" doesn't want to take chances this time. The 36 evacuation centers here swelled as of 10 pm Monday, December 3, as residents braced for typhoon "Pablo."

Bonifacia Sabuero, a Sendong survivor, together with his children, are again taking refuge at the Macasandig Covered Courts. She said her husband and son decided to stay to take care of their pigs at home. "But they will come here when the water in the river starts to swell. We cannot leave our pigs, they're our livelihood," she told Rappler.
Sabuero added that she isn't afraid of Pablo because God is her protector. And with a smile she said Pablo will go away.

Hotels and inns have been fully booked as residents who don't have relatives living in safer areas sought refuge there.

3 regions
Elsewhere in Mindanao, at least 7,000 residents in at least 3 regions have been evacuated to safer ground, National Disaster Risk Reduction and Management Council said.

These areas include Misamis Oriental, Lanao del Norte, Davao Oriental, and Surigao del Sur, according to the NDRRMC's 11:30 pm Monday report.

As of Monday night, local government units had set up 972 evacuation centers in the areas expected to be hit hard by typhoon Pablo. The typhoon made landfall between 430 and 5 am Tuesday, December 4, in Davao Oriental.

Cagayan de Oro's disaster team prepared evacuation centers that can accommodate about 80,000 residents from the hazard zone areas, whose houses were partially damaged during Sendong, such as the communities in the riverbanks, shores, and those prone to landslide.
Armen Cuenca, assistant disaster officer, raised some problems.

"If we won't have problems with evacuation, the other nightmare would be how strong the houses can stand Pablo when it hits. That is where we will have a lot of work to do since most houses here have not been designed for strong typhoons like Pablo," Cuenca said. "If it happens that Pablo's wrath is devastating, I couldn't imagine how it will be like."

There are many low-cost subdivisions in the city.  

Cuenca said his team doesn't expect assistance from other areas since Pablo's scope is almost throughout Mindanao.- with reports from Grace Albasin in Cagayan de Oro City/Rappler.com