People online call for the end of hazing and violence in fraternities.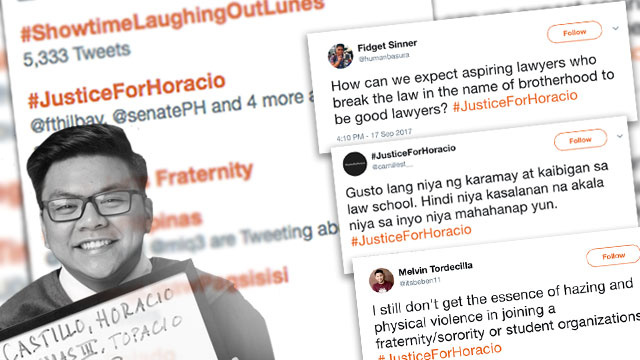 MANILA, Philippines — #JusticeForHoracio trends on Twitter as people condemn the gruesome death of Horacio Castillo III, a freshman law student from the University of Santo Tomas.
Castillo's body was found Sunday morning, September 17, in Tondo, Manila. He was covered in bruises, and candle wax drippings that his parents believe were a result of Aegis Juris Fraternity's initiation hazing rites. (READ: UST law student Horacio Castillo III dies in suspected frat hazing)
People took to social media to express their anger for the death of the student, as well as to criticize the violent initiation hazing rituals of fraternities.
Students who said they knew Castillo were outraged:

The world needed more of you, my friend. #JusticeForHoracio pic.twitter.com/95NJstxGWY

— Clar Nombres (@clarnombres) September 18, 2017
He was my classmate before.. No one deserves to die like this. Y'all call that a brotherhood?? #JusticeForHoracio

— Khalil Ramos (@TheKhalilRamos) September 18, 2017
Student organizations based in UST also spoke up to mourn the loss of Castillo:

Darkness falls over the Faculty of Arts and Letters as we lose one of our alumni, Mr. Horacio Tomas Castillo III. #JusticeForHoracio pic.twitter.com/YCsTDDFNvb

— UST Artlets SC (@UST_ArtletsSC) September 18, 2017
The University of Santo Tomas Central Student Council tweeted: "Fraternities deal with brotherhood, but violence should not be its currency."

Fraternities deal with brotherhood, but violence should not be its currency. #JusticeForHoracio pic.twitter.com/oSWqW8Vf0o

— UST CSC (@UST_CSC) September 18, 2017
#JusticeForHoracio

Come and join us at the UST Plaza Mayor to call for justice of the recent and tragic death Horacio Castillo III at 5pm. pic.twitter.com/92b47hGcDh

— Tanggulan UST (@tanggulan_ust) September 18, 2017
No one has the right to take another person's life. #JusticeforHoracio pic.twitter.com/BNm9kdUQAs

— UST DEKADA (@USTDekada) September 18, 2017
#JusticeForHoracio pic.twitter.com/ENYcZYLnWU

— Your UST SDP (@UST_SDP1981) September 18, 2017


Senator Risa Hontiveros also joined the call to end the culture of violence:

Deeply saddened & disturbed by the death of a young & promising future lawyer. This culture of violence must stop! #JusticeforHoracio pic.twitter.com/HhNjoUAs7f

— risa hontiveros (@risahontiveros) September 18, 2017


Here's what the rest of social media had to say:
What are your thoughts on the incident? – Rappler.com