(UPDATED) The Department of Justice Immigration Lookout Bulletin Order includes John Paul Solano, the principal suspect in the death of law student Horacio Castillo III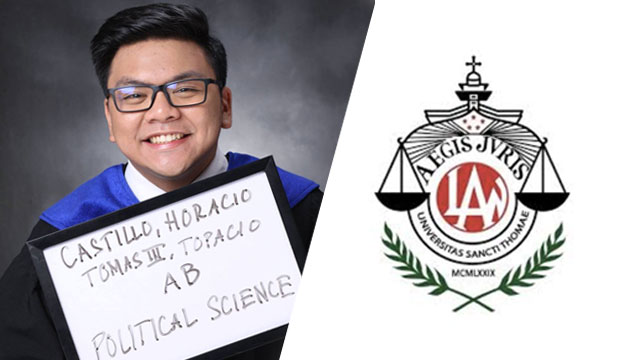 MANILA, Philippines (UPDATED) – Sixteen members of the Aegis Juris fraternity tagged in the fatal hazing of law student Horacio Castillo III were put on the immigration lookout on Wednesday, September 20.
The lookout list includes John Paul Solano, who claimed to have brought Castillo to the hospital on Sunday, September 17, but turned out to be a member of the fraternity too.
Aegis Juris is a fraternity inside the University of Santo Tomas (UST) whose alumni includes UST Faculty of Civil Law Dean Nilo Divina. The dean has barred Aegis Juris fratmen from entering the UST campus in Manila.
"The names in the Order were provided to Undersecretary Erickson Balmes of the Department Of Justice by police investigators who were investigating the incident last night," Justice Secretary Vitaliano Aguirre II said in a statement on Wednesday.
The names on the lookout list are:
Arvin Balag

Mhin Wei Chan

Marc Anthony Ventura

Axel Munro Hipe

Oliver John Audrey Onofre

Joshua Joriel Macabali

Jason Adolfo Robi

ños

Ralph Trangia

Ranie Rafael Santiago

Danielle Hans Mattew Rodrigo

Carl Mattew Villanueva

Aeron Salientes

Marcelino Bagtang

Zimon Padro

Jose Miguel Salamat

John Paul Solano
On Friday, September 22, the names of 4 more Aegis Juris members were added to the immigration lookout list, bringing the number to 20. They are:
Ged Villanueva
Milfren Alvarado
Daniel Ragos
Dave Felix
On Wednesday, the Manila Police District (MPD) announced that Solano was now principal suspect in the case.
"He deliberately, intentionally, and maliciously gave false statements in the case of the Horacio Castillo killing," MPD District chief Joel Coronel said.
Solano initially claimed he found Castillo's body on a pavement in Balut, Tondo, and brought him to the hospital. Barangay officials in the area claimed that no body was dumped there as they would have known about it.

Police found out later that Solano is part of Aegis Juris.
Hipe is Castillo's last caller as registered on the law student's phone according to the  Castillo family. (READ: Horacio Castillo III wanted to be Chief Justice)
LOOK: Names of supposed Aegis Juris fratmen put on the immigration lookout, including John Paul Solano considered now as principal suspect pic.twitter.com/jVEW0NUMiI

— Lian Buan (@lianbuan) September 20, 2017
Lookout order
"As of the moment, the Immigration Lookout Bulletin Order is the least we can do. We condemn the death of Mr Horacio Tomas Castillo III," Aguirre said.
An ILBO does not prevent its subjects from leaving the country, but it sets a mechanism between the Bureau of Immigration and other authorities so the government is alerted of their movements.
Balmes attended Castillo's wake on Aguirre's behalf on Tuesday "to offer the assistance of the DOJ to the Castillo family."
Aguirre, an alumnus of San Beda's Lex Taleonis fraternity, said on Tuesday that to completely ban fraternities would be to violate Filipinos' constitutional right to form associations.
"But of course dapat makita rin natin na itong frat is part and parcel of our constitutional right to form associations kaya dapat pag-timbang timbangin mo 'yan, right to form associations at saka 'yung avoid violence against students," Aguirre said.
(But of course we should all see that this frat is part and parcel of our constitutional right to form associations, that's why we should weigh that – right to form associations and avoiding violence against students.) – Rappler.com