Ex-senator Bongbong Marcos says the family is not demanding they be granted immunity from suit once they return some of their wealth to the government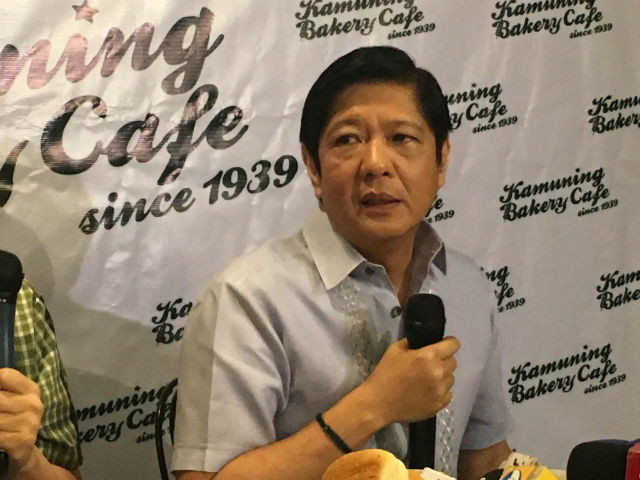 MANILA, Philippines – Former senator Ferdinand "Bongbong" Marcos Jr said his family is willing to help the government look for their alleged hidden wealth and would voluntarily give it back.
Marcos made the statement on Thursday, October 5, when asked about President Rodrigo Duterte saying that the family is willing to return some of their wealth to the government. 
According to Marcos, his family has long identified which properties have belonged to them even before his father, the late dictator Ferdinand Marcos, became president in 1965.  
"I am not privy to that conversation. All I know is that, I have expressed the same position that the family has held since 1986 – that we have identified whatever belongs to the family, the provenance of those assets, those properties, whatever they might be," said Marcos. 
"And if the government is saying may tinatago pa kami (that we're hiding something), we will help you find it and you can have it. Quitclaim nga eh (That's why it is a quitclaim)," he added. 
Marcos said his family had signed a quitclaim agreement with then Presidential Commission on Good Government chairperson Magtanggol Gunigundo in the 1990s, but this was later rejected by ex-president Fidel Ramos. 
Ramos had served as chief of the Philippine Constabulary under the the late dictator Ferdinand Marcos from 1972 to 1986. He later defected and prompted the series of events that led to the People Power uprising that ousted the strongman in 1986.
On Thursday, Marcos said his family is now willing to settle the issue of their ill-gotten wealth. Those opposing the move for the clan returning some of their wealth, said Marcos, are "not working for the national interest."
"They're not working for the good of the country. They're working for the good of their party. That is the difference between Duterte and his opposition," said Marcos. 
He clarified, however, that "nothing substantial" yet has been discussed by Duterte and the Marcoses. 
The former senator also clarified that the Marcoses are not demanding to get any immunity from suit in exchange for returning some of their wealth to the government.  
"No, no. It's a settlement. We're talking about settlement. We're not asking for [immunity]. Wala naman akong kasalanan eh (I did not commit a sin). I didn't do anything wrong. I did not commit any crime. What we're saying is we're settling the case," said Marcos.
Duterte himself said that if he were the Marcoses, he would only return ill-gotten wealth to the government in exchange for immunity. 
But politicians and human rights groups have slammed this, saying the Marcoses must first admit their sins during Martial Law, a period marred by corruption, killings, torture, disappearances, and media oppression. 
Others even said the Marcoses must return all of the wealth they stole from the Filipino people. – Rappler.com