This is AI generated summarization, which may have errors. For context, always refer to the full article.
UN Central Emergency Response Fund (CERF) says the assistance will be focused on providing emergency shelter, debris clearing, and other priority needs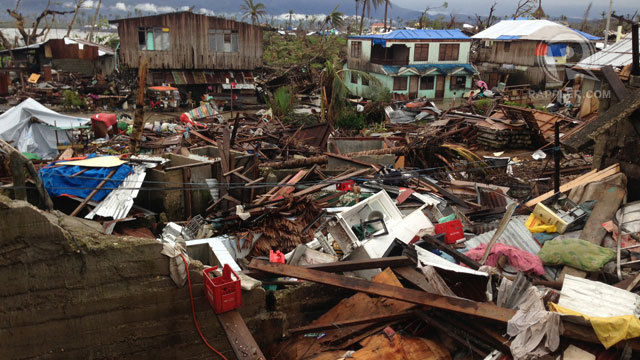 MANILA, Philippines – The United Nations has extended US$10 million in assistance to families devastated by Typhoon Pablo. 
In a statement, the UN Central Emergency Response Fund (CERF) said it has allocated the amount, equivalent to around P408.6 million, to 7 key sectors identified by the government as priorities. 
These 7 sectors are: 
Emergency shelter
Debris clearing
Water
Sanitation
Nutrition
Protection
Health
"I was shocked by the scale of the destruction. Cities and villages have been completely devastated, with only a few roofless buildings and walls still standing, and entire plantations have been wiped out," UN Resident and Humanitarian Coordinator Luiza Carvalho said. 
The international community is seeking $65 million to respond to the immediate humanitarian needs in Davao and CARAGA regions. To date, the UN said $38 million has been contributed or pledged by donors to support the humanitarian efforts in eastern Mindanao. 
With the financial support of the Fund, UN agencies, the International Organization for Migration and their humanitarian partners will step up their relief efforts and life-saving activities in Davao and CARAGA regions, which were most affected by the disaster.
Typhoon Pablo, which crossed the southern Philippines on December 4 and 5, affected 6 million people, partially or totally destroyed more than 200,000 houses, and displaced over 970,000 people, according to government statistics. More than 1,000 people have died and hundreds remain missing.
Pablo has brought more misery to the already poor and marginalized people of eastern Mindanao, an area already suffering from food insecurity and limited infrastructure and public services. 
"With many displaced from their homes, survivors will face in the coming months critical challenges to cover their families' basic protection, health, nutrition, and water and sanitation needs. Recurring rains is adding to their misery, as many families seek shelter under assembled debris and tarpaulins," the UN said. 
The CERF is one of the largest contributors to relief efforts in the Philippines. In 2012, it allocated $2.9 million to help survivors of Tropical Storm Sendong (Washi) and $3.9 million to strengthen humanitarian operations in central Mindanao. 
The Fund was established by the United Nations General Assembly in 2006 to make funding for humanitarian emergencies more timely and predictable. In the first six years of operation, CERF has allocated $35.9 million for humanitarian agencies operating in the Philippines. The Government of the Philippines contributes every year to the CERF. – Rappler.com

Rappler's "Text to Help" campaign makes helping as easy as sending a text message.