This is AI generated summarization, which may have errors. For context, always refer to the full article.
'The Philippine Army is doing this as a gesture to sympathize and to show its support to its soldiers who have given a lot more for this country,' says the Army spokesperson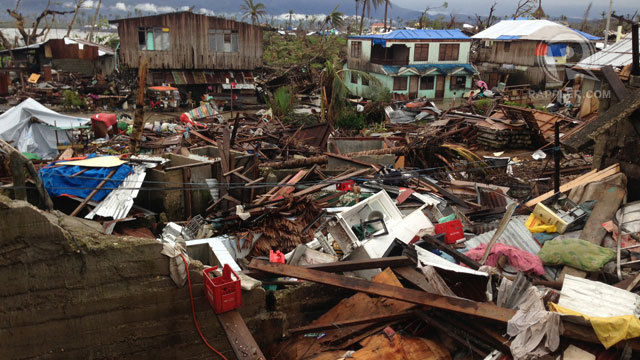 MANILA, Philippines – Army personnel voluntarily shelled out money taken from their subsistence allowance to help fellow soldiers who were adversely affected by Typhoon Pablo.
Soldiers in the 81,000-strong organization donated P90 each to help the 363 Army personnel who became victims of Pablo last December. A total of P7,294,950 was collected from their meal allowances for the month of January.
The beneficiaries of the financial assistance include the families of the 7 soldiers who perished and the 4 soldiers who remain missing. Their direct dependents will be given P50,000 each.
Meanwhile, the 22 injured soldiers and the 111 others who have incurred at least P100,000 in damages in their residential homes, will receive P40,000 each.
Each of the 219 personnel whose homes suffered minor damages estimated to be less than P100,000 will receive P6,506.62 each.
Maj Harold M. Cabunoc, Army spokesperson, said "As an organization championing the spirit of bayanihan, the Philippine Army is doing this as a gesture to sympathize and to show its support to its soldiers who have given a lot more for this country."
Cabunoc also added that a symbolic handing over of these donations will be conducted soon at the headquarters of the 10th Infantry Division in Compostela Valley where most of the affected troops are stationed.
Located in an upland village of Mawab in Tuburan town, the camp suffered damages estimated to cost P11,382,150. This excludes damage to the personal properties of the soldiers residing in the typhoon-stricken areas.
Also last week, 21 soldiers who were injured while conducting rescue operations in Andap village, New Bataan town, were honored by the Army. 
Lt Gen Emmanuel Bautista personally pinned the Bronze Cross Medal on 4 of the hero soldiers in a simple ceremony held at the AFP Medical Center. A similar awarding ceremony was also held in Camp Panacan Hospital where 17 other wounded soldiers received the medal for heroism by 10th ID Chief MGen Ariel Bernardo.
After conducting search and retrieval operations for at least 4 weeks, the Army has shifted to rehabilitation operations in support of the local government and other agencies.
The Army has deployed the 525th Engineering Battalion and personnel of the 901st Brigade based in Albay who assisted a team of PDRRMC-Albay which brought water filtration equipment to serve the affected communities in both Compostela Valley and Davao Oriental. – Rappler.com
Rappler's "Text to Help" campaign makes helping as easy as sending a text message.