(4th UPDATE) President Rodrigo Duterte's son says the scandals where his name has been dragged are 'closely tied to my failed first marriage,' where 'the other person is incorrigible'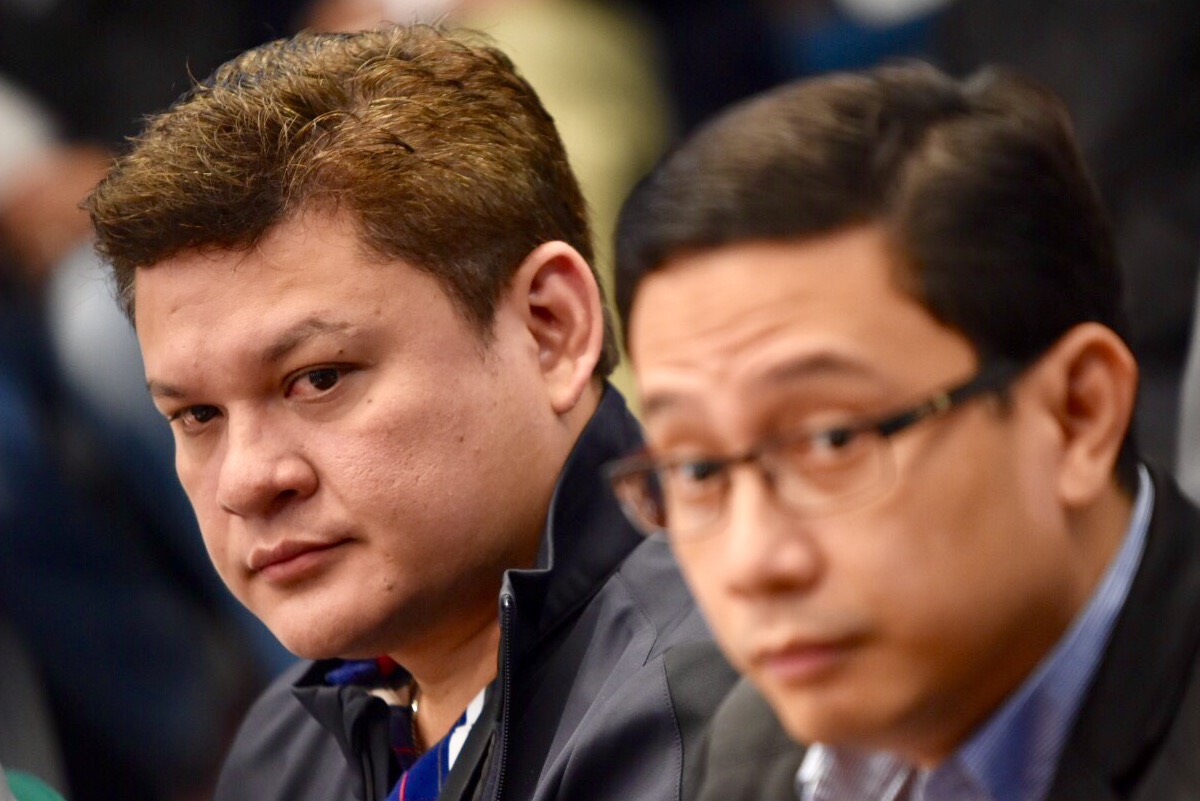 DAVAO CITY, Philippines (4th UPDATE) – Davao City Vice Mayor Paolo Duterte has resigned. 
He made the announcement during a special session of the city council, which he was supposed to preside on Christmas Day.
His resignation is effective on the same day, December 25. 
"My parents never failed to remind me of the value of time-honored principle of delicadeza, and this is one of those instances of my life that I need to protect my honor and that of my children," he said. (READ: Duterte to Paolo: If you're guilty, I'll order you killed)
Duterte, who was trying to keep his composure, said, "I take responsibility for what has happened."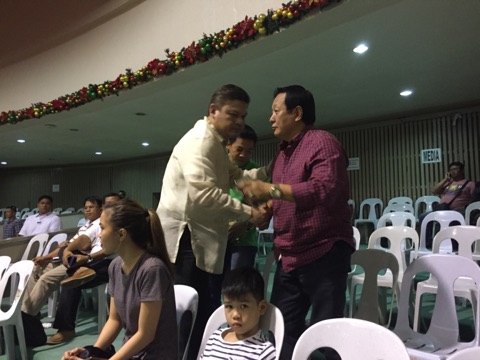 Among the incidents that triggered his decision, he said, was the smuggling of P6.4-billion worth of shabu from China through the Bureau of Customs, where his name was dragged, and, just last week, his "very public squabble with my daughter" from his first marriage. 
In his resignation letter, he attributed the "recent unfortunate events in my life" to his "failed first marriage" to Lovelie Sumera. 
"The other person in this failed relationship is incorrigible and cannot be controlled. And I take responsibility for all that has happened as a result of a wrong decision to marry at a very young age," he said. (READ: 'Blood red,' 'Imeldific': Isabelle Duterte draws flak for Malacañang photo shoot)
Duterte thanked the council and said, "I look forward to the day that I will be able to serve our country again."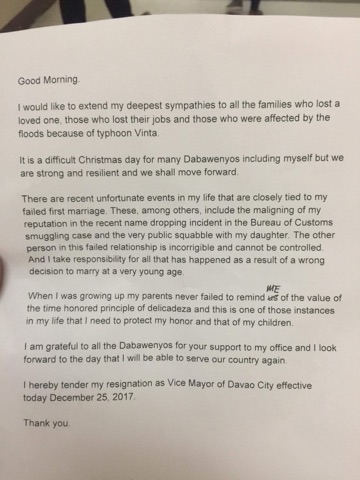 Mayor Sara Duterte-Carpio, sister of the vice mayor, said their father, President Duterte knew that Paolo had been wanting to resign. 
The mayor said Majority Floor Leader Bernard Al-ag would be acting vice mayor until the city council accepts Paolo's resignation. After that, they will follow the Local Government Code's rules on succession, where the Number 1 councilor takes over the vice mayorship. Mabel Acosta got the highest number of votes for councilor in the 2016 elections.
In October Paolo himself said he planned to retire from politics in 2019, and hinted at the possiblity of a  different "Carpio-Duterte" tandem in the next local elections.
"If you will ask me where will I go, I will be going back to farming. I am planning to retire," he said in a press statement at the height of Senate investigations into the shabu smuggling controversy.
The city council met on Monday, a holiday, to discuss the proposal of Mayor Sara to release the remaining calamity funds for the year to help victims of disasters. 
On Friday, thousands of residents were affected by floods brought about by Tropical Storm Vinta (Tembin). On Saturday, fire hit a local mall, where 37 call center workers are believed to have been killed. – Rappler.com