'Delicadeza, seriously? Pinatulan nga n'ya 'yung anak n'ya publicly sa Facebook, tapos delicadeza?' says opposition Senator Antonio Trillanes IV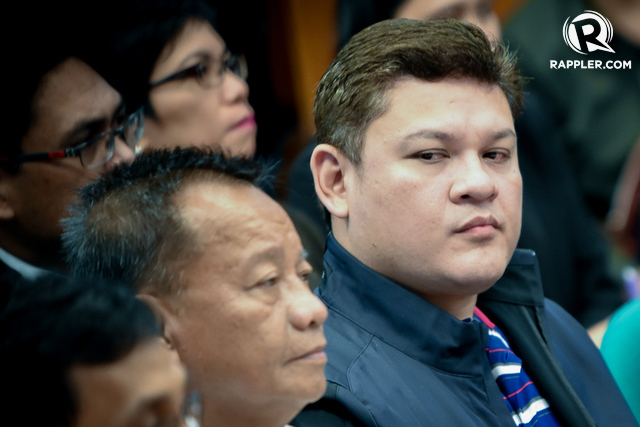 MANILA, Philippines – Opposition Senator Antonio Trillanes IV denounced Davao City Vice Mayor Paolo Duterte's reason for resignation, saying the presidential son quit his post to evade impending investigations.
Trillanes said this on Monday, December 25, in reaction to Duterte's resignation supposedly out of "delicadeza."
"Delicadeza, seriously? Pinatulan nga nya 'ung anak n'ya publicly sa Facebook, tapos delicadeza? (He even fought against his daughter publicly on Facebook and now he's going to say it's delicadeza?) Besides, he has already been cleared months ago by Gordon's committee de abswelto. So, that's pure BS [bullshit]," Trillanes said in a statement.
The senator said Duterte is just trying to "preempt" future investigations against him.
"He is probably just preempting the numerous investigations against him by the Ombudsman. Also, he most likely needs more time to focus on managing his multi-billion peso businesses," said Trillanes, who has accused Duterte of drug smuggling.
Among the incidents that triggered his decision, Duterte said, was the smuggling of P6.4-billion worth of shabu from China through the Bureau of Customs, where his name was dragged, and, just last week, his "very public squabble with my daughter" from his first marriage.
In his resignation letter, he attributed the "recent unfortunate events in my life" to his "failed first marriage" to Lovelie Sumera.
"The other person in this failed relationship is incorrigible and cannot be controlled. And I take responsibility for all that has happened as a result of a wrong decision to marry at a very young age," he said. (READ: 'Blood red,' 'Imeldific': Isabelle Duterte draws flak for Malacañang photo shoot)
The Mayor said Majority Floor Leader Bernard Al-ag would be acting vice mayor until the city council accepts Paolo's resignation.
After that, they will follow the Local Government Code's rules on succession, where the Number 1 councilor takes over the vice mayorship. Mabel Acosta got the highest number of votes for councilor in the 2016 election. – Rappler.com