The SC's current information systems head disapproves of Macasaet, who describes herself as a 'pioneer' in I.T.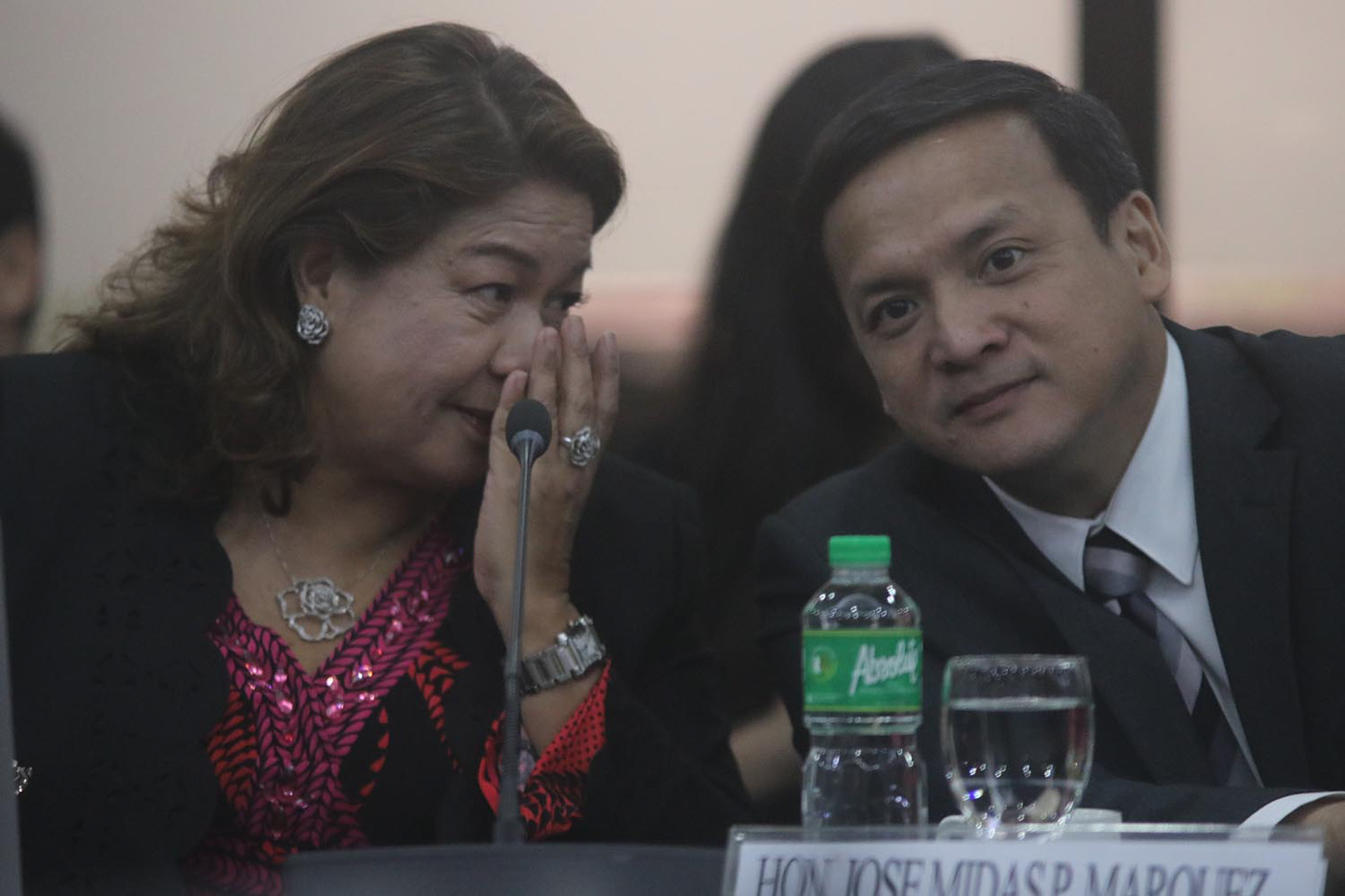 MANILA, Philippines – Information Technology or I.T. consultant Helen Macasaet attended for the first time on Wednesday, February 7, the House justice committee's hearing on the impeachment complaint against Supreme Court (SC) Chief Justice Maria Lourdes Sereno.
An internal investigation by the SC found that her hiring violated procurement processes. There is also an administrative case pending before the court en banc.
It was Sereno's office that hired her – and Representative Reynaldo Umali said it has serious implications on the Chief Justice.
Her personality, whichever way it's appreciated, livened up the hearings that have been dragging for nearly 4 months now, and which was on its 14th session on Wednesday.
Lawmakers slammed the SC's payment of P250,000 a month to Macasaet.
Speaking for herself on Wednesday, Macasaet was unapologetic about being rich, with or without the SC.
She proudly answered "yes" when a lawmaker commented, "Ang yaman-yaman mo (You're very rich)" after she said that she once earned P500,000 a month in the 90s when she was in the private sector.
She acquired her wealth through 30 years of being one of the country's leading I.T. experts. Among her credentials is being a consultant for the Government Service Insurance System (GSIS) in the great data crash of 2009 where she was paid P900,000 a month.
"GSIS has continued to use the technical architecture that I re-implemented," Macasaet said, describing herself as a "pioneer" in I.T.
Other credentials include consulting for Social Security Systems (SSS), Hyundai Motors, various colleges and international investment firms, and the United Coconut Planters Bank (UCPB).
Hiring
Macasaet was hired for the SC's Enterprise Information Systems Plan (EISP), which aims to digitize judicial processes to speed up case litigation.
She earned a total of P11 million for renewed contracts, which lasted 4 years, from October 2013 to November 2017. (This changed from the last hearing where it was said she earned only P10 million.)
Sereno's chief judicial staff Ma. Lourdes Oliveros admitted that Macasaet was her friend. 
Macasaet herself met Sereno during 3 events where the Chief Justice delivered public speeches where she spoke of the court's digitizing efforts. Macasaet said that after Sereno declared in a speech that she was looking for someone to run the EISP, they were introduced during that occasion. 
After that, the Office of the Chief Justice (OCJ) facilitated her hiring. They categorized this under a negotiated procurement, which is allowed under the procurement law if it meets certain requirements. She was classified as a highly technical consultant, which was one of the requirements.
Lawmakers asked Oliveros if she influenced Sereno to hire Macasaet. "The Chief Justice cannot even be influenced by presidents," Oliveros said.
Tensions
Macasaet said that if setting up the judiciary's I.T. system was like constructing a building, then she was the chief architect, designing the blueprint that would govern the system for 2,700 courts. The EISP is a continuing project of the court.
Her curriculum vitae and confidence in her skills notwithstanding, some Supreme Court officials are not that impressed. 
For example, Carlos Garay, now the acting chief of the SC's Management Information Systems Office (MISO), said he doesn't see why the SC would need a consultant like Macasaet. (READ: Sereno impeachment: Cracks in the Supreme Court)
The MISO implements the EISP, with Macasaet as consultant.
"I did not need any I.T. consultant. When I came to the Supreme Court, I was confident of my capabilities so that I do not need any generalized consultant, probably specific, specialized consultants that would help me," Garay said.
It wasn't Garay, but the former MISO chief, the deceased Ed Davis, who also oversaw Macasaet's hiring with the OCJ. A lawmaker pressed Garay: had he been the boss at the time, would he have hired Macasaet?
"I would probably need consultants who have specialties in specific fields, for instance, security of information systems, not the general kind like Macasaet," Garay said.
Asked if he believes that Macasaet has not contributed anything "substantial" to the court's overall I.T. masterplan, Garay said: "Probably, your honor."
Garay earns P114,000 a month, compared to Macasaet's P250,000 a month.
Lawyer Michael Ocampo, also of the Office of the Chief Justice, said Macasaet and Garay did not always see eye to eye due to Macasaet being a "straight talker".
Joselito Enriquez, MISO's chief judicial staff head, said that he can attribute to Macasaet the project's work and financial plans, application system, and the timeline of implementation.
In a statement on Wednesday, Sereno's camp maintained: "The hiring of Helen Macasaet was done in accordance with the Government Procurement Reform Laws."
Was she paid too much?
Macasaet said that what the SC paid her was substantially lower than what she could have earned elsewhere, for example the P3 million annual salary she received as president of a consultancy firm that she gave up to be able to work for the SC.
"In the Supreme Court, the P250,000, you take out all the taxes, and then I have to pay for my own internet, buy my own laptop, pay for my gasoline, toll fee, pay all my expenses to support my work, I don't receive allowance unlike most employees of the Supreme Court," Macasaet said.
She added: "Excluding all those, I would be getting a net of P80,000 which I used to buy my makeup, and sometimes to buy a pair of shoes, some decent clothes, to face the judges and the justices of the Supreme Court."
"It's not comparable to any salaries or salary packages of the employees of the court or government, I have to pay for my own medical expense," Macasaet said.
Technology has been Sereno's pet project in the SC, promising faster justice with electronic courts or e-courts.
In January 2017, Sereno reported there were already 197 e-courts in 8 cities nationwide, with a target of 300 by yearend. – Rappler.com