The Supreme Court en banc affirms a 2006 Court of Appeals decision that says Philippine Airlines doesn't have to consult FASAP for its criteria for its retrenchment program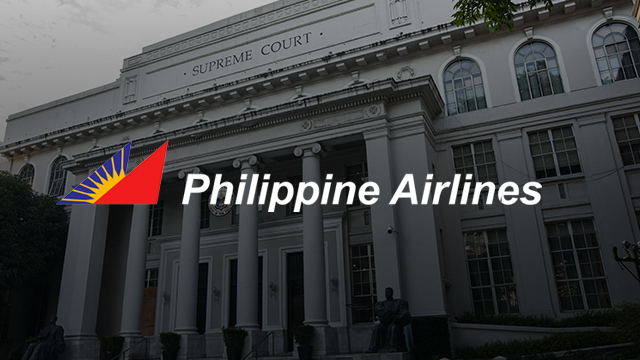 MANILA, Philippines – The Supreme Court (SC) en banc voted 7-2 to side with Philippine Airlines (PAL) in its 20-year-old retrenchment row with the the Flight Attendants and Stewards Association of the Philippines (FASAP).
The en banc majority affirmed a 2006 decision by the Court of Appeals (CA) that validated the retrenchment implemented by the flag carrier. The en banc set aside two decisions in 2008 and 2009 by SC divisions which sided with FASAP and ordered PAL to reinstate the retrenched employees.
"The release and quitclaim signed by the affected employees substantially satisfied the aforestated requirements," the SC said.
It added: "A quitclaim is invalid or contrary to public policy only: (1) where there is clear proof that the waiver was wrangled from an unsuspecting or gullible person; or (2) where the terms of settlement are unconscionable on their face. Based on these standards, we uphold the release and quitclaims signed by the retrenched employees herein."
Seven justices voted in favor of PAL, two dissented, 5 took no part, while Chief Justice Maria Lourdes Sereno is on indefinite leave.
20 years
This concludes 20 years of legal processes that got controversial in 2011 when high-profile lawyer Estelito Mendoza took the case for PAL and put the Supreme Court under the spotlight.
It even became an impeachment charge against then-chief justice Renato Corona, as he was accused of allowing an SC flip-flop based on "mere letters" filed by Mendoza. (READ: TIMELINE: FASAP-PAL case)
In 2008, the SC special 3rd division sided with FASAP and ordered PAL to reinstate the retrenched employees. PAL retrenched 5,000 employees including 1,400 cabin crew as part of a cost-cutting measure. PAL said then it incurred P90 billion in liabilities.
In 2009, the SC special 3rd division affirmed the 2008 decision with finality.
PAL, through a motion for leave, then asked permission to appeal both the 2008 and 2009 decisions. The SC 3rd division granted it.
Corona ordered a revamp of divisions, and the case went to the second division, which dismissed PAL's 2nd motion for reconsideration.
That's when Mendoza entered the picture. He wrote several letters to the SC which culminated in October 2011, when the SC en banc recalled the 2nd division's decision junking PAL's motion.
FASAP fought it once more, which brings us to this 2018 decision.
In his dissenting opinion, Justice Marvic Leonen says: "This is an extraordinary case. Like in the Book of Revelation, it involves the miraculous resurrection of the dead: in this case, a dead case."
Here's the vote breakdown:
CONCURRING
Associate Justice Lucas Bersamin (ponencia)

Associate Justice Diosdado Peralta

Associate Justice Estela Perlas Bernabe

Associate Justice Benjamin Caguioa

Associate Justice Noel Tijam

Associate Justice Samuel Martires

Associate Justice Alexander Gesmundo
DISSENTING
Associate Justice Marvic Leonen

Associate Justice Andres Reyes
NO PART
Acting Chief Justice Antonio Carpio

Associate Justice Presbitero Velasco Jr

Associate Justice Teresita Leonardo De Castro

Associate Justice Mariano Del Castillo

Associate Justice Francis Jardeleza
ON LEAVE
1. Chief Justice Maria Lourdes Sereno
JUST IN: After 20 years, the Supreme Court rules on the Philippine Airlines (PAL)-FASAP retrenchment issue. PAL wins. @rapplerdotcom pic.twitter.com/S7SYrWQgjg

— Lian Buan (@lianbuan) March 26, 2018
– Rappler.com