(UPDATED) PNP chief Ronald dela Rosa is set to retire on Thursday, April 19, after completing a term marred by allegations of human rights violations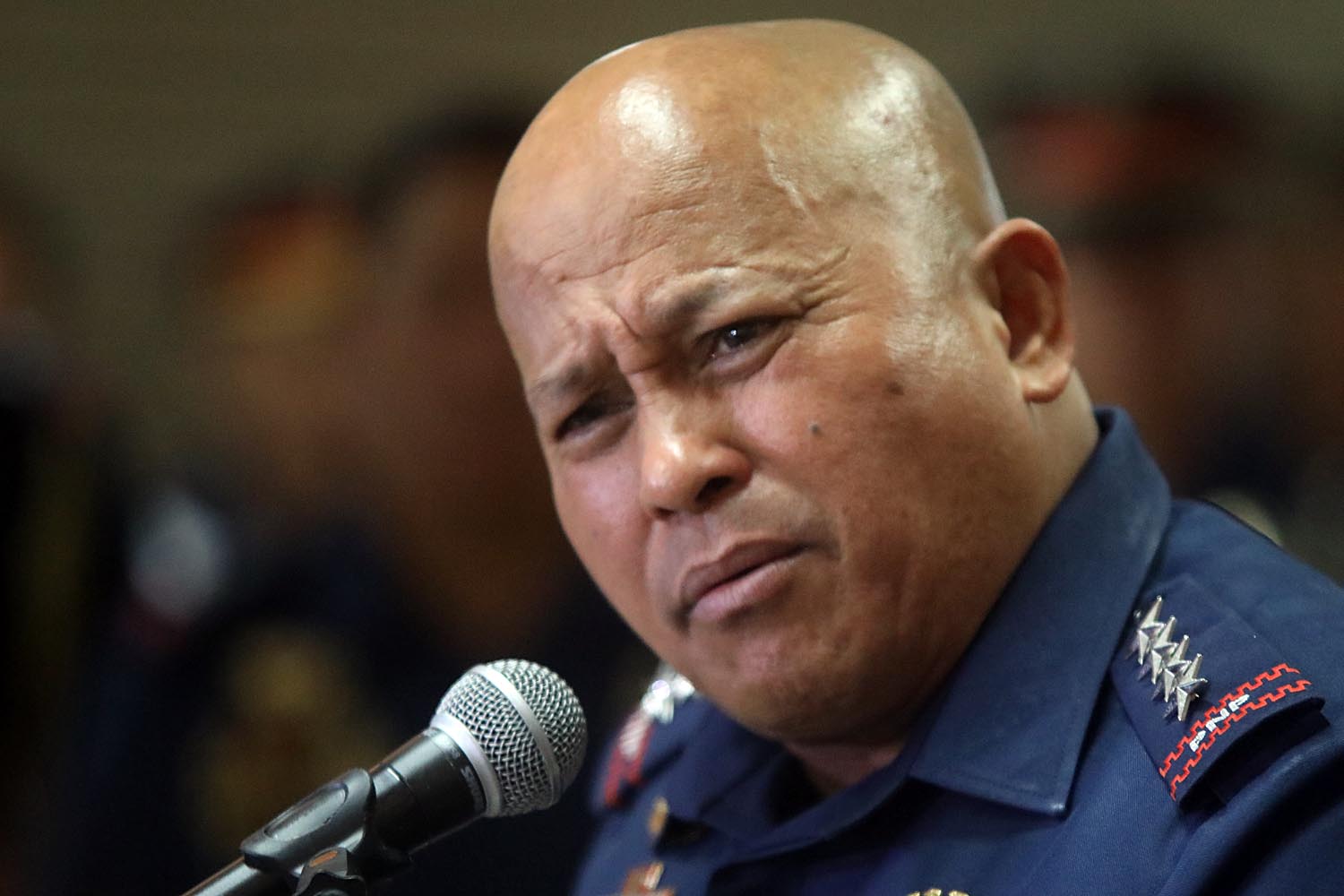 MANILA, Philippines (UPDATED) – Retiring Philippine National Police (PNP) chief Director General Ronald dela Rosa dared international watchdog Human Rights Watch (HRW) to file a case against him in court to prove its allegation that he is leaving the PNP with a "sordid human rights record unmatched since the Marcos dictatorship."
"Mag-file kayo ng kaso kung talagang totoo ang sinasabi nyo. Puro kayo dakdak (File a case if what you're saying is true. You just keep making noise)," an angry Dela Rosa said during a chance interview at the Armed Forces change of command ceremony on Wednesday, April 18.
Instead of the thousands of drug personalities killed in anti-drugs operations and thousands more killed for alleged extrajudicial killings, Dela Rosa implored the HRW to look at the 87 law enforcers killed in the line of duty in the name of the government's unrelenting anti-drugs campaign. (READ: Drug war in 2017: The year of deaths and denials)
"Bakit ayaw nilang ibalita ang mga pulis ko na namatay sa engkwentro? Andaming pulis na namatay sa engkwentro. Bakit yung mga adik at pusher na namatay yan lagi pinagdadakdak?" Dela Rosa said. (Why don't they want to report cops who died in encounters? There are so many cops who died in encounters. Why do they keep making noise for the killed addicts and pushers?)
The retiring top cop also gave the challenge to other groups who are accusing him of human rights violations. (READ: The Impunity Series)
"Handa akong harapin 'yan lahat (I am ready to face all of that)," he said.
Dela Rosa made the dare even as the Supreme Court of the Philippines was hearing a petition, alleging that the PNP's Oplan Double Barrel had left room for abuse, allegedly leading to a high death count. The SC is currently deliberating on the case, waiting for the PNP to share campaign files for scrutiny. 
Dela Rosa is leaving the police service on Thursday, April 19, 3 months after his mandatory retirement date of January 21.
He was extended in his post by President Rodrigo Duterte, who considers him as his most trusted cop.
President Duterte has appointed current National Capital Region Police Office (NCRPO) chief Oscar Albayalde as the next head of the PNP. – Rappler.com