(UPDATED) Rappler CEO Maria Ressa appears before Department of Justice prosecutors a day ahead of the filing of her counter-affidavit, as she would be in Seoul on Wednesday to participate in a forum on the state of press freedom around the world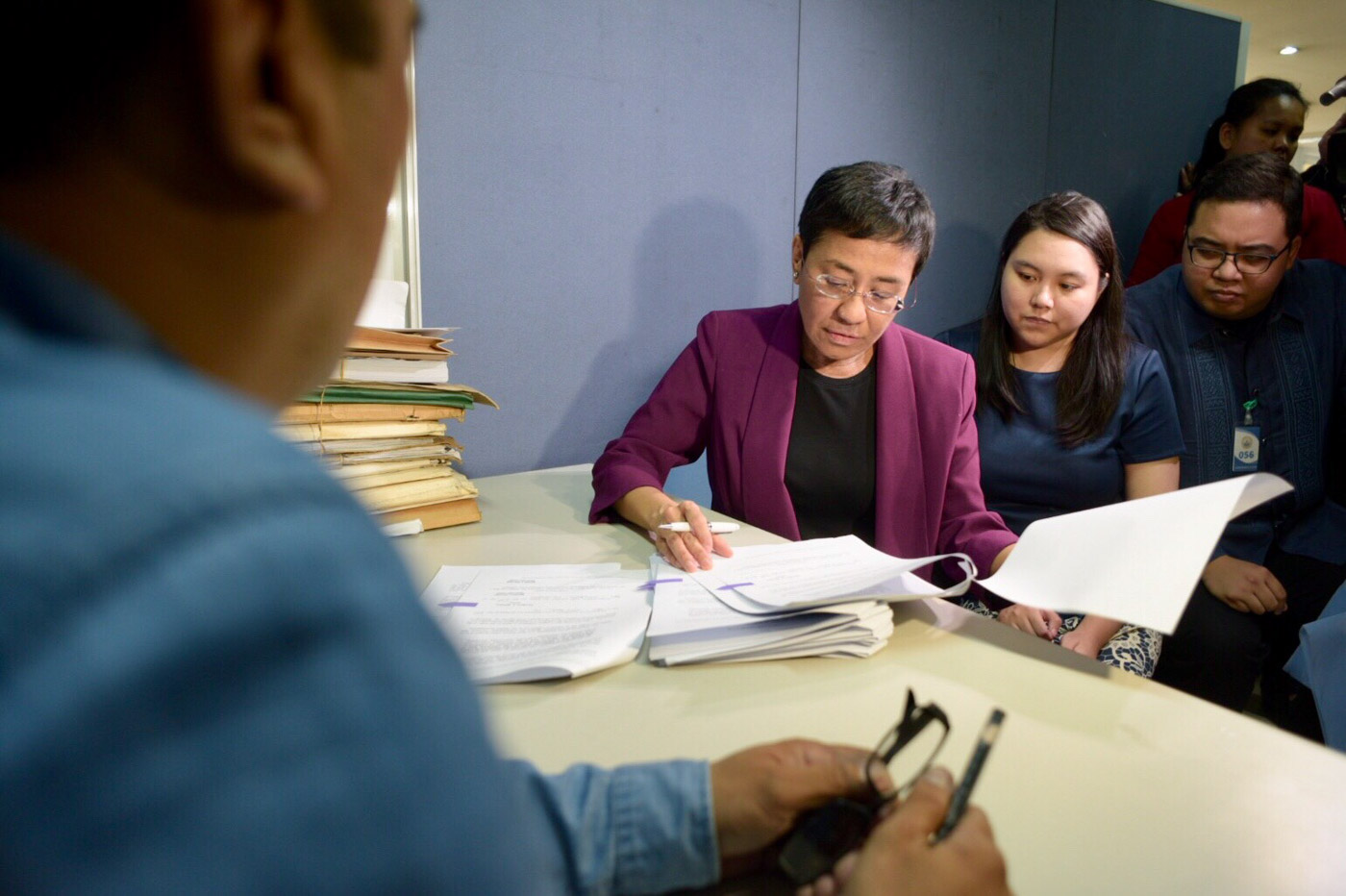 MANILA, Philippines (UPDATED) – Rappler CEO and executive editor Maria Ressa appeared at the Department of Justice (DOJ) on Tuesday, April 24, to swear to the truthfulness of the affidavit that her lawyers will file on her behalf on Wednesday, April 25.
This in connection with the cyber libel case filed over a news report published in May 2012.  
Ressa told reporters in an interview that she had to appear before DOJ prosecutors because she could not personally submit her counter-affidavit on Wednesday, April 25, as she would be in Seoul, South Korea, for a Reporters Without Borders (RSF) event. Ressa will be at the launch of the 2018 World Press Freedom Index in Seoul. 
"Tomorrow I'll be in Seoul with the Reporters Without Borders. We'll be talking about the report that they'll be coming out with on the state of press freedom globally. And as you can see, here we are at the Department of Justice, and all I've done is be a journalist," she said.
Referring to the cyber libel complaint, Ressa said, "In the past, I've called the case ludicrous. Now let me add the word ridiculous."
She then appealed to the men and women at the DOJ – "the good men and women who are here."
"They should be doing the due diligence so that they don't publicly malign anyone or subject innocent people to public trials without any due process. So I'm glad to go through this process and hopefully have nuisance cases, harassment suits, dropped," the Rappler CEO said.
Ressa's lawyers will file her counter-affidavit on Wednesday afternoon, April 25, at the DOJ.
The complaint stemmed from a Rappler article published on May 29, 2012, that said then chief justice Renato Corona used a vehicle registered under businessman Wilfredo Keng. 
In March, the National Bureau of Investigation filed a cyber libel complaint against Ressa, former Rappler reporter Reynaldo Santos Jr, and other members of the Rappler board.
The Cybercrime Law was approved on September 12, 2012, and took effect only on October 3, 2012, or 5 months after the Rappler story was published.
In October 2017, the National Bureau of Investigation's Cybercrime Division received a cyber libel complaint from Keng. 
On February 22, 2018, NBI Cybercrime Division chief Manuel Antonio Eduarte announced the closing of the investigation since the NBI's legal and evaluation service found no basis to proceed with the complaint. He said then that the prescriptive period of one year had lapsed.
On March 2, the case was resurrected as the NBI recommended to the DOJ that the social news network be prosecuted for cyber libel. – Rappler.com