Labor undersecretary Jacinto Paras says it was unfortunate that 'someone irresponsible' shared the rescue videos on social media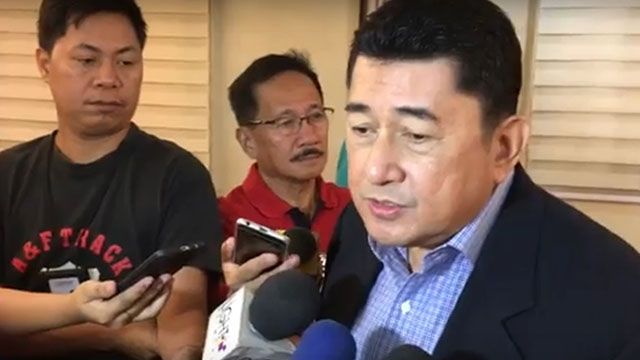 MANILA, Philippines – Department of Labor and Employment Undersecretary Jacinto Paras said Friday, April 27 the controversial rescue operations of overseas Filipino workers (OFW) in Kuwait was a "manifestation of [our government officers'] duty to protect our citizens." 
"Karapatan lang po ng ating labor officials, especially the head of the Philippine government [in Kuwait] Ambassador Villa, na talagang saklolohan yung ating mga workers, kasi po kawawa," Paras said.
(It is the right of our labor officials, especially Ambassador Villa, to help our distressed workers. They are helpless.)
Paras said he was in Kuwait and met Philippine Ambassador Renato Villa a few days before the rescue. From his visit, he said he learned about the "continuing maltreatment" of Filipino workers there, citing that at least 830 distressed OFWs are currently housed in the two shelters provided by DOLE.
Paras added that because of Kuwait's amnesty program for illegal foreign workers which ended on Sunday, April 27, the rescue mission was "expected."
"That was expected because magkakaroon na ng (there would be) crackdown upon the expiration of the amnesty. The police will start apprehending our workers—those with expired visas, those who have gotten away from their employers because of maltreatment, huhulihin po lahat yun (they would all be arrested). So we'd rather have them in our shelter, where they will be in police custody," Paras said.
"Nagkataon lang na mayroong irresponsible na nag [share] sa media." (It was just unfortunate that someone irresponsible shared [the video] on media.)
It was not clear to Paras whether or not the decision to rescue the two OFWs was illegal. He however emphasized his opinion that the Ambassador was only "doing the right thing." 
"I dont think the Kuwait government has any business attacking our officials who were merely helping our countrymen who are suffering from the maltreatment of their own countrymen," Paras said. "Siguro po, tama si Secretary Cayetano na i-explain ng Kuwait government bakit pinapauwi si Ambassador." (Perhaps it is right for [Foreign] Secretary [Alan Peter] Cayetano to ask the Kuwait government why they were expelling our Ambassador.)
 Paras also questioned critics, especially lawyers, who have been questioning the decision of the DFA to pursue the mission without proper authorization.
"I'm a lawyer myself and I beg to disagree. Kailan pa natin gagawin yan, kapag patay na? (Like) Joanna Demafiles? Kailan pa tayo gagalaw, kapag na-rape na yung ating OFW? Can we just say na saka nalang, kasi mayroong ganong convention?" (When are we going to take action? When it is too late? When will we make our move? When they have raped our fellow OFW? Can we just say, let's do it some other time because there it such a convention?) 
Paras added that he was confident that the relationship of Kuwait and the Philippines will continue.
"This one is just an instruction or order to recall the ambassador. I think this is normal, this happens in the international stage—that an ambassador, or an officer of the diplomatic core be considered persona non grata, but does not amount to the severance (of tie) of the two countries." – Rappler.com