(UPDATED) President Rodrigo Duterte also wants the ban on the deployment of overseas Filipino workers to Kuwait to 'stay permanently'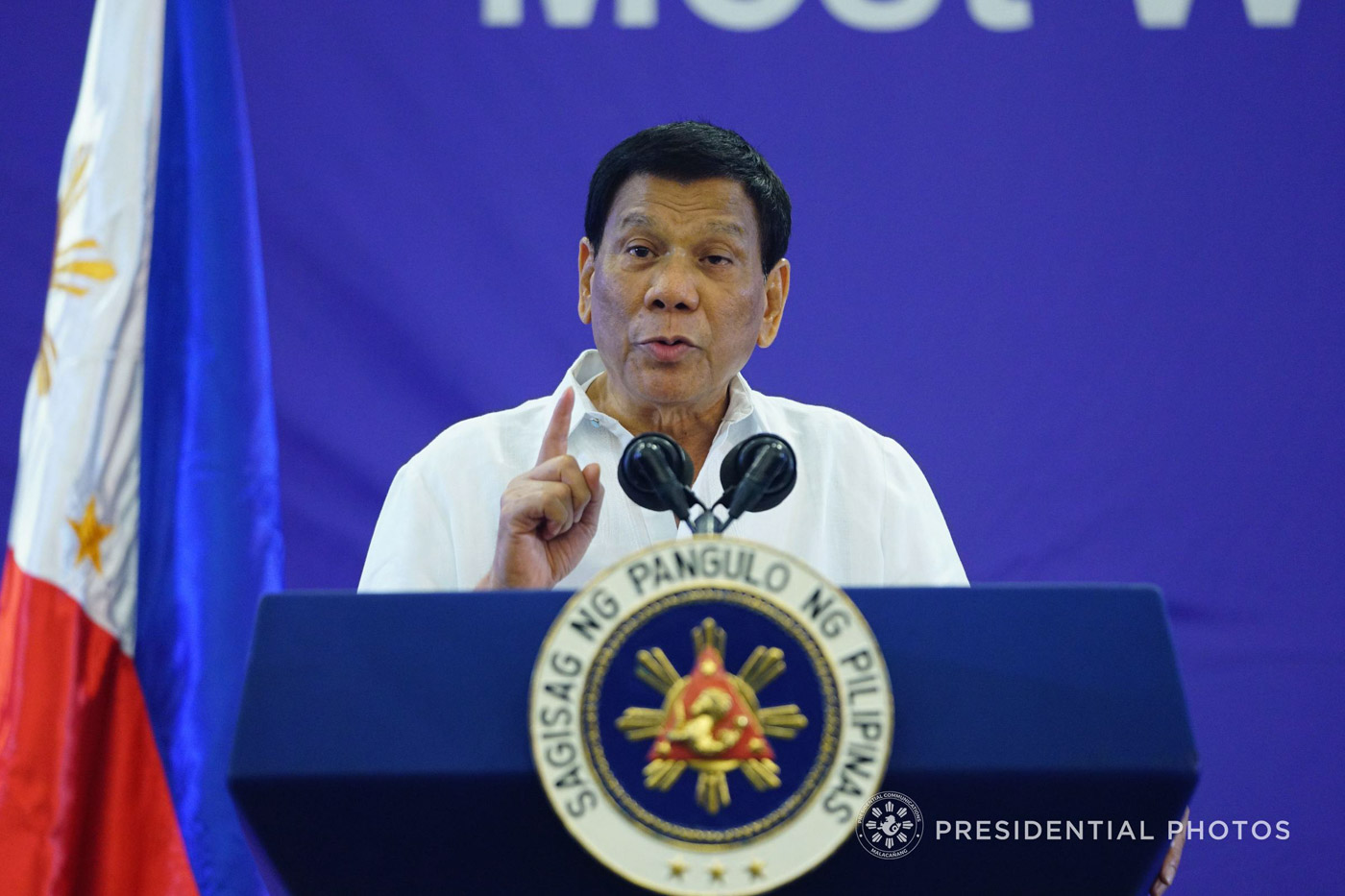 MANILA, Philippines (UPDATED) – President Rodrigo Duterte said that government will do its best to help resettle Filipino household workers from Kuwait who wish to return to the Philippines. 
Before he left a regional summit in Singapore on Saturday evening, Duterte urged overseas Filipino workers (OFWs) in Kuwait to "come home" amid the Philippines' diplomatic row with the Gulf country.
He reiterated this plea in his arrival speech in Davao City.
"If my people are considered a burden to some of them, to some government mandated to protect them and to uphold their rights, then we will do our part," Duterte said early Sunday morning, April 29.
"For Filipino household service workers, if your Kuwaiti employers want you to leave, then please, come home," he added.
He continued, "Your government will do its best to help you return and resettle. I appeal to your sense of patriotism and love of country and family."
Meanwhile, for those who want to stay in Kuwait, Duterte said it is their choice, "but choose the better option."
"For Filipino professionals who may wish to stay in Kuwait, there is really no problem. But at the same time, I would like them to cherish and nurture patriotism," he said.
"All I ask is that employers treat Filipinos with the humanity they deserve. Please do not abuse Filipino workers," Duterte then pleaded employers in Kuwait.
When a reporter asked about the ban on the deployment of OFWs to Kuwait, Duterte answered: "The ban stays permanently. There will be no more recruitment for especially domestic workers."
The labor department in February issued a total ban on deployment due to a "series of reports involving abuse and death of OFWs in Kuwait."
Later in his speech on Sunday, the President said he's willing to take the blame for the recent diplomatic fiasco between the Philippines and Kuwait.
"At the end of the day, I'd like to tell the government of Kuwait, it was all my responsibility. I should be the one to be blamed. And I'm ready to accept it."
'Start mobilization immediately'
Duterte said he has instructed Labor Secretary Silvestre Bello III and Foreign Affairs Secretary Alan Peter Cayetano to "start the mobilization immediately."
He said he considers this issue a "calamity" that may necessitate the use of emergency funds.
"Para sa akin, kung naghihirap lang mga kababayan ko, magnanakaw pa ako kung gusto mo, ako na magnakaw sa Central Bank, but they have to come home," he said.
(For me, if my countrymen are suffering, I would even steal money from Central Bank if you like, but they have to come home.)
Duterte said returning workers may find opportunities to work in ongoing construction and infrastructure projects in the Philippines. Duterte will also ask local government units to help out.
The foreign affairs department's release of a video on April 19 showing the rescue of abused OFWs angered the Kuwaiti government. They expelled Philippine Ambassador Renato Villa, and recalled its own envoy to the Philippines.
The Philippines said it is "convinced" that the operations were part of its "rightful exercise" of duty to protect nationals abroad. Nonetheless, the government has apologized for the incident and vowed to respect the sovereignty of Kuwait.
"We must be undeterred as we pursue our shared interest, with due respect to each other's sovereignty," Duterte said in his arrival speech. – Rappler.com