(UPDATED) Senators expect Majority Leader Vicente Sotto III to provide the kind of protective leadership that Senate President Aquilino Pimentel III failed to show when his party mate, Speaker Pantaleon Alvarez, attacked the Senate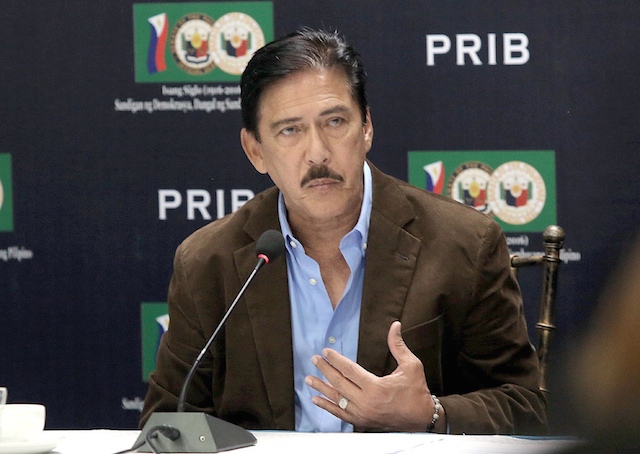 MANILA, Philippines (UPDATED) – Senate Majority Leader Vicente Sotto III said on Friday, May 18, that he would protect the Senate from attacks and unfair criticism if his colleagues choose him as their next leader.
Sotto made the statement when asked what he can promise other senators if he's elected Senate president, following moves to change the Senate leadership currently under Senate President Aquilino Pimentel III. (READ: Sotto as Senate president? Reorganization looms ahead of Duterte's SONA)
"I will not allow it to be degraded, trampled, attacked, or unfairly crticized without responding fairly or violently if necessary," the senator said.
Sotto, the most senior member of the Senate, also said, "The Senate has a special place in my heart!" (READ: Tito Sotto and the blurry lines of showbiz, politics)
On Thursday, 14 senators signed a manifesto of support for his Senate presidency.
Among the signatories are Senator Nancy Binay and Senator Joseph Victor Ejercito, who said in separate interviews that Sotto can ably defend the Senate from "attacks." 
Responding to questions, they said Pimentel was unable to defend the Senate as an institution when it came under attack by his PDP-Laban party mate, Speaker Pantaleon Alvarez.
In January, Alvarez insisted on convening a Constituent Assembly where congressional representatives and nationally-elected senators would have a joint vote on charter change. Senators are opposed to a joint vote as it would dilute the voice of the Senate in the Con-Ass. (READ: Con-Ass pushing through with or without Senate – Alvarez)
It was Pimentel's father, former Senate president Aquilino "Nene" Pimentel Jr who reprimanded Alvarez for pushing for a joint vote and urged him to reread the Constitution.
If Sotto is at the helm of the Senate, Ejercito said senators can rest assured that he would defend the institution when it comes under attack.
"Kumpiyansa kami na kapag may umatake sa Senado, alam namin na may mga tigasin na dedepensa sa Senado (We're confident that when someone attacks the Senate, someone tough will defend the Senate)," Ejercito said.
Most senior senator
Ejercito said he has nothing against Pimentel, whom he described in Filipino "as very kind and with unquestionable integrity", but the Senate President did not show enough leadership when Alvarez attacked the institution.
"Ang Senado, minsan dapat maproteksyunan din ang institution….I have to be honest with you. When the Senate was under attack by the Speaker – maraming nasaktan doon. Parang ang pakiramdam rin siguro ng marami dapat dinepensahan ang Senado as an institution," he said.
(The Senate as an institution has to be protected….I have to be honest with you. Many got hurt when the Senate was under attack by the Speaker. I guess many felt that the Senate should have been defended as an institution.)
Binay also cited Pimentel's unsatisfactory defense of the Senate against Alvarez.
"Parang naging consensus ng grupo na sana nga mas nagsalita siya not to defend us personally but to defend the institution kasi nga being a co-equal branch, I think first time yata nangyari na ang tumitira sa Senado ay kumbaga kabahagi ng pamilya," she said.
(The group reached a consensus that he should have spoken out more not to defend us personally but to defend the institution as a co-equal branch. I think that was the first time it happened, that the one attacking the Senate is, shall we say, part of the family.)
Binay added that the Senate would become "more neutral, more focused on its work if the sitting [Senate president] is not a reelectionist."
Pimentel will seek reelection next year.
Ejercito also said that Sotto, being the most senior in the Senate, would be able to further strengthen unity in the Senate.
Binay, for her part, said that Sotto, being a long-time senator, "knows how the Senate would work better." 
She said Sotto is also expected to be "independent" as he is not a member of the ruling party, and would give the Senate a stronger voice.
'Amiable' Zubiri 
Asked about Senator Juan Miguel Zubiri as the next majority leader, should Sotto be chosen as Senate President, Ejercito said Zubiri "would be very acceptable because he is very amiable, he has no enemies."
"He has been the majoirty leader before so he knows the job. His personality is very perfect for a majority leader because he's very amiable, very approachable. So Senator Zubiri would be a good majority leader to succeed Senator Sotto," he said.
Binay said her group is leaning towards Zubiri as majority leader for the same reasons.
Zubiri said he is "deeply honored" that his colleagues are considering him for the post.
"If chosen, I will perform with the same work ethic as i had in the previous 14th Congress where we passed a record number of bills into law at over 600 Republic Acts. As well as keeping the integrity of the Senate above and beyond reproach," he said. – with reports from Camille Elemia/Rappler.com