Watch the hearing live on Tuesday, August 14, at 10 am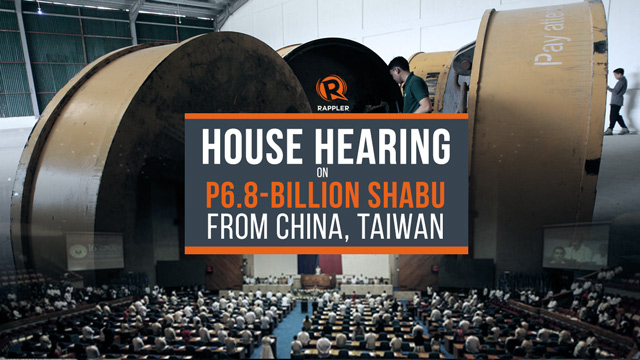 Bookmark to watch the hearing on Tuesday, August 14, at 10 am
Part 1
Part 2
MANILA, Philippines – The House committee on dangerous drugs on Tuesday, August 14, will conduct an investigation into the P6.8 billion worth of shabu or methamphetamine smuggled into the country from China and Taiwan.
A total of 1,000 kilograms of shabu are believed to have recently slipped past authorities in the Philippines despite coordinated efforts of the Philippine Drug Enforcement Agency (PDEA), the Bureau of Customs (BOC), and the Philippine National Police (PNP).
On August 10, authorities found the 4 lifters where the shabu was allegedly hidden in warehouse in General Mariano Alvarez in Cavite, but the containers were already empty. 
Before this, on August 7, two lifters containing 500 kilograms of shabu worth P4.3 billion were recovered by the PDEA and BOC at the Manila International Container Terminal. The shipment came from Malaysia. 
Officials raised the possibility that the drugs were already smuggled to another country, considering that the Philippines is a transshipment point in the world drug trade.
Watch the hearing here. – Rappler.com
Read stories from the hearing: